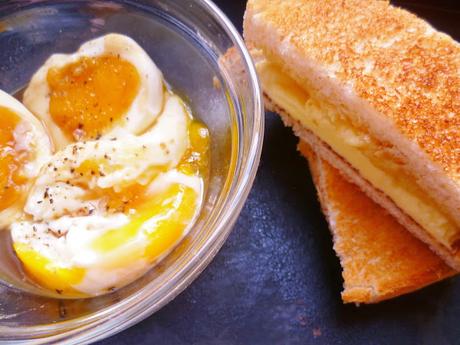 kaya toast with soy eggs
It's not really weird, although it might sound a bit odd to English tastes. It's a Singapore-Malaysian thing - kaya toast for breakfast at a kopitiam (coffee shop). Coconut jam (kaya), which is very similar to say lemon curd, but made with coconut milk, is slathered over hot white toast, which is then sandwiched together with a slice of cold butter. Dunk this sweet toast into a bowl of very soft-boiled eggs with soy sauce. Sounds weird? Tastes heavenly!

Serve with strong black coffee, milky tea or a cold glass of Milo.
Skill level: Easy
ingredients:
toast
2 slices of bread (preferably soft white)
soy sauce
pepper
coconut jam (kaya)
1 tin of coconut milk (400ml)
4 egg yolks
100g light brown sugar or palm sugar
eggs
2 eggs per person (at room temperature)
soy sauce
directions:
Place a heatproof bowl over a saucepan of boiling water. (The bottom of the bowl should not touch the surface of the water.

Add the coconut milk, egg yolks and sugar and heat gently until the sugar has dissolved. Turn up the heat to medium and stir constantly until the mixture begins to thicken and coat the back of a spoon. (About 10 minutes). The longer you cook the jam, the darker it will become. Set aside to cool a little before transferring to a sterilised jar. (If you want to you can strain the mixture to remove any grainy bits of coconut, although I don't bother!) This will last in the fridge for about 2 weeks.

Soft boil the eggs in boiling water. (My large eggs took 4 minutes.)

Crack the eggs on a hard surface to break the shell and then crack over a small bowl. Add a little soy sauce and pepper.

Toast the bread on each side. Add a layer of sliced butter, slather with kaya jam and cut into thick "fingers".

Dunk the toasted sandwiches into the runny egg.

Such a happy way to start the day!
tips:
My guilty secret - this is one of the few times I use "processed" sliced white bread. It works perfectly!

The coconut jam is fabulous stirred into cake batter or buttercream icing.