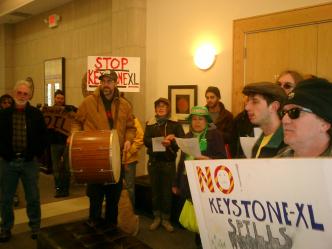 Four arrested at lively protest against fossil fuel infrastructure

Press Contact: Henry Lowry, [email protected]
PICTURES AVAILABLE AT: http://www.katuahearthfirst.org
Asheville, NC -  60 people took to the streets today to protest the Keystone XL pipeline in downtown Asheville. After a rally in Pritchard Park, the march made its way to TD Bank, a major investor in the Keystone XL pipeline and occupied the lobby, forcing the bank to close for the rest of the day. Protestors carried banners reading, "Obama, Your Pipedream is a Nightmare" and "TD Bank, divest from dirty oil." Police arrested four protesters who refused to leave until TD Bank agreed to divest from the tar sands industry.
The action was organized by Asheville based Katuah Earth First! and is part of a week of nationwide protests called for by Tar Sands Blockade  a coalition of Texas landowners and environmentalists fighting the southern leg of the pipeline.
"We are going to hold accountable the companies that threaten our future with their dirty investments. With every dollar TD Bank invests in the Keystone XL pipeline we can feel the noose tightening around our necks," said Patty Petroluse, a student in Asheville. TD Bank holds over 13 million shares in Transcanada, the company building the Keystone XL pipeline.
"In a time of escalating drought, wildfires, and super-storms fueled by climate change it is suicidal to invest billions of dollars in new fossil fuel infrastructure. The Keystone XL pipeline would be delivering the dirtiest fossil fuel imaginable, tar sands oil", said Henry Lowry.
If built, the pipeline would tear through thousands of miles of sensitive ecosystems, farmland, and Native American tribal lands in order to deliver Canadian tar sands oil to Gulf Coast refineries. Contrary to industry claims, the vast majority of the oil would be destined for export, not for US consumption. Canada's tar sands oil has been labeled by environmental groups as the "dirtiest project on earth." Extraction of tar sands requires massive strip mines that have already destroyed hundreds of square miles of Canada's boreal forest. Tar sands oil production is extremely energy intensive and produces far more greenhouse gas emissions than conventional oil.
The week of protest has seen protests in over 30 cities around the country and over 40 arrests as activists express their opposition to the Keystone XL Pipeline. Katuah Earth First! is proud to contribute to the nationwide movement against new fossil fuels infrastructure.