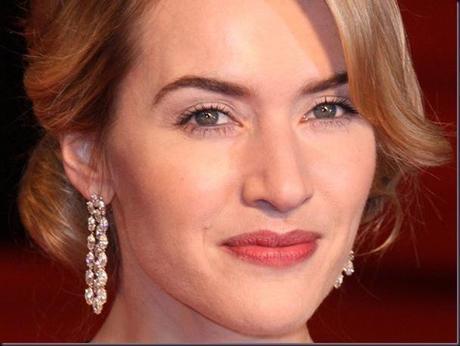 Kate Winslett is back in the news and on the award trail after scooping the best actress award at the Emmy's for her role in Mildred Pierce, and a month earlier she was lucky to escape when fire burnt down Richard Branson's holiday home on Necker Island in the Caribbean. Kate, who had been staying there as a guest, saved Branson's 90 year old mother by carrying her to safety. Quite a month then for the British actress who is rarely if ever out of the headlines.
Kate was born on 5th October 1975 in Reading, England at 07.15 hrs. She was a new Moon baby, born exactly at sunrise hence the Libran Sun is exactly conjoined to the Ascendant. The Moon lies just 2 degrees into the first house and both personal planets are joined in conjunction by Pluto and Mercury making a powerful stellium. As a triple Libran, Kate will be very very conscious of fairness and justice which will need to be served. Librans hate conflict and she will go to the ends of the earth to make sure that any disagreements are settled amicably. Those with Libra emphasised are very socially aware and very romantic as Venus is heavily emphasised, so beauty & harmony be it musical, written, artistic or drama based will be very close to her heart.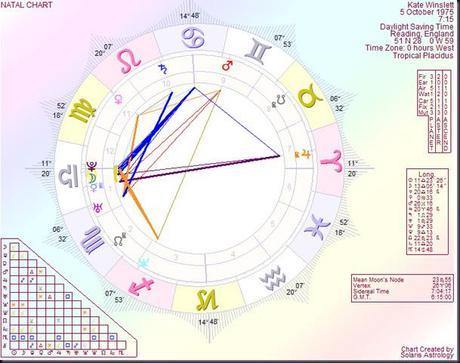 There is a dark, underground edge to this new Moon conjunction as Mercury and Pluto sit close by. Mercury in the 1st house conjunct to the ascendant always infers high intelligence, and Kate will always want to chat and communicate. The connection with Pluto brings all this to a different level completely. Pluto wants to get under the surface of everything and her mind will be very deep and inquisitive, rather like a detective, probing to find out the hidden agendas of everything in which she is interested. Because Mercury is retrograde, this mind will be turned in on itself; here is someone who in their quieter moments can be very reflective and psycho-analytic, especially about relationships as this Pluto is in Libra. Kate, you see, is a very passionate yet controlling person. The Moon conjunct Pluto is highly emotional, even erotic, determined to do her own thing and yet very sensitive, with the Moon being found in the first house. Anyone with the Moon conjunct Pluto has to expect heartaches and transformational change within their relationships, however accepting change is something that Kate will be very fearful of doing. Kate has already had one marriage breakdown with Jim Threapleton, and she is currently separated from her second husband, director Sam Mendes, demonstrating the destructive nature of Pluto on her emotional life. Despite the emotional problems she has faced, she will always have her family around her. A new Moon child will always look up to and model themselves on their mother, and Pluto's closeness to both the Moon and the Sun will mean that Kate will always be very close to her parents. Kate will be very determined and the Sun/Pluto conjunction and  it's pre-eminent position exactly straddling the Ascendant makes her very determined to be a prominent person, someone who will make a difference and an impact on the world. This stellium makes a multi-sextile to Neptune the ruler of film and creativity in the third house and this is where she has made such an impact. This sextile also beautifully describes the artistic and acting background of her parents who performed part time. The third house represents siblings, and both her brother and sister act too. The placement of Neptune in the 3rd house adds a colourful & imaginative side to Kate's mind, she would have been a daydreamer when young and at school, a consciousness which fully "woke up" when she started studying drama at the age of 11.
The Moon and Mercury are opposite to Jupiter sitting in the 7th house. This is a very go ahead Jupiter sitting in Aries and Kate would have been eager and quite extrovert when young, there is a bit of a devil may care and brave attitude within the personality. This certainly showed when she rushed into the burning building to save the elderly Mrs Branson last month. Kate will be lively & optimistic certainly on the outside, and will pick partners from whom she can have an intellectual rapport and from whom she will learn something. She will have grand plans, and may at times expect too much from her partner. When things do go wrong, there will be the feeling that the grass may be greener on the other side, rather than working at and trying to solve the differences. Kate's relationships will always be beset by these problems until she realises that they sometimes need hard work and a fair bit of compromise to get things right. It is noticeable that the Jupiter/Moon/Mercury oppositions form a stressful t-square with her Cancerian Midheaven. Her work and marriages have been inextricably linked so far. Maybe if she were to find a partner with other interests and work outside acting it may be beneficial to her in the long-run, as Jupiter in the 7th can operate in a very fruitful and satisfying way with regard to personal relationships.
As well as being determined, Kate does have a very independent streak. Uranus also sits in a crowded first house making her want to stand out from the crowd. She will often take the odd risk in her film and work choices and she will enjoy shocking or surprising people, wanting to project her character as truly individual. Uranus is part of a mini grand trine, being trine to Mars in the 9th house and sextile to Venus in the 11th. This is a very busy and sociable formation. Mars is in Gemini which is energetic and always on the go, wanting to know everything going on. Mars in the 9th house is very sure of it's convictions and beliefs and she will fight for them with all her might. Mars makes a trine to Mercury making Kate quite outspoken, convincing and direct in her speech. Venus in the 11th loves an active social life and to be surrounded by friends. This is somebody who will like working in group or social projects, yet with Uranus in the 1st Kate will want to be noticed doing this. She will want her involvement to stand out and to make a difference to whatever she does get involved with.
There is one last aspect I want to look at. Uranus makes a tight square to Saturn in the 10th house. Saturn in the 10th always is very ambitious and wanting to run things and get to the top of the tree. This placement bestows a patient and disciplined attitude to work, but Kate may get very disgruntled and bitter if her hard work and effort is not recognised in some way. Saturn sits in regal Leo, and this placement does require praise and affirmation unless the one is not to get rather grumpy. It leads me to suspect that Kate behind the optimistic outgoing attitude can get a bit bitter and twisted at times if things are not going her way. The square to Uranus will make her progressive in her work and she will get upset with those around her, if they do not accept the challenges that she throws down to them. By the same token, this square will always keep her fresh and relevant in the acting world, never looking to get type-cast or bogged down. Maybe this explains the continued success she has had since her first award nomination back in 1995 for Sense and Sensibility.
Looking ahead, with so many natal planets in Cardinal signs especially with Pluto at 9 Libra, Ascendant at 11 Libra, Sun at 11 Libra, Moon at 13 Libra and Midheaven at 14 Cancer, Kate in the next couple of years is going to experience some great upheaval in her life. This will begin in early next year when transiting Pluto hits 9 Capricorn squaring these planets by Feb 2012 continuing on until 2015. These changes, or more rightly transformations in Kate's life are going to involve personal possessions and self worth with Scorpio on the cusp of the 2nd house. Pluto squaring it's own position starts this cycle of change. Then friends and associations and the self will be changed (Pluto squaring the Sun and Ascendant), followed by her work and career with Pluto square to the Moon and opposite to the Cancer Midheaven. As Saturn transited this same zone last year, her marriage to Sam Mendes broke up. Saturn is now passing through Kate's first house indicating a new quieter period in her life development, and a new 7 year cycle of growth, a time where other interests and passions may start to take a greater role in her daily life.