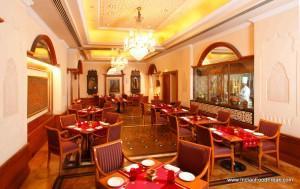 Singh Sahib, the Indian restaurant at Hotel Eros, Nehru Place is hosting a Kashmir festival from January 15-25, 2014. I am here at the invitation of Vaishali Dar, the charming marketing communications manager of the hotel. The food has been curated and cooked by Chef Mujeeb-ur-Rehman,  a widely respected name when it comes to food from princely states.
The restaurant has well lit period interiors. Executive Chef Suprabhath Roy at Sahib Singh describes the cuisine served here as that of undivided Punjab with known dishes from Amritsar, Lahor and Rawalpindi on the menu. Today the focus is Kashmiri food, and I ask Chef Mujeeb-ur-Rehman what he plans for me to taste. "A bit of just about everything" is his smiling reply.
What follows is an extensive tasting, till the tummy groans in protest. Let me start with the stars of the afternoon, the memorable dishes with a big wow.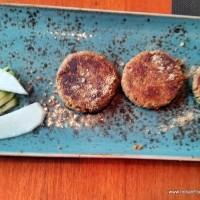 I start with arvi anjeer kebabs (Rs 595) which are colocasia and fig patties, with a very interesting texture. Maaz shammi (Rs 895), the lamb and Bengal gram patty, has been made with finesse and has a perfect succulent bite. Even though chicken is not my preferred meat, I am hooked on the gravy of kukur dhaniwal (Rs 945), a chicken curry made with fresh coriander leaves. Roganjosh (Rs 945) a popular lamb curry associated most with Kashmiri food is very different from what you would find in many restaurants. Here the curry is light, flavourful and addictive.
And I just can't get enough of haak (Rs 695), which is Kashmiri spinach simmered in butter and Kashmiri spices. It is a dish most delicious.
The other dishes which I tasted are nice, but I have had them better elsewhere.
Gadh dhani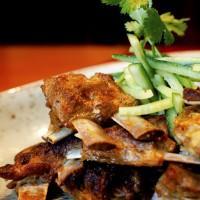 wal tikka (Rs 895) or sole fish tikka marinated with fresh coriander, green chilli and spices have gone too while cooking. Tabak maaz (Rs 895) has a great melt-in-the-mouth mutton but the crisp outer layer is missing. Surkh tsaman or paneer tikka (Rs 645) does not have much of a flavor, and the paneer is leathery.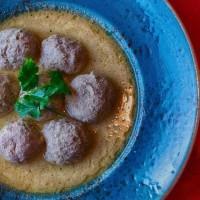 Gushtaba (Rs 945) which is pounded mince lamb dumplings simmered in yoghurt soup is great though I would have preferred a spongier, lighter texture that makes it such an iconic dish. Rista (Rs 945) has amazing gravy, but again the light sponginess in the texture is missing. When I ask Chef Rehman, he shares that in Delhi it is very difficult to get mutton from a goat slaughtered less than two hours ago for pounding, and this compromises the texture of the dumplings.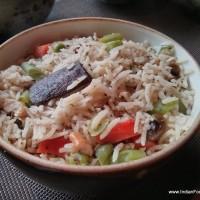 Dum Aloo (Rs 695) is a pleasant dish of potatoes cooked in fennel flavoured tomato gravy. Nadur Yakhani (Rs 695), fresh lotus stems simmered in flavoured stock is nice, though I miss the Kashmir grown lotus stems, which are much more delicate. Kashmiri Pulao (Rs 595) is rich with a generous addition of dry fruits pilaf and freshly ground cinnamon.
Though Kashmir is not really known for its desserts, Chef Rehman serves some interesting ones. Mutter ka meetha (Rs 395) is actually green peas halwa, and tastes good. Khubani ki kheer (Rs 395) or apricot pudding is alluring with the flavours of apricot. Sewiyan (Rs 395) is the traditional Muslim dish of roasted vermicelli cooked with dried fruits and milk, reminding me of Eid.
I leave with happy memories of food, especially the haak and the rogan josh. The food at the Kashmiri festival is authentic and enjoyable.
Ratings out of 5
Food: 4.0 | Ambiance: 4.0 | Service: 4.0 |Overall: 4.0
Meal for Two: Rs 3000 | Alcohol: Yes | Credit Card: Yes| Timing: 12 Noon to 3 PM, 7 PM to 11:45 PM
Address: Eros Hotel, American Plaza, Nehru Place, New Delhi |Phone: 011-41331655