Cherished by millions, forever brilliant diamonds and vibrant hue colored gemstones provided magnificence at Geneva's Christie's Auction of Magnificent Jewels and Noble Jewels on Wednesday, May 13. The auction broke world records by selling precious jewelry at $97.5 million, highest total ever. In fact, records shattered, sale after sale, including an exceptionally gorgeous sapphire and diamond ring.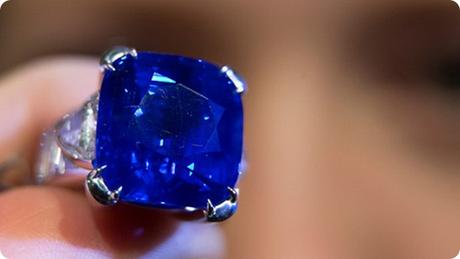 Most famous was a Kashmir sapphire, which set a new world record sold of$7.3 Million or $209,689 per carat to an Asian private bidder. This immeasurably stunning and blushing 35.09-carat cushion-shaped blue sapphire was studded in an incredible ring. In addition to irreplaceable sapphire, we find dazzling triangular-cut side diamonds and baguette-cut diamonds.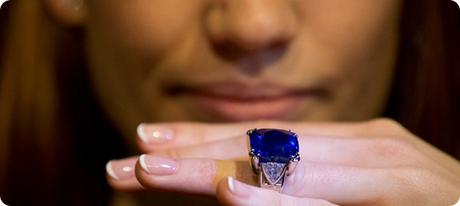 The sapphire exhibits a breathtaking silky blue hue comparable to that only of peacock feathers. Kashmir sapphires are rare and highly regarded for their deep color saturation, immaculate clarity and purity. The existence of sapphires was first discovered in 1881. The discovery took place in Northwest Himalayas.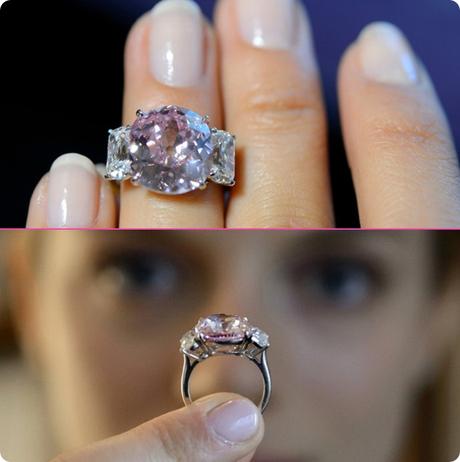 From their top-selling auction, this sapphire ring gained third-highest position. While first and second positions were acquired by 5.18-carat rectangular-cut vivid pink diamond ring and 55.52-caratpear-shaped Flawless Type IIa diamond. Sold for $10.7 Million and surrounded by two oval shining white diamonds, the pink diamond ring was believed to come from Princess Mathilde, niece of Napoleon I. It was further referred to "The Historic Pink Diamond." There were sensational jewelry pieces from the Estate of Mary and Duchess of Roxburghe, which engaged top, affluent buyers.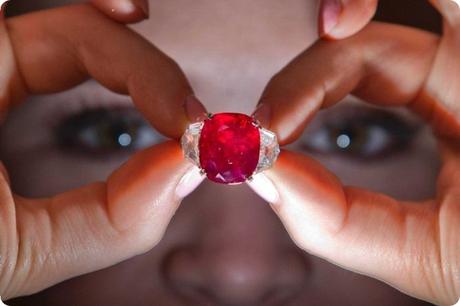 In addition, top auctions included an awe-inspiring Burmese ruby and attention striking natural pearls. "The Sunrise Ruby" reflected a richly saturated 'pigeon blood red' color and remarkable brilliance, breaking world record for any ruby per carat. With record-breaking sales of fancy colored diamonds and vivacious gemstones, Christie's jewelry department observed an inevitable rise in demand for colored stones, fancy diamonds and pearls.
What precious gemstone do you admire most? What is your favorite statement jewelry from Christie's auction? We'd love to hear your comments below.