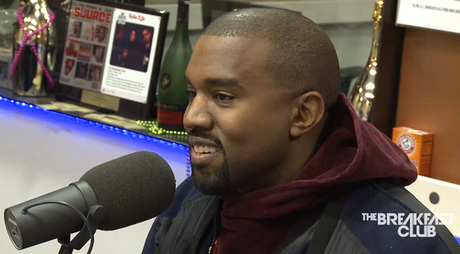 Kanye West stopped by the Breakfast Club this morning to discuss a whole lot. A hot topic they discussed was Kylie and Tyga dating. he stated that "I think he got in early, I thin he was smart." Gross comment and I wish he would of never said that. But he does prove that Tyga is a liar, but we all know this. He also discusses more. Check out the interview below.
On the limited release of the adidas Yeezy 750 Boost:
"See I didn't want them to be limited actually, that's something that the company did. I really want as many people to get them as possible. I don't want to price to be $350. I don't want to play like this sneaker culture game and all this so they be reselling this for high prices and stuff. I just want people have what I make. Like ain't no limited release to College Dropout or limited release of Graduation."   
On hearing Beck's Morning Phase album during dinner with Taylor Swift:
""The other day I went to dinner and sat down with Taylor Swift and ironically they were playing the Beck album, I was like man, this is kinda good I ain't gonna lie [Laughs]. I hadn't even heard it [before the rant]. I bet you the album is really good. I'm gonna listen to [it] and maybe it was potentially Album of the Year."
On getting scolded for bringing North West to fashion shows: 
"I mean, think about it, no one could tell me where to [bring] my child or not."
On Drake reinvigorating his focus:
"I went to this Drake concert in Germany, I flew to the concert to go see it, and he got this one line where he says something about people falling in love with famous girls and they don't be working as much. So he rapped it, and he knew I was in the concert and he like looked down and stuff [Laughs]  and he was right. I gotta get on my job. That's why I got on trending of "Blessings" — Hello I'm back." 
On "Wolves" being originally the title to a planned collaborative album with Drake:
"I'm just going to go along and say because maybe this will promote it happening but the "Wolves" song came from a conversation that me and Drake had, where we were going to do an album together and the album is called Wolves.  
Me and Jay started talking about Watch the Throne, then Drake went and did all the records with Lil Wayne and did the tour, so we never did it. But I just went out in the world, if y'all don't like it y'all can send it right back [Laughs]. 
I asked him, we talked about it and he said yeah we was gonna do it. And actually he was sending beats back and forth and I got this one record with Young Thug that I'm gonna put on Rihanna's album. I know I'm giving a lot of information.
On addresses the issues on upcoming album:
You know I'm always going to talk about what's going on like Marvin Gaye said. It's definitely going to be in there. 
On the sound and status of the seventh studio album:
"Bars, cookout music that just feels like— my last album was a protest to music… this album is just embracing the music, embracing joy, and being of service to the people. I just hope that people like it and enjoy it."
"I think 80%. I'm trying to get it finished, and get it to the people as soon as possible." 
On whether or not he's plotting on a surprise release: 
"Release dates is played out so, the surprise is going to be a surprise. There go the surprise. [Laughs]