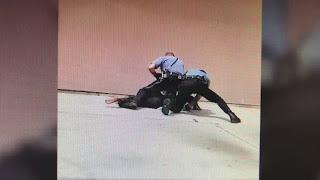 Kansas City officers make an arrest

What might have happened to George Floyd if he had survived his encounter with police brutality in Minneapolis -- if he had lived through officer Derek Chauvin pressing a knee on his neck for more than nine minutes? A recently settled lawsuit in Kansas City, MO, provides a clue.
The Kansas City matter involved circumstances similar to those present in Floyd's death -- except the victim survived, and his lawsuit was settled for $725,000. Tom Porto, of the Popham Law Firm, represented the teen and his family in the civil matter.From a report at the Columbia Missourian: 
Kansas City has agreed to a $725,000 settlement of an excessive force complaint filed after a police officer allegedly forced his knee onto the neck of a teenager who prosecutors said was not resisting arrest.

The settlement arises from a confrontation in a fast-food restaurant in November 2019. The teenager was in a car that sped away from officers but eventually stopped. The teenager and a man inside got out, put their hands in the air and got on their knees, according to court documents.

Although the teen was not resisting, Police Sgt. Matthew Neal put a knee on his neck, causing him to have difficultly breathing, prosecutors said. He was treated for cuts, bruises and broken teeth. He was not charged with any crime arising from the confrontation.
The officer, however, does face criminal charges:
Neal was charged in August with third-degree assault in the case. He has pleaded not guilty. He has been suspended with pay since the charge was filed. Another officer who was on the scene, Dylan Pifer, was not criminally charged and remains on active duty.

The settlement was approved Nov. 17. The Kansas City Star reported the amount after filing an open records request.
This is not an unusual outcome -- in fact, KC cops seem to be slow learners -- as a Kansas City Star editorial makes clear, under the headline "A new $725,000 settlement? KCPD excessive force cases are costing taxpayers millions":
Kansas City's agreement to pay $725,000 to settle a police excessive force case is an outrage, another sad episode in an all-too-familiar pattern at police headquarters downtown.

The payment, agreed to in November, compensates the family of a teenager stopped by officers in November 2019. The teenager emerged from a car after a short chase, and was allegedly assaulted by Sgt. Matthew Neal of the Kansas City Police Department.

The young man's teeth were broken, according to prosecutors, and his head was cut open. Neal allegedly knelt on the suspect's neck until the young man said he was unable to breathe.

Other officers stood and watched. Neal has been charged with felony assault.

The incident was "an abomination," Mayor Quinton Lucas said this week. Last year, we said it revealed a crisis in the Kansas City Police Department.

The available evidence shows the family is entitled to payment for the teenager's suffering, and the Board of Police Commissioners has approved the settlement.

But the payment won't come from commissioners' pockets. It won't come from Police Chief Rick Smith's pocket. It won't come from Neal's pocket, even though he continues to draw a salary from taxpayers while facing criminal charges.
No, the cost of Neal's violent, foolish act will be paid by taxpayers (some of it may come from the state). And because taxpayers are paying the bills, the police department has little incentive to improve its record or fix its brutality problem. Instead, Smith and others clearly see the payout as a mere cost of doing business.

This isn't the first time. Last year, The Star revealed $6.3 million in police settlement payments related to the actions of just one former officer. Millions more have been paid for other claims.

Reducing or eliminating excessive force payouts must be at the top of the department's agenda this year. To do that, of course, the Kansas City Police Department must reduce or eliminate police brutality.