November 23, 2016
Wednesday
I wake up before my alarm rings. Soon I am at the ground floor of
Hotel Raizan
, depositing my bag in their luggage storage area. I have a quick breakfast with what they have for sale: cereal, milk, and yogurt. And I say goodbye to my bag and to the receptionist and trace my way back to where I had come from last night, 
Nankai Shin-Imamiya Station
, to start my journey to the town of Koya in the prefecture of Wakayama, where I will be staying for a night.
Going to the Town of Koya:
From Nankai Shin-Imamiya Station, I get on the Express train to Hashimoto. (See train timetable.)
In Hashimoto, I transfer to a train bound for Gokurakubashi.
From Gokurakubashi, I take a 5-minute cable car ride on an inclined tram/cable car to Koyasan Station.
And finally, I get on a bus bound for the town of Koya. (See bus timetable.)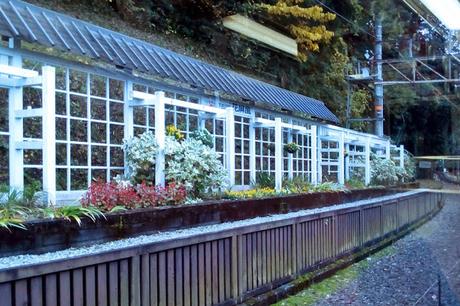 A station along the Koya Line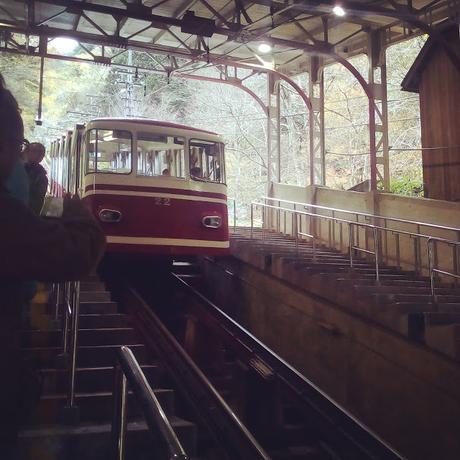 Tram/Cable Car to Koyasan Station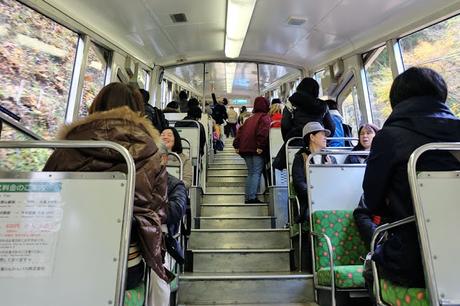 Inside the tram/cable car
The entire trip, from Shin-Imamiya Station to Koya town, takes about two hours and was paid for by showing my 
Koyasan World Heritage Ticket
. There are faster trains—Rapid Express and Limited Express—that will shave off 10 to 20 minutes from the travel time. The Rapid Express operates every hour from 9AM to 1PM. The Limited Express is more frequent but is not covered my 
Koyasan World Heritage Ticket
.

Sleeping in the Town of Koya:
Koyasan (Mt Koya) is the center of Shingon Buddhism, a sect of Buddhism established 1200 years ago by Kukai or Kobo Daishi, a Buddhist priest. The temple town of Koya developed.
Many temples around Koya offer pilgrims and travelers a place to stay
(a night in a temple with breakfast and dinner costs at least 9,700 yen). When planning this trip, I was tempted to try a temple lodging, but in the end I had to listen to my wallet and find a cheaper alternative.
I get off at the last bus stop and walk east away from the town center for about 5 minutes, to the only non-temple accommodation I could find that was within my budget: 
Koyasan Guesthouse Kokuu
. The guesthouse, a plain looking gray structure, sits by the side of the road.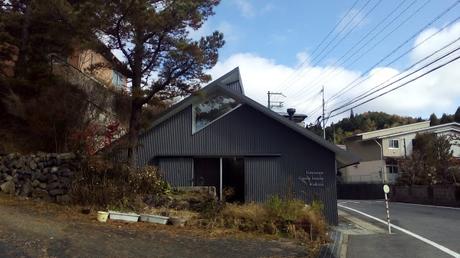 The guesthouse, gray on the outside but all white and cozy inside, is small with just 8 capsules and 3 bedrooms. All the bedrooms and capsules share toilets and shower rooms. I am assigned a bottom capsule. The capsule has a futon, pillow, blanket, lamp, power outlets, coat hooks, hangers, and a window. (A bath towel can be rented for 100 yen.) The capsule door can be locked from the inside. The capsule is rather small but is surprisingly comfy.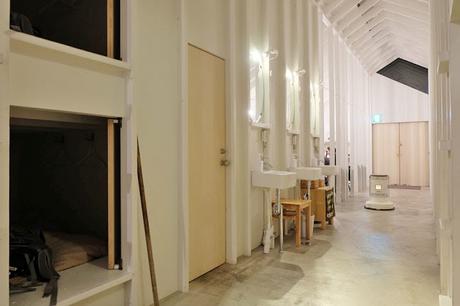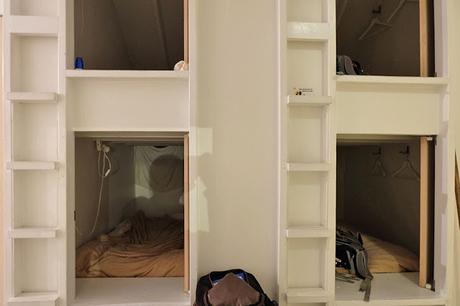 It's amazingly cozy inside the capsule
There is a bar and a common lounge where guests can mingle and eat. The bar serves breakfast (not included in the room rate), dinner, and drinks. There is free coffee and tea.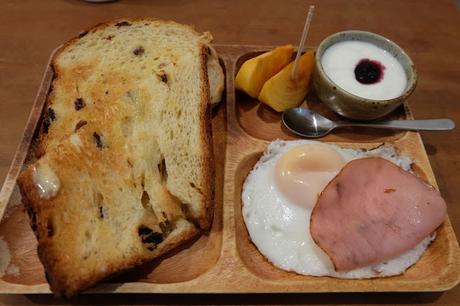 600 yen breakfast at Koyasan Guesthouse Kokuu
Once I had finished inspecting my capsule and dumping my bag there, the guesthouse staff sits me down at the lounge and gives tips on what to see and where to eat (he gives me seven options) in town.
Eating in the Town of Koya:
I take his advice and go to the center of town to find
Chuo Shokudo San Bou
中央食堂
さんぼう 
(I surprise myself by finding it without asking anyone even if there is no English sign outside!), a restaurant that serves shojin ryori (Buddhist vegetarian cuisine). There is a short queue of Japanese customers and I take it as a sign that the food must be good. While waiting, I look over the menu and skip the udon selection (650 to 950 yen) and study the nine vegetarian set meal options (1100 to 2200 yen).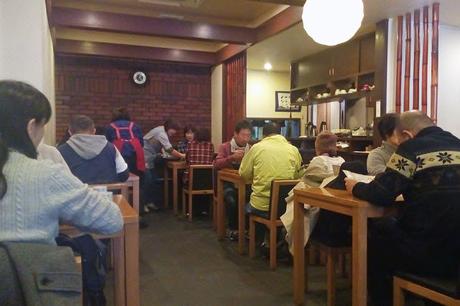 Lunch hour at Chuo Shokudo San Bou
I decide on the mugi daizu (barley and soy bean) rice set for 1100 yen. The meal is served on bowls and plates on a wooden tray. I finish every morsel—I especially like the goma tofu (sesame tofu, a specialty in Koyasan) and the mashed I-don't-know-what (on the oval plate on the left of the photo below). I walk out of the restaurant full (but my stomach doesn't feel heavy) and satisfied.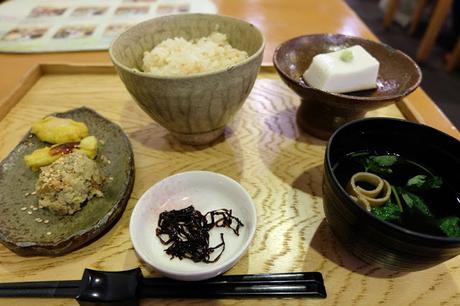 Mugi daizu (barley and soy bean) rice set
For dinner, I choose one of the restaurants the guesthouse staff recommended and try
Shunsai Kameya
旬菜かめや 
(I again congratulate myself when I find it even with no English sign outside!), a restaurant just a few houses from Koyasan Guesthouse Kokuu. In the restaurant, there is just me and a Japanese family. I am guessing business is slow tonight because it's a weekday and the restaurant is located far from the town center.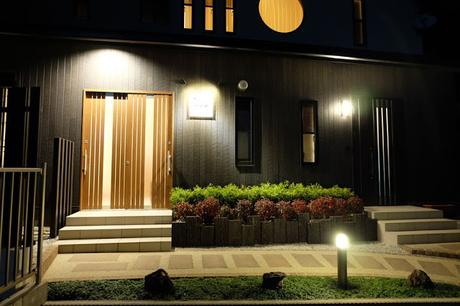 Shunsai Kameya 
旬菜かめや
There are seven dinner sets (1100 to 1500 yen) to choose from. I decide on the vegetarian tempura set 1200 yen (+8% tax) with 5 kinds of vegetable tempura on a bowl of rice, a bowl of udon, and a cube of goma tofu (sesame tofu). A tasty, healthy dinner.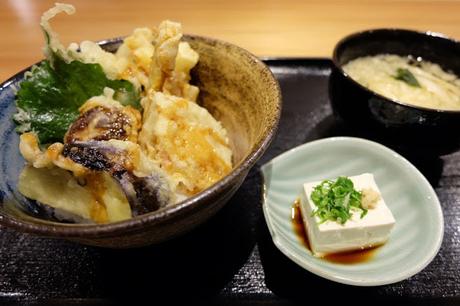 Vegetarian tempura set
Japan
Know Before You Go
Single Entry Tourist Visa for Japan
Roam Around Japan with a Swagger
An Ignoramus in Japan: Vending Machines
An Ignoramus in Japan: Bathrooms and Toilets
An Ignoramus in Japan: Manhole Covers
I Spy With My Little Eye: Japan's Fashion Contradictions
I Spy With My Little Eye: On the Go in Japan
From Tokyo to Hiroshima (2015)
10D/9N | Tokyo, Toyama, Kyoto, Hyogo, Osaka, Hiroshima
Tokyo Accommodation: Shinjuku Airbnb
Tokyo: Memorable Tokyo Eats
Tokyo: Odaiba
Tokyo: Doing Touristy Things in Tokyo
Toyama: A Hamlet Called Ainokura
Kyoto Accommodation: K's House Hostel Kyoto
Kyoto, Japanecdote: Wisdom from the Road: On exits #2
Kyoto: By the Thousands (Kyoto Imperial Palace, Sanjusangendo, Fushimi Inari Taisha, Arashiyama Bamboo Grove)
Kyoto, Japanecdote: Turning Japanese
Kyoto: Braving the Crowds at these UNESCO World Heritage Sites in Kyoto (Kiyomizu-dera, Nijo Castle, Kinkakuji)
Hyogo, Japanecdote: If Only I Could Speak Nihongo
Hyogo: Day Trip to Himeji: Himeji Castle and Shoshazan Engyoji Temple
Hyogo, Japanecdote: Am I an Alien?
Hiroshima: Strolling and Snacking in Miyajima
Hiroshima: Remembering the Past in Hiroshima
Osaka, Japanecdote: How to Lose Friends
Osaka Accommodation: Osaka Airbnb
Osaka, Japanecdote: Where is Bentencho Station?
Osaka: Osaka Adlaw, Osaka Ako sa Osaka
Osaka, Japanecdote: Learn From Your Mistakes
Concentrate on Kansai (2016)
9D/9N | Wakayama, Nara, Kyoto, Osaka
UNESCO World Heritage Sites in the Kansai Region
Osaka: Kansai Diaries, Day 0: Arrival
Osaka Accommodations: Hotel Raizan, Hotel Mikado
Wakayama: Kansai Diaries, Day 1: Going to, Sleeping in, and Eating in Koyasan (you're here!)
Kyoto Accommodations: Guesthouse Wind Villa, Shiori Yado