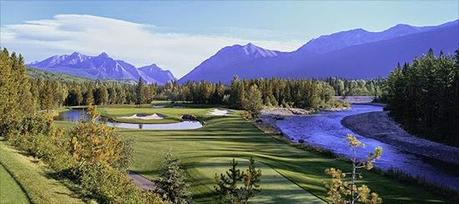 (CANMORE, Alberta) – Canadian Rockies Golf (www.canadianrockiesgolf.net) – the inspiring collection of mountain courses in western Alberta – welcomes the provincial announcement that $18 million will go toward rebuilding the 36-hole Kananaskis Country Golf Course.
A favorite of Albertans and global tourists alike, the Robert Trent Jones-designed Mt. Lorette and Mt. Kidd courses have been closed since the June 2013 flood. In addition to the golf courses, the Alberta government also committed $60 million to restore campgrounds, day-use areas and recreation trails.
Work to refurbish the courses to their original design and protect them from future flooding is expected to begin later this year.
"We're deeply gratified by the news and what it means to the community, our team, local businesses and provincial tourism," said Kananaskis Country Golf Course General Manager Darren Robinson, who has been with the at KCGC for 17 years.
A 2011 study showed the significance of Kananaskis Country Golf Course to the province as it produced a net economic impact of $14 million while sustaining 175 full-time equivalent jobs. KCGC hosted an annual average of 60,000 rounds in its last five years of operation and 85 percent of those golfers were Albertans – who receive a reduced rate.
"Kananaskis Country's economic impact over the past 30 years cannot be overstated," said Darren Cooke, General Manager at Canmore Golf & Curling Club and Canadian Rockies Golf spokesperson. "The re-opened courses and other recreational activities will immediately provide more leisure options for all Albertans, as well as significantly more tourists and revenue for Alberta and the Canadian Rockies destination overall."
Known for its inspiring beauty and pristine, unspoiled natural setting, Kananaskis Country joins other acclaimed Canadian Rockies Golf partners as regular fixtures in yearly "best of" rankings by Score Golf and Canadian Golf Magazine. The two separate and distinct championship courses at KCGC are surrounded by rugged mountains towering 10,000 feet (3000m) above sea level and are named after two of the towering limestone peaks that serve as their backdrop.
For more information or to take advantage of an array of value-laden stay-and-play packages visit canadianrockiesgolf.net, or follow Canadian Rockies Golf Week on Facebook (www.facebook.com/canadianrockiesgolf) or Twitter (@CanRockies).
About Canadian Rockies Golf
Canadian Rockies Golf represents a collection of six award-winning golf properties located in the stunning landscape of the Western Alberta province: Canmore Golf & Curling Club, The Fairmont Banff Springs, The Fairmont Jasper Park Lodge, Kananaskis Country Golf Courses, Stewart Creek Golf & Country Club and Silvertip Resort. Known for dramatic, historic and untamed layouts, each course provides a unique mountain-golf experience where wildlife is regularly seen and unforgettable views are found. This is golf that inspires.
For more information call 1.855.835.8484, visit www.canadianrockies.net or "Like" the Canadian Rockies Golf Facebook Page at www.facebook.com/canadianrockiesgolf.