By 
Meet Karina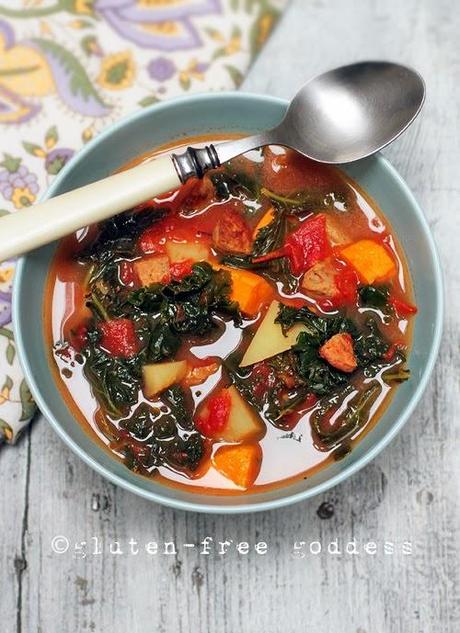 Kicked up kale soup with spicy chicken
sausages and sweet potatoes.
March is not exactly behaving like a lamb. It has snowed twice recently, book-ending our road trip to Cape Cod last week with blustery, leonine winds and sloppy sideways snow. Lucky for us our veteran Suburu Outback gripped the roads like a champ and brought us there and back safe and sound.
We were visiting our favorite peninsula to celebrate the long-pined for Spring Equinox and a certain husband's return to the visual arts (after a six year hiatus 
"fueled by caffeine, over-exposure to earth metals, and extensive dream analysis"
). He was asked to give an oil painting demo at the Creative Arts Center in Chatham. How could we refuse? 
We stayed with good friends (blessed with the Yankee sense to have a warm and cozy wood stove going) and cooked up some gluten-free comfort food together- two big casseroles of Creamy Penne Pasta Bake and a big pot of caldo verde- lovely Cape Cod kale soup.
I made a Cape Cod inspired kale soup today, to share with you. With a minor tweak or two. 
It's the perfect, spicy soup to brave the end of March.
A month with a promise to end like a lamb.
I'll believe when I see it.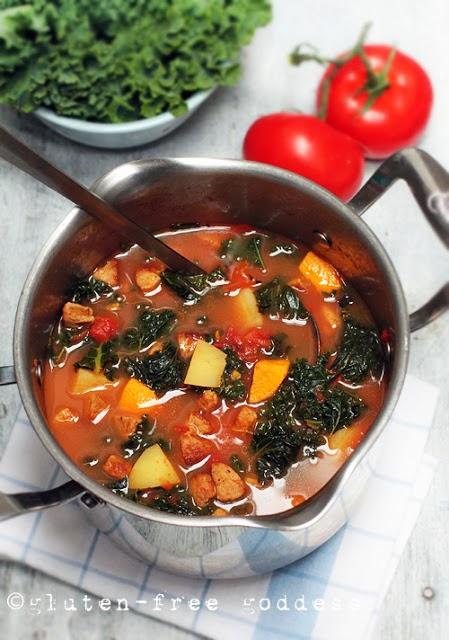 Kale Soup with Spicy Chicken Sausage and Sweet Potato
Free Kale Soup Recipe with Spicy Chicken Sausage, Gold and Sweet Potatoes

 
Traditional caldo verde features white potatoes- and more of them. I used sweet potatoes and Yukon golds. I also skipped the onions and added fire roasted tomatoes. Just because. 




Ingredients:




1 tablespoon good olive oil
2 garlic cloves, minced
1/4 teaspoon crushed red-pepper flakes
4 gluten-free spicy chicken sausages (ours had jalapeños)
2 medium sweet potatoes, peeled and diced
1 large gold potato, peeled and diced
1 14-oz can organic fire roasted diced tomatoes, with juice
1 32-oz carton organic chicken broth (low sodium if desired)
1 bunch organic kale
Sea salt and ground pepper, to taste, if needed



Instructions:

In a large soup pot, heat the olive oil over medium heat. Add the garlic and red pepper flakes; stir for 1 minute.
Quarter the sausages lengthwise; then slice into pieces. Add the sausage to the oil; stir and render the sausage for 5 minutes, until browned.
Add potatoes, diced tomatoes and broth; cover and bring to a boil. Reduce the heat, and simmer, covered for 10 to 15 minutes.
Meanwhile, wash the kale, shake off the water and tear off the tough stems. Tear larger pieces into small pieces. 


When the potatoes are tender add the kale to the pot and lightly simmer, covered, until the kale is tender and wilted- about 10 to 15 minutes.
Taste the broth and season with sea salt and ground pepper, if needed.
Serve with my tender Free Corn Muffins or warm Free Dinner Rolls. 


Serves 4.


Recipe Notes:


We used gluten-free, nitrate-free chicken sausages with jalapeños because we love the spicy kick of jalapeños with sweet potato. But you could use traditional Andouille pork sausage or chorizo in this kale soup- just make sure it says gluten-free on the label.

 


To make this vegetarian- use vegetable broth and skip the sausage. When potatoes are tender, add a (drained) can of cooked white northern beans and warm through.




If you cook it longer and it becomes too thick, add more broth, if needed.