Kaju Gulkand Ladoo – Cashew balls stuffed with a flavourful and delicious rose jam filling
As diwali is around the corner and we all are busy preparing sweet and savoury items to welcome our guests, I am sharing today a delicious sweet – Kaju Gulkand Ladoo.
These ladoos are made with cashew powder and sugar and then a mixture of nuts, gulkand (rose petal preserve) and fennel etc is stuffed inside the ball.
These balls are garnished with silver leaf to give a festive look. For more dessert recipe, you may check here.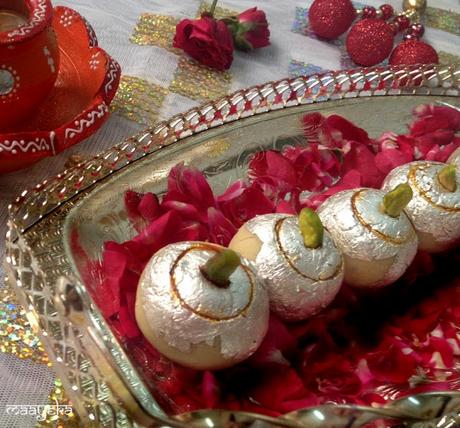 INGREDIENTS-
Cashew pieces-2 cup
Milk powder-2 tbsp
Cardamom powder-1/4 tsp
Sugar-1 cup
Silver leaf/foil – 4 sheets
Saffron paste-1/4 tsp
Oats- 3 tbsp
Stuffing-
Gulkand (Rose Preserve) -2 tbsp *
Crushed Nuts -1 tbsp
Saunf Powder (Fennel Powder) -1/4 tsp
Cardamom powder-1/4 tsp
PROCEDURE-
Grind the cashew pieces and make a powder (do this by gently pulsing it in the mixer, avoid over doing it, else the cashews start releasing their oil, and the mixture becomes sticky).
If using oats then dry roast them in a pan or in microwave for a minute and grind to make a fine powder and add in the cashew powder
Prepare the sugar syrup – In a  heavy bottom pan add sugar and 3/4 cup water and cook to make a sugar syrup of 1.5 thread consistency. Keep stirring the syrup while cooking.
Bubbles will start appearing all over the sugar syrup when its done. Check and switch off the flame and then add cardamom powder to it.
Now add cashew powder and milk powder to the sugar syrup and mix well.
When this mixture cools down to room temperature – knead and mash the dough to make it smooth, and then make small balls from the cashew dough.
Stuffing – In a bowl take gulkand (rose jam), crushed mixed nuts, fennel powder, cardamom powder and mix well. Then make small balls of the stuffing (smaller then the cashew dough balls).
Take a cashew ball and flatten it on your palm and stuff the gulkand ball in it and close it from all the sides and make a smooth and neat ball.
Stick silver foil (silver vark) on the balls and make a ring of saffron paste by dipping a small bottle's cap in the saffron paste and gently pressing it on the top of cashew ball.
Garnish with a pistachio slice on top and serve.
.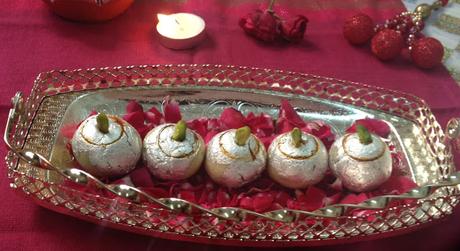 * Gulkand is a sweet preserve/jam of rose petals especially made in India and Pakistan. This is incredibly refreshing and cooling delicacy, and is used as a mouth freshener too. It is available easily in Indian stores across the world.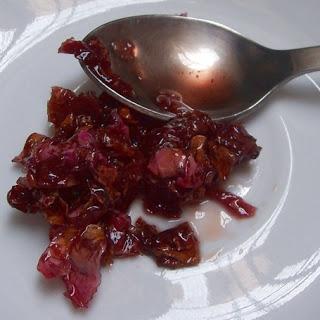 Kaju Gulkand Ladoo / Cashew and Rose Jam Fudge
Course

Desserts/Sweets/Mithai, Festive Recipe

Cuisine

Uttar Pradesh Cuisine
Prep Time
25minutes
Cook Time
20minutes
Prep Time

25minutes

Cook Time

20minutes
The post Kaju Gulkand Ladoo / Cashew and Rose Jam Fudge appeared first on Maayeka. Indian home recipes - just like Maayeka!