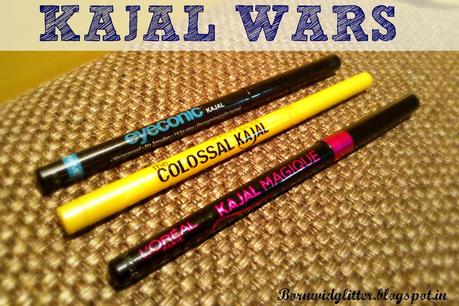 Hello Lovelies, 
                    How's you all doing ??? Most of us get confused when shopkeeper says mam you can use Maybelline OR Lakme and L'oreal is also good ... do you also get confused ??? 

Well a friend of my faced that and whatsapp me to suggest her a GOOD KAJAL .... So Today i am gonna Differentiate these 3 ..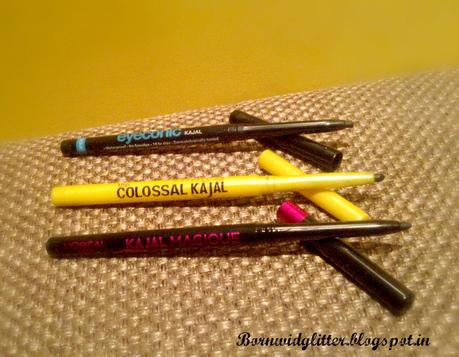 Lakme
L'oreal
Maybelline
Product  Claims           · Waterproof          · Smudge Free    ·  10H          · Dermatologically   tested        · Waterproof        · Smudge Free              · 12 H      ·    Supreme Black
    ·  Waterproof         ·Smudge Free          ·12 H

Is it Really Waterproof?
80%
110%
40%
Staying Power
Stays for at least 8 hours Stay for at least 10 hours than starts fading Stays for 6-8 hours
Price 199/- 245/- 175/-
Smudge proof ? Yes, 85% 110% Not really
Texture Creamy than Colossal Not so Creamy Matte
Pigmentation Highly pigmented.
you just need 1-2 swipes Less Pigmented.
You need 2-4 swipes for perfect black finish PigmentedYou need 1-3 swipes
SWATCH :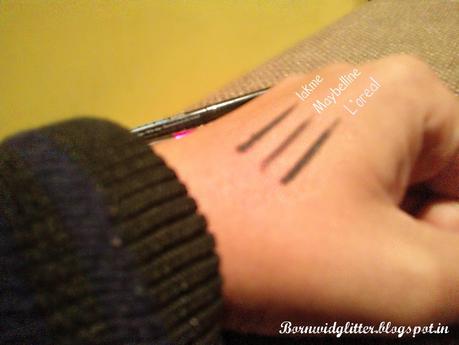 My FAV :  After using all three for more than a month i can say L'oreal is a big Hit, you can also choose Lakme if you want something in budget . But Maybelline colossal is HIT or MISS product For me it's a MISS however it works well with some.
* HAPPY WEEKEND *