Some days are awesome ...And some days you waste your life waiting for your turn at the dentists office.That has been happening to me a lot in the past few years. I guess my sins are finally catching up with me. Sins- yes ,I live on a perpetual sugar high.But I live in hope.When I was asked to try out Raw Banana Flour or Kadhali by Namrata Shastri at mystique confections, my first thought was, how will this react to sugar? It did react, quite beautifully ...just as you can see.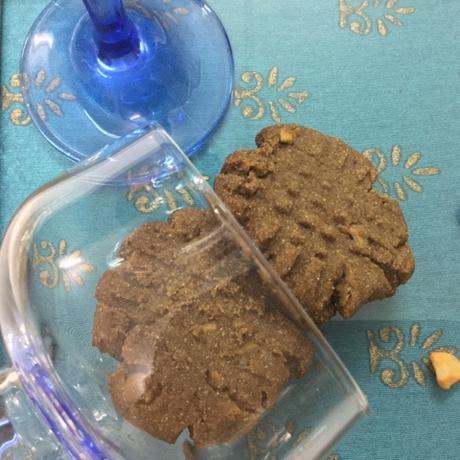 We made awesome fruit Parfaits with Raw Banana Flour or Kadhali. And these cookies were the next on.Since this flour is gluten free, grain free, has high fiber ,lowers cholesterol and aids digestion I thought it would do really well during a detox diet or a fast. So the next time you go grain free and fast for your religious beliefs ,you won't have any craving for that cookie in the jar. I really miss that cookie to dunk in my tea when I fast. And when I see my son direct another cookie to rescue his drowning cookie in his tea....it makes me really sad.Sad that I crave a cookie when I am supposed to control.And sad that I can't dunk a cookie in my tea.So this was godsent.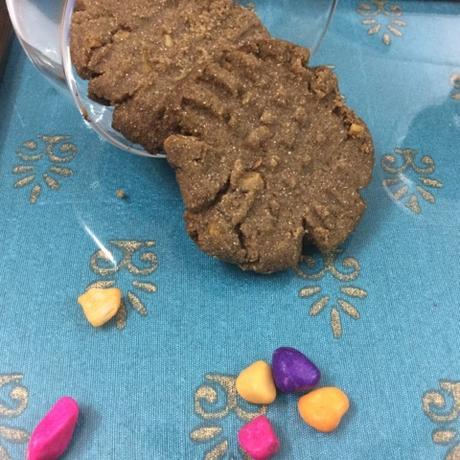 PS it contains alternative flours. And Kadhali has Resistant starches or RS2 that gives a feeling of fullness and satisfaction,keeping hunger pangs at bay. So in the long run, aids in weight loss.
And it can also be used by diabetics. So don't wait for a fast . Make these cookies for your daily cup of tea...
For the
Kadhali Cookies -Gluten Free Satvik Delight Raw Banana Flour and Amaranth Cookie...
You need
3/4 cup Raw Banana Flour Kadhali 1/4 cup amaranth flour (Rajgira flour)1/2 cup desi ghee or clarified butter.1/2 cup icing sugar or finely processed granulated sugar1/4 cup chopped pistachios (Optional)1/8 tsp rock salt (only if your pistachios are unsalted)
Line your cookie sheet with baking paper and turn on your oven to 170C.You can use the same  amount of butter , but these is something very earthy about the flavor of desi ghee.FYI desi ghee or clarified butter in small quantities is very beneficial for your body. It keeps your bones and skin healthy. And it's also very good for your digestion .So don't fret. You can eat a cookie or two without falling ill.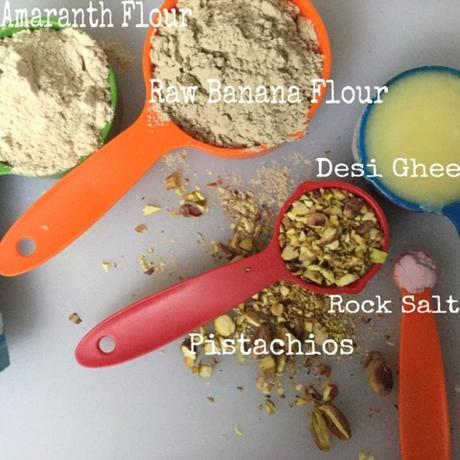 Chop the pistachios fine. I added these, because I wanted a bite or a crunch in my cookie. Like the store bought cookies. And I have three jars full of them. Unsalted, roasted pistachios that no one seems to want to eat in this warm Mumbai weather. So I am liberally using them in my baking.You can substitute amaranth flour with whole wheat flour if you are not interested in totally Satvik cookies. Same amount.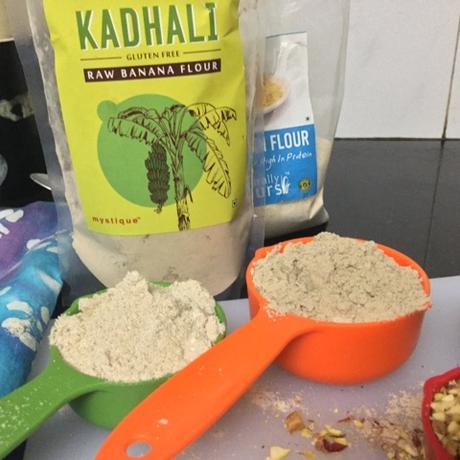 In a bowl, cream the ghee and the sugar till the sugar seems well incorporated.Add in the Kadhali and the amaranth flour. Stir and add the postal and rock salt.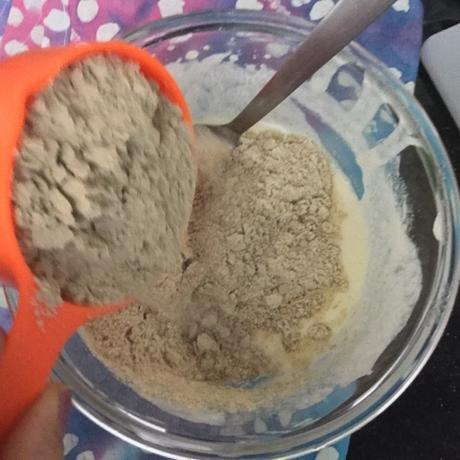 You'll need to set the spoon aside and use your hands to lightly knead the dough. Just bring it together into a ball.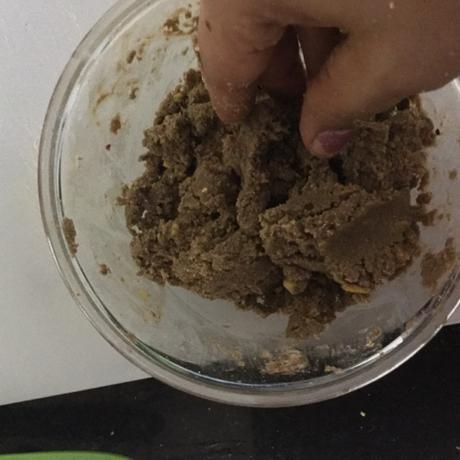 I wanted to slice the cookies and not make balls. So I rolled it into a sausage shape in film and chilled it for 10 minutes.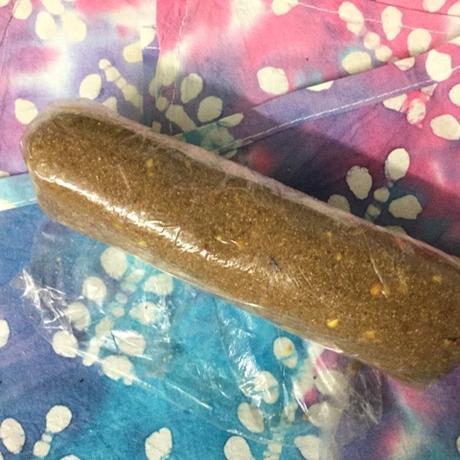 I sliced them into equal thin slices and pressed a fork twice to make criss cross.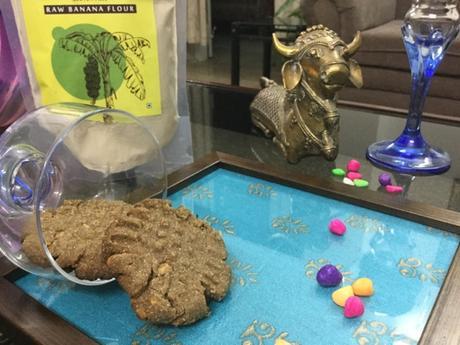 Pop into the oven and bake for 8-10 minutes. Keep an eye on the cookies they burn very easily.I burnt my first tray...Those cookies were relished by sweet dog Romeo. He came wagging his tail and licking his whiskers after munching down 6 -a little burnt cookies. I guess...it was sweet heaven for him.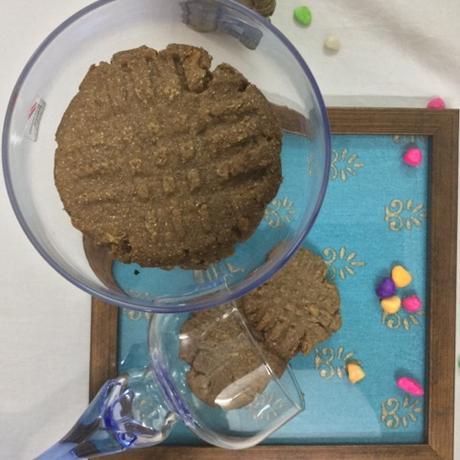 The second batch turned out fine. Absolutely fine,thank you .
Nutty,with no state of banana at all.That's what the beauty of Kadhali is.It blends so well with the sugar and ghee , all you could taste was the taste of Navratri.Sensational with Cutting Chai.
There's a lot you can do with Kadhali. Fellow blogger Pooja Khanna made a Gluten free Chocolate cake. Parfait, Crackers , Milk shakes... The possibilities are endless.
You just need to try.
So what are you baking today???