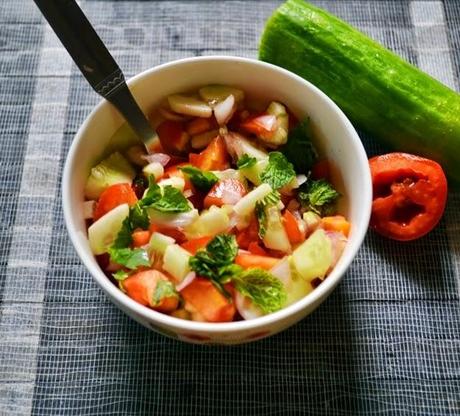 Kachumber is the Indian salad with cucumber,tomato and onion essentially.This is the basic salad recipe served mostly in any restaurant alongside any spicy meal. Cucumber,onion and tomatoes make up this salad along with optional ingredients like cilantro,lemon and finally tossed up with some lemn juice.I love this salad so much that I can have this alone as a meal :). When ever I make this I prepare a large quantity,we love this in our home.Super quick and simple to put together,very crunchy and refreshment in every spoonful,a must try recipe with any spicy Indian meal.Though it is mostly served with north Indian dishes,it absolutely tastes great even with sambar rice or any variety rice too.Try having this with dal rice,yum combo it is :)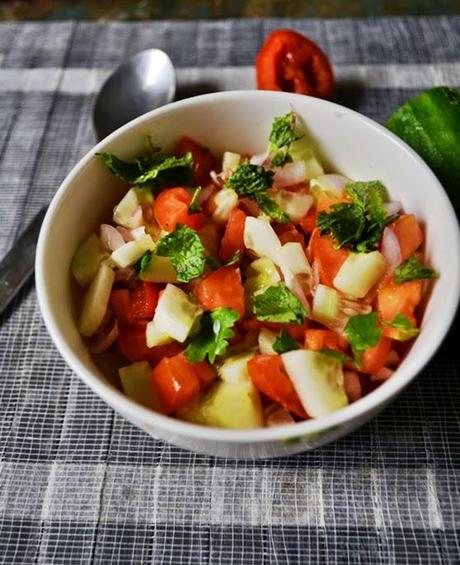 If you are looking for more cooling salad/ raita do check out the collection of raita recipes here
Kachumber salad
Star Ingredients: Cucumber,tomato,onion
Time:10 minutes
Serves:3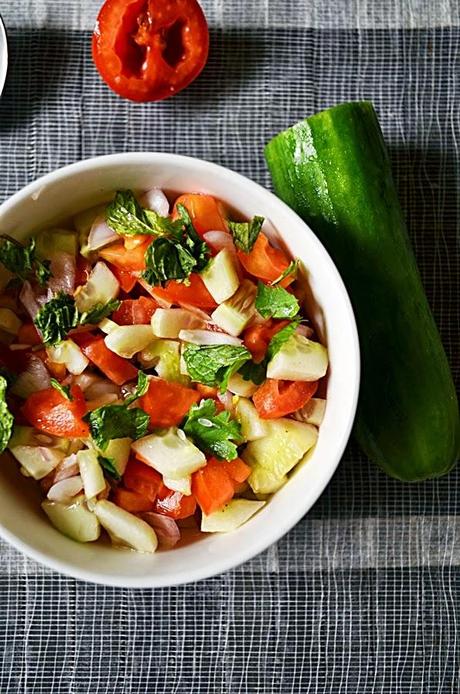 Ingredients:
2 salad cucumbers,peeled and cubed
1 medium sized onion,sliced thin
3 small tomatoes,seeded and cubed
1 tablespoon lemon juice
2 teaspoons chopped cilantro,mint
Salt and pepper powder to taste.
Method:
1.Toss all the ingredients togther in a bowl and mix well
2.Allow the flavors to mingle for 15-20 minutes before serving
Notes:
1. If you don't prefer the taste of raw onions you can leave it
2.You can add a dash of roasted cumin powder for a different taste.