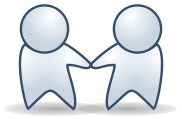 Image via Wikipedia
09/01/2011 – by Cynthia Wright
K-Y, the company that brings you various accessories for your sexual pleasure has decided to take the advertising of their only female arousal gel on the market up a notch by using a long-term lesbian couple as their focal point.
Being that K-Y is a frequent sponsor of LGBT events and has taken out advertisements on various magazines and websites – it is nice that they decided to take it one step further and produce a commercial.
The commercial that will start airing on major networks, as well as, online September 5th, briefly details the life of Alex and Emma. Of course, in usual K-Y style – the couple is discussing the secrets of their relationship success. Of course, the gel is produced and in a moment reminiscent of Katy Perry's "Fireworks" video (as in, there are literally fireworks) – the couple is later seen in bed remarking on how the K-Y was a "good purchase."
What is great about this video, is that it paints the normalcy of long-term relationships – the fact that these are two women has nothing to do with it. The commercial is not overtly sexual and it's shot in usual K-Y branding style. As an aside: whomever their marketing person is happens to be quite a genius.
Just out of curiousity,  does K-Y Intense live up to the hype?