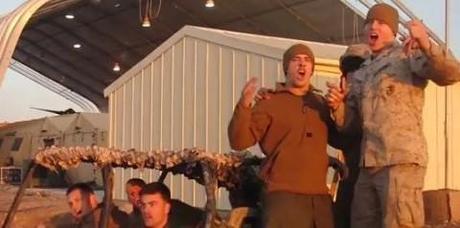 The Marines behind Montage 2.0. Photo credit: YouTube
Being an American Marine in Afghanistan isn't fun – it's hot, it's dusty, and there are a lot of people trying to kill you. So, when they aren't in action, it's understandable that US servicemen need to unwind, let off a little steam.
Here's the latest spoof music video from the guys who brought you their unique take on Britney Spears's "Hold It Against Me." This one is a montage of Justin Bieber's "Baby", Far East Movement's club banger "Like a G6″, and tracks from Kesha and Black Eyed Peas. Like their last effort, it's gone viral.
More viral video »