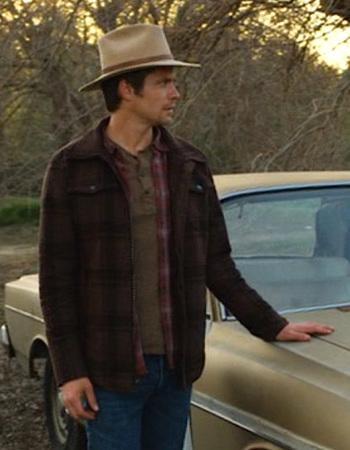 Timothy Olyphant as Deputy U.S. Marshal Raylan Givens on Justified (Episode 2.13: "Bloody Harlan", 2011).
Vitals
Timothy Olyphant as Raylan Givens, old-fashioned and stoic Deputy U.S. Marshal
Harlan County, Kentucky, Fall 2010
Series: Justified
Episodes:
– "The Life Inside" (Episode 2.02, Director: Jon Avnet, Air Date: February 16, 2011)
– "The Spoil" (Episode 2.08, Director: Michael Watkins, Air Date: March 30, 2011)
– "Bloody Harlan" (Episode 2.13, Director: Michael Dinner, Air Date: May 4, 2011)
Creator: Graham Yost
Costume Designer:  Patia Prouty
Background
Justified took greater measures to embrace the series' potential in its rural Kentucky setting during the second season, which is arguably one of the show's best.
Rather than sending Raylan to L.A. for one-off missions, the second season more or less abandoned the "case-of-the-week" procedural format that marred early offerings in the first season and immersed Raylan in the world of the Bennetts, a clan of Harlan County hillbillies – or, as Art calls them, "dumb-ass peckerwoods" – who brutally monopolize the county's marijuana and moonshine trades in the vacuum left by the death of Bo Crowder. Of course, this being Harlan County, the Givens family has a long-standing feud with the Bennetts that pre-dates Raylan's badge.
What'd He Wear?
Raylan often wears an olive brown henley shirt throughout the second season. In "The Life Inside" (Episode 2.02) and "The Spoil" (Episode 2.08), it appears to be a four-button henley.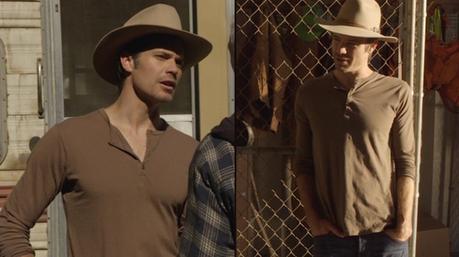 In "The Life Inside" (Episode 2.02), Raylan makes the rounds of Harlan County in his four-button brown henley.
The long-sleeve cotton henley he wears in "Bloody Harlan" (Episode 2.13) has been identified as a J. Crew shirt, size medium, with a three-button placket. The elasticized cuffs allow the sleeves to stay rolled up when Raylan needs them to be. This henley appears to be slightly heavier weight than the earlier shirt and has a reinforced placket.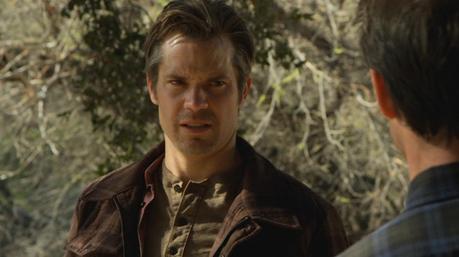 Raylan wears a decidedly different – but similarly-colored – henley by the time "Bloody Harlan" (Episode 2.13) rolls around.
Although the henley shirt derives its name from English rowersfrom Henley-Upon-Thames, J. Crew also recognizes the significance of the shirt among early coal miners – an occupation near and dear to those in Harlan County – with the description of its slubbed cotton Homespun Knitwear Coalminer Contrast Henley: "From Vancouver-based Homespun Knitwear, creator of 1930s-inspired workwear, these henleys are meant to be worn as undershirts in the style of the coal miners, iron workers and railroad men who relied on clothing that worked as hard as they did."
Despite the coal mining origins of the Homespun henley, Raylan most likely wore a J. Crew shirt closer to this solid flagstone henley or this garment-dyed henley which is also available in the "olive wood" color of Raylan's shirt. Both are currently offered, as of September 2016, for $59.50 each.
As the weather gets colder in Harlan County, Raylan layers by doubling down on flannel, dressing like a true son of Appalachia for his final move against the murderous Bennett clan in "Bloody Harlan" (Episode 2.13).
Raylan wears a red-and-gray plaid cotton flannel long-sleeve shirt that was also auctioned jointly with the olive henley by ScreenBid in April 2015.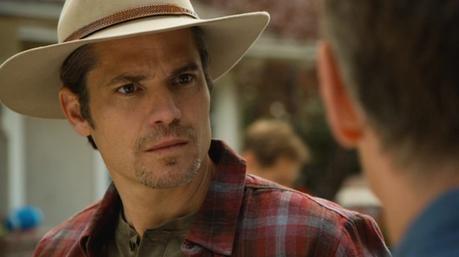 "Bloody Harlan" (Episode 2.13).
The auction identified the shirt as a size medium from 21MEN, the men's line from Forever 21. The shirt has seven black plastic buttons down the front placket, and two patch pockets on the chest that each close with a single button on a pointed flap. The back has a two side pleats under the horizontal yoke. Each squared cuff closes with two buttons and a smaller button further up the wrist to close the gauntlet.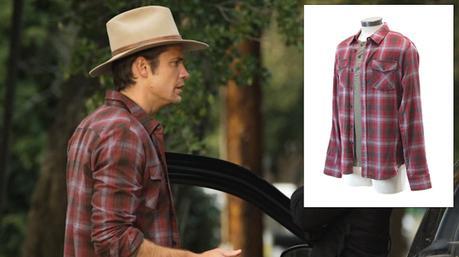 Raylan's red-and-gray plaid flannel shirt as auctioned by ScreenBid (inset) exactly matches the one he wore in "Bloody Harlan" (Episode 2.13).
Raylan's top layer is a quilted woolen flannel jacket in a large-scaled brown and black plaid. He wears it open, although it has a zipper and a snap fly down the front. The coat has a long-pointed shirt-style collar and – like the shirt under it – two patch pockets on the chest that each close on a pointed snap-down flap.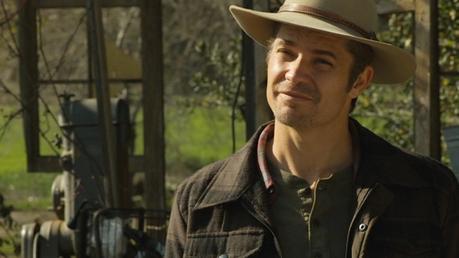 Raylan's smugness rubs Dickie Bennett the wrong way…
The cuffs close with double snaps with open gauntlets. Underneath each armpit is a solid brown vertically quilted panel.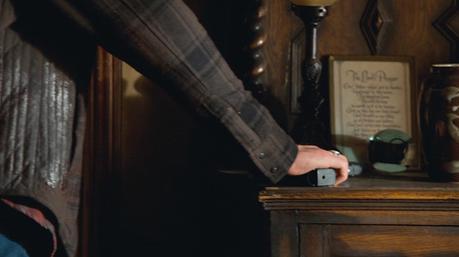 …and leads to Raylan getting a bullethole in his side, bloodying up the side of this coat and ensuring that we won't be seeing it for the rest of the series' duration.
Given the amount of true flannel in Raylan's outfit, this is an appropriate post to comment on the common American misuse of the term "flannel", often mistakenly used to refer to any plaid or tartan-patterned shirt. In fact, flannel refers to the soft woven fabric – traditionally wool but cotton is used more increasingly – from which the garment in question was made.
Raylan wears his usual denim, a pair of dark blue Levi's 501 jeans with a straight bootcut leg, zip fly, and standard five-pocket layout. Screen-worn jeans that were auctioned off were size 31×32. Through the belt loops of his jeans, Raylan wears his usual brown Western-style tooled belt in tanned leather. On the right side of his belt is the tan-finished full grain leather Bianchi Model 59 Special Agent® thumb break paddle holster for his full size, 4.49″-barreled Glock pistol, which requires holster model #19128.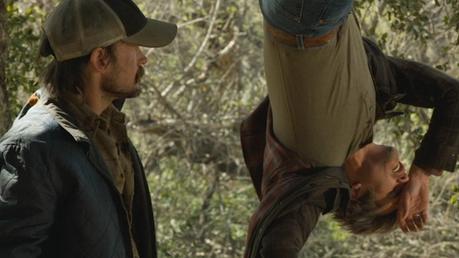 Raylan's belt is best seen as he falls victim to Dickie Bennett's backwoods torture device in "Bloody Harlan" (Episode 2.13).
The cowboy lawman also wears his usual footwear, a pair of custom-made Lucchese ostrich leg Western-style hornback boots in dark "cigar" brown with decorative stitching on the calf leather shafts.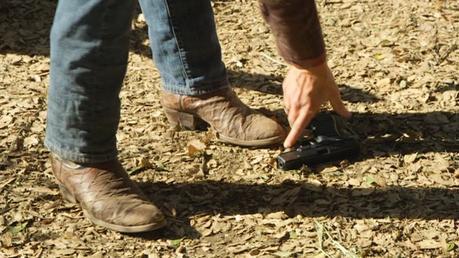 One of the best looks we get at Raylan's iconic ostrich leg boots.
When not being hung upside down, Raylan also sports his trademark cattleman's hat, a Stetson San Angelo "Marshall" in ranch tan 4X wool with a 4.25″ crown, 4″ brim, and slim tooled leather band. Interested buyers can pick up their own at HatCountry.com.
Raylan also sports his usual accessories of a sterling silver horseshoe ring on the third finger of his right hand and a TAG Heuer Series 6000 Chronometer wristwatch on his left wrist. The TAG Heuer watch has a brushed steel case, white dial, and black leather strap.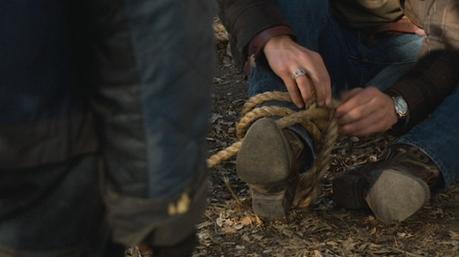 Raylan's half-horseshoe ring and watch, seen as he unties the ropes from around his boots in "Bloody Harlan" (Episode 2.13).
As one would expect, Raylan's underwear is also devoid of frills. He wears a white ribbed cotton sleeveless A-shirt as an undershirt and a pair of white-and-blue striped cotton boxer shorts.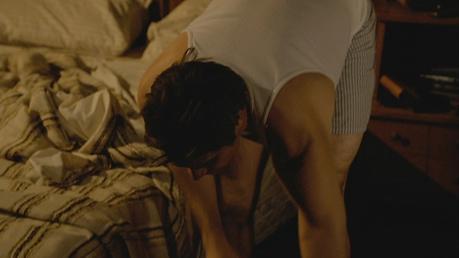 Raylan spends plenty of time in his underwear while fooling around with Winona in his motel room before going out after the Bennetts in "Bloody Harlan" (Episode 2.13).
What to Imbibe
A country man like Raylan Givens is a proud imbiber of whiskey in all of its forms, whether a plastic flask-bottle of Jim Beam for nights at the batting cage…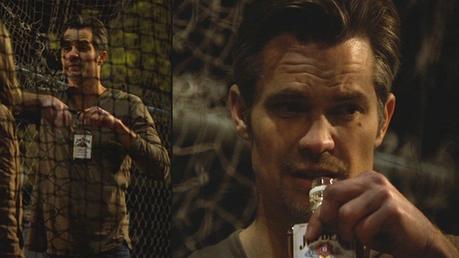 Some baseball players prefer chewing tobacco. Raylan prefers shots of bourbon straight form the bottle when he's swinging the bat.
…or some of Mags Bennett's famous "apple pie" moonshine (if you dare). Mags doesn't offer much in the way of a recipe: "I make it 180 proof. Cut it with cider, some apple juice, add some cinnamon and vanilla…" but, luckily, the gang over at Moonshine Heritage has put together the following basic recipe for apple pie moonshine:
Combine 1 gallon of apple cider, 1 gallon of apple juice, 3 cups of white sugar, and 8 cinnamon sticks in a large stock pot.
Bring the ingredients to a boil, then take it off the heat and allow it to cool.
Add a liter of high-proof liquor, either grain alcohol or 190-proof moonshine.
Pour this into mason jars, put the lids on, and let it mellow out.
Moonshine Heritage advises that "you could drink it right away, but it does get better after a couple of weeks". According to the site, those ingredients should make you about nine quarts… of course, one mason jar alone should be enough to have you seeing double for a few weeks.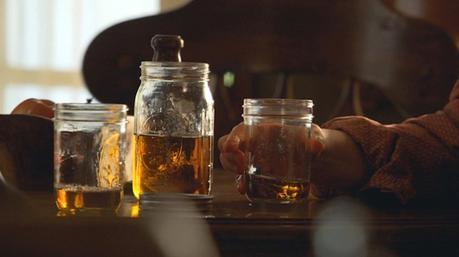 I'm sure there's a "you might be a redneck if…" joke somewhere about having "good" mason jars to offer guests.
How to Get the Look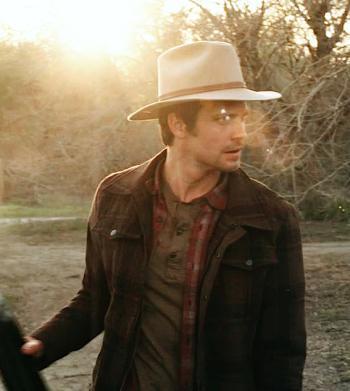 This very rustic and rugged combination makes its sole appearance in "Bloody Harlan" (Episode 2.13), when it is ruined by a gunshot to Raylan's side that ends up bloodying up the whole thing. It was good while it lasted.
Brown-and-black plaid quilted woolen flannel snap/zip-front jacket with long shirt-style collar, snap-down flapped chest pockets, and double-snap cuffs
Red-and-gray plaid cotton flannel 21MEN long-sleeve shirt with button-down flapped chest patch pockets and 2-button cuffs
Olive brown cotton J. Crew long-sleeve henley shirt with 3-button placket and elasticized cuffs
Dark blue denim Levi's bootcut jeans
Stetson Marshall 4x wool ranch tan cattleman's hat with a thin tooled leather band
Lucchese "cigar"-colored brown ostrich leg Western-style boots with decorative stitched calf leather shafts
Dark brown tooled leather belt with a dulled steel single-claw buckle
Tan full grain leather Bianchi Model 59 Special Agent® paddle holster for a full-size Glock pistol
TAG Heuer Series 6000 Chronometer wristwatch with brushed steel case, white dial, and black leather strap
Sterling silver horseshoe ring with braided side detail
White ribbed cotton sleeveless undershirt
White-and-blue striped cotton boxer shorts
The Gun
Raylan Givens continues to carry his duty sidearm, a full-size Glock 17 semi-automatic pistol chambered in 9×19 mm Parabellum. He refers to the weapon as a ".45 Glock" on several occasions, but it has been proven to be the more common 9mm model.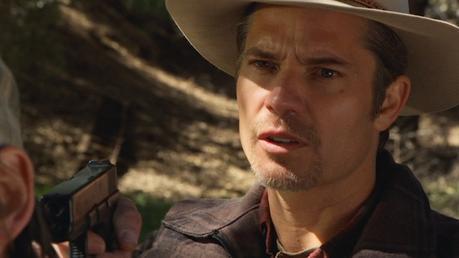 Raylan draws his Glock to administer justice in "Bloody Harlan" (Episode 2.13).
Do Yourself a Favor and…
Buy the entire series, but check out the second season
 if you want to see this look in particular as Raylan Givens faces off against the Bennett family.
The Quote
I don't want you to speak anymore. 'Cause once you start lyin' to me, there's going to be a river between us with no bridge to cross. Do you understand what I'm sayin'? Nod if you do.
Footnote
Today's post nods to BAMF Style celebrating "Flannel Friday", a concept suggested by my girlfriend to commemorate the brisk weather this September that is more than welcome after an excessively hot summer here in Pittsburgh.