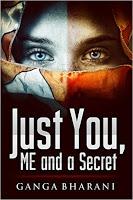 Just You, Me and a Secret
 marks a history in my book reading experience for two reasons: 
This is the first complete book I've read in the digital format through Amazon Kindle Unlimited. 
And the first book I've read without taking a break because I just couldn't. 
Just You, Me and a Secret
is a psychological romantic thriller in which the protagonist, after losing her memory in an accident, tries to regain her lost identity. Shuttling in between whether to trust or not the stories told by people around her, she finally arrives at a point where she understands what has been done to her while she remained unconscious. 
Author Ganga Bharani, as a debutante, has proved to the literary world, "Man, I have a great plot and I can write in flawless English. That was all it required to write a fantastic book."
A young girl regains her consciousness at a hospital. However, she is unable to identify herself or anyone around her. An unattractive but kind man, 
Ashruth,
 introduces her as Meera and claims to be her would-be. Eventually, Ashruth arranges to make her read Meera's diary. And that's where the plot begins to race with curiosity. Towards the end, when the diary doesn't solve the mystery, she ventures into what her heart dictates and there she finds the truth, to the shock of the readers! 
Ashruth seems a cheater in the beginning. With a few pages, he becomes a kind and understanding fiancée. Again there arises a doubt on Ashruth. So, finally who is he? Santosh, Meera's cousin hides something in his room but behaves like a loving brother. What about him? Meera might have fallen in love with one person in her past but now she is attracted to another. Is it right on her part to do so? Along with Meera, readers too travel with her confusions and complexities and this involvement that author Ganga has managed to pull in from the readers makes it an un-put-downable read!
In spite of the past and present stories alternating throughout the plot, the author has made the tales distinct with simple subheadings, leaving behind no confusions to the readers. Yet, towards the end, the plot has slightly fallen off from the realism it had carried all the way. Being the last few pages, however, it couldn't make a significant difference in the reading experience.
It is one-of-its-kind plot; a story I've no where heard before. Apart from Enid Blyton classics and Agatha Christie novels, I have never been interested in this genre. But with this book, I felt I must read a thriller once-in-a-while. What surprises me is that with more than two years since its publication, the book has escaped the film making industry. Yes! I have a strong opinion that if this plot gets into the right hands, it can make a great movie. 
A superb plot narrated with utmost simplicity! That's what stands out of 
Just You, Me and a Secret!

Title: Just You, Me and a SecretAuthor: Ganga Bharani VasudevanPublisher: Tales4Publications
Pages: 168
Author Connect
Blog
Facebook
Twitter
@Goodreads
Buy Online
Amazon
Flipkart
About the Book
Just You, Me And A Secret is a story of an amnesiac, Meera, who battles between her past and present. Meera Prabhu wakes up after a terrible accident with absolutely no memory of herself. She sees a stranger in the mirror and seems to be living with another stranger, Ashruth. Ashruth, a doctor by profession and a clown by appearance, claims that he is her fiancé. They were engaged to be married and would have been married already if not for the accident. He keeps on emphasizing on how much she loved him and yet, he keeps her apart from her family for her 'mental state'. Armed with what seems to be her personal diary, Meera tries to grasp her identity and her reality. But no matter how hard she tries, she just seems to be unable to connect. Will Meera break through the hurdles in front of her and be able to connect to her friends and family again? Most importantly, will she ever regain her identity again?
About the Author
Ganga Bharani Vasudevan Author is a popular blogger and a documentary film maker. She has two award winning documentaries to her credit. Simple girl with complicated dreams.