Welcome to the Blog Tour for Becoming Mrs. Lewis by Patti Callahan with JustRead Publicity Tours! We continue the Becoming Mrs. Lewis celebration on social media starting March 14.
---
ABOUT THE BOOK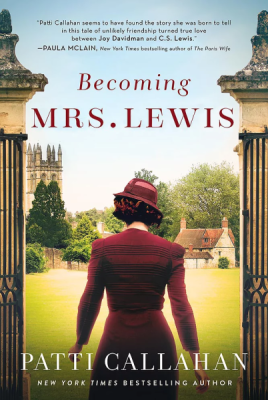 Title
: Becoming Mrs. Lewis 
Author
: Patti Callahan
Publisher
: Thomas Nelson 
Genre
: Historical Fiction
Release Date
: October 2, 2018
From New York Times bestselling author Patti Callahan comes an exquisite novel of Joy Davidman, the woman C. S. Lewis called "my whole world."
When poet and writer Joy Davidman began writing letters to C. S. Lewis—known as Jack—she was looking for spiritual answers, not love. Love, after all, wasn't holding together her crumbling marriage. Everything about New Yorker Joy seemed ill-matched for an Oxford don and the beloved writer of Narnia, yet their minds bonded over their letters. Embarking on the adventure of her life, Joy traveled from America to England and back again, facing heartbreak and poverty, discovering friendship and faith, and against all odds, finding a love that even the threat of death couldn't destroy.
In this masterful exploration of one of the greatest love stories of modern times, we meet a brilliant writer, a fiercely independent mother, and a passionate woman who changed the life of this respected author and inspired books that still enchant us and change us. Joy lived at a time when women weren't meant to have a voice—and yet her love for Jack gave them both voices they didn't know they had.
At once a fascinating historical novel and a glimpse into a writer's life, Becoming Mrs. Lewis is above all a love story—a love of literature and ideas and a love between a husband and wife that, in the end, was not impossible at all.
PURCHASE LINKS*: GOODREADS | AMAZON | BOOK DEPOSITORY | CHRISTIAN BOOK | iTUNES
---
ABOUT THE AUTHOR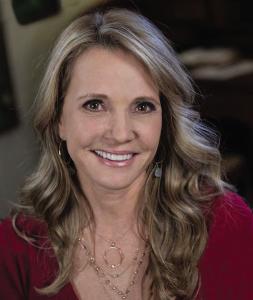 Patti Callahan (who also writes as Patti Callahan Henry) is a New York Times bestselling author. Patti was a finalist in the Townsend Prize for Fiction, has been an Indie Next Pick, twice an OKRA pick, and a multiple nominee for the Southern Independent Booksellers Alliance (SIBA) Novel of the Year. Her work has also been included in short story collections, anthologies, magazines, and blogs. Patti attended Auburn University for her undergraduate work and Georgia State University for her graduate degree. Once a Pediatric Clinical Nurse Specialist, she now writes full time. The mother of three children, she lives in both Mountain Brook, Alabama, and Bluffton, South Carolina, with her husband.

CONNECT WITH THE AUTHOR: WEBSITE | FACEBOOK | TWITTER | INSTAGRAM
---
REVIEW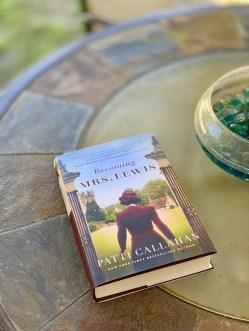 I was super excited to see a book about C.S. Lewis – anything C.S. Lewis has my attention. Technically though, the book isn't actually about C.S. Lewis….. Joy Davidman is the main character of this book. The story begins with her life as a wife to Jack (C.S. Lewis) and mother. Readers could pick up the sense that things weren't right in the marriage right away – her husband drinks too much and they are distant and seem disconnected.  This causes Joy to begin to explore and test her faith, and she begins writing about faith in letters to Jack Lewis. They start writing back and forth to each other,  while exploring and connecting with each other deeply through their words to each other and over their spiritual beliefs. 
Becoming Mrs. Lewis isn't just a love story for readers, but instead, it's Jack and Joy's poetic song to literature. I believe folks who love historical fiction, C.S. Lewis, the historical fiction genre, strong female characters and super compelling love stories will really enjoy this story.
---
I'm sorry to say that because I was hospitalized and missed the timely posting, you won't be able to participate in the giveaway for this tour – I'll make it up to you though – I'll be sure to get you notice of the next giveaway as soon as I can!! Thanks.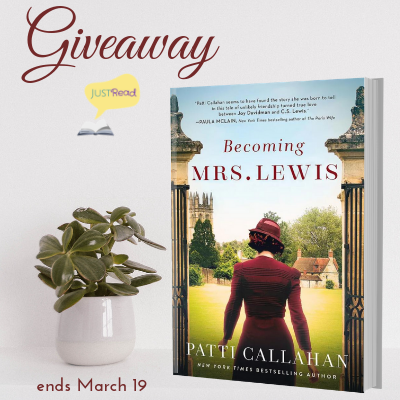 TOUR GIVEAWAY
  (2) winners will each win a hardcover release copy of
Becoming Mrs. Lewis. 
Be sure to check out each stop on the Blog and Takeover tours for more chances to win. Full tour schedule on this tour shown below. Giveaway began at midnight March 12, 2019 and will last through 11:59 PM EST on March 19, 2019. Winners will be notified within 2 weeks of close of the giveaway and given 48 hours to respond or risk forfeiture of prize. Due to shipping cost, only US mailing addresses valid. For our giveaway rules and policy, click HERE.
a Rafflecopter giveaway
---
Follow along at JustRead Tours for a full list of stops!   AND  
Be sure to stop at the following tours for more chances to win!

  *NOTE: This post contains affiliate links.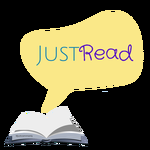 ---
I received a courtesy copy of this book in exchange for my participation in this blog tour.  No positive review was required.
~ ~ ~ ~ ~ ~ ~ ~ ~ ~ ~ ~ ~ ~ ~ ~ ~ ~

It would be great if you would stay connected with me!! You can follow me on Twitter @DebiL1611, like me on Facebook at 2014 and Beyond, circle me on Google+, follow me on Tumblr, Instagram and Bloglovin', subscribe on YouTube, or connect with me on LinkedIn and Pinterest.

Please make sure to visit my homepage and subscribe to my blog for more great posts on running, fitness and lifestyle topics as well as food, product, music and book reviews, and more!