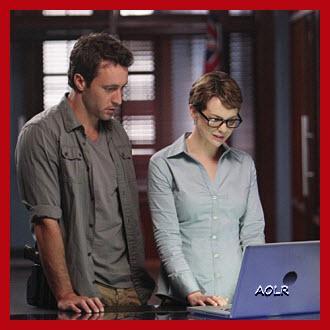 The  latest "Hawaii In Vermont" podcast is now available here and on iTunes!
This episode reviewed by me, Dana In Vermont and "my little friend" Eli is of Hawaii Five-0′s latest new episode broadcast Mar 21st, Ne Me'e Laua Na Paio, ("Heroes and Villains" in Hawaiian.)
We talk about the newest addition to the Five-0 Team, Agent Jenna Kaye, who we are both a bit skeptical about, though I'm willing to give Larisa Oleynik another try in future episodes. Eli feels her resemblance to MSNBC pundit and Rhodes Scholar, Rachel Maddow, is a little too uncanny for his taste.
He is also little more critical than usual of the superhero crime plot and comments that perhaps the writers might have been trolling the jumptheshark.com website for cliched storylines. We both enjoyed Johnny D, played by James Ransone from "The Wire" and ponder Kono's impressive texting skills when she partnered with Danny at 'Femme Nu.'
We also had to agree to disagree about the Wo Fat scene which I thought was well played and tense, but Eli outlines why he wasn't so impressed.
Hope you will enjoy it and please remember that any contributors, or comments about our podcast here or on iTunes will be automatically entered in our monthly Five-0 Crew T-shirt contest! You will also be entered if you click on the "Like" button to become a fan on our Facebook page athttp://facebook.com/alohavermont! So don't miss doing that! The first drawing will be at the end of April!
Filming Locations:
Aston Waikiki Beach Hotel (pool scene with falling Captain Fallout)

Hawaii Convention Center (Spectacucon)

Kailua Beach (chase scene)

Nu'unanu Stream, Chinatown (McGarrett meets investigator)

Club Femme Nu

Nihao Chinese Restaurant (noodle house where Wo Fat shows up)
(from 
http://alexoloughlinrocks.com
 blog)
Mahalo for listening!!! Aloha