BEAUTY
❤ ❤ ❤ ❤ ❤ ❤ ❤ ❤ ❤ ❤ ❤ ❤ ❤ ❤ ❤ ❤ ❤ ❤ ❤ ❤ ❤ ❤ ❤ ❤ ❤ ❤ ❤ ❤ ❤ ❤ ❤ ❤
Review Of Pond's White Beauty BB Cream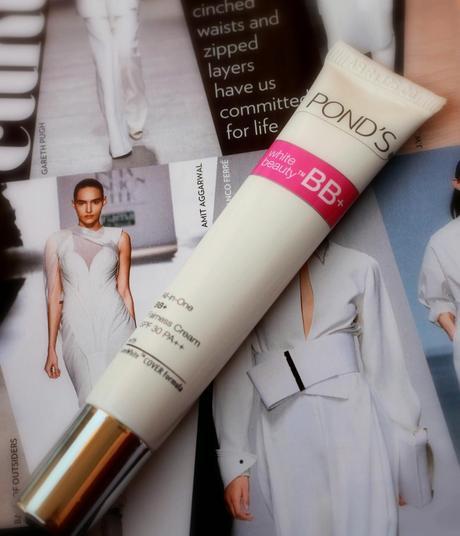 I
always share the new products, new purchases on SSU Instagram account, when Instragram was not born, I used to do a section on blog called "Preview". Though I enjoyed doing that, I am glad that I got more fun way to preview my new items on Instagram (
shoppingstyleandus
).
It's been a month since I shared Pond's BB cream with you all on Instagram. Though I am writing this review today, I stopped using BB cream 15 days back. read ahead to know why!
Pond's BB Cream
has everything that is probably required for a daily regime including SPF protection, Vitamin E, Vitamin B3 etc and it promises:
SPF 30 for enhanced UV protection
Light and Non-oily texture
Lightens and brightens skin
Evens skin tone
Blends smoothly
Mild fragrance
Suitable for everyday use
Reduces dark spots
it's a light weight cream, white in colour, easily spreadable on face, and hydrates skin a little. Its USPs are that it has SPF with UV protection, doesn't make you sweat or give you oily T-zone. But that's about it (for me)!!
One thing my skin couldn't take at all was the white cast that sits on the skin. I tried it on my friend's face who is fair and she was one shade lighter too. So it is not my skin color that has do with it but it's the cream. I also found it a little dry when I spread it on face as compared to when I take it on fingers.
Though I do not use it on daily basis but I make sure that I apply a bit of it under my makeup when I am about to apply foundation and it works really nice. it doesn't act like a primer but for me it hides a little imperfections on my face.
Conclusion:
Pond's BB Cream, to me, is more like a whitening cream with SPF protection. If you are looking for tinted cream that also spells BB then look somewhere else.
BUY
#factsofmylife
 My ultimate daily wear that is also pigmented is this cream.