New York Fashion Week started last Thursday with Fashion's Night Out and has officially kicked off the S/S 2012 fashion season! From NYFW we will travel to London, Milan and Paris, among other fashion capitols to see the spring collections from high end designers around the world. Already, I have seen some breathtaking moments (like Prabal Gurung's impossibly perfect collection that debuted yesterday, and the girly yet unexpected mixture of clean and bright digital prints and white lace peter pan collars at Preen), and the week has only just begun. Keep checking back for more updates, news and reviews on Spring 2012's NYFW.
But before we move onto discussing the clothes we won't be able to have for the next 6 months, why don't we revisit the same type of magical moments we saw this past spring during F/W 2011 fashion week. Fall is fashion's biggest season and for good reason. The coats, the accessories, the bags- everything is more lux and heavily designed. Influences from Fall carry over to Spring, not the other way around as one might suspect. Fall is where designers let their imagination spill over into their styling. Fall is a season of fantasy.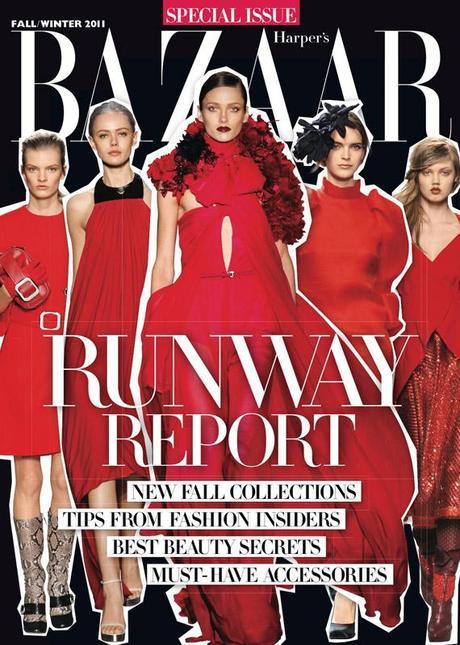 As a subscriber to Harper's Bazaar I was lucky enough to receive a little surprise in the mail this past weekend and discovered the magazine's special issue: Runway Report. It is easy to forget all of those looks and pieces we fell in love with on the runway, and now that we are closer to having these looks in our closets, it is smart to recap the best of the best to see what it is we are still craving after all of this time.
While I may not be able to afford these high end labels, I still like to pay homage to those collections that made fashion editors swoon. Harper's named their top 10 Fall 2011 collections and they serve as wonderful inspiration even if you can't afford the brand itself. Check out the list of the top 10 (in no particular order) and some of my personal favorite standout collections below:
Alexander McQueen
Alexander Wang
Balenciaga
Givenchy
Jill Sander
Marc Jacobs
Miu Miu
Proenza Schouler
Stella McCartney
Yves Saint Laurent
I fell in love with the colorful twist on minimalism at Jill Sander and always love the abstract prints in perfectly wearable silhouettes from Proenza Schouler's design duo, Jack McCullough and Lazaro Hernandez.
Miu Miu was an absolute standout during fashion week, full of 40′s glamour! And Stella McCartney took the prize for the best balance of boy meets girl/ subtle meets sexy.
As far as top trends across the board for fall, there were four looks that any one can incorporate into their wardrobe, no matter what your budget may be. In fact, you may already have pieces that fit into these categories and just need to pull them out from the back of your closet! This season, to be on your fashion A-game be sure to check out these haute trends:
Urban twist on feminine allure; sophisticated, lady like prints in hard-edge, tailored silhouettes
One word: RED! The perfect color to burst out of an era of neutrality
The classically chic and graphic punch of ebony and ivory
Statement coats- whether military inspired, fur lined, or designed in vivid hues.
And since we are 1928 and our main focus is all the pretty jewelry, we are pleased to say this season's motto is "the bolder the better." Think attention grabbing, statement making pieces and ditch delicate and simple. In past seasons I've been moderate about accessorizing with too many statement pieces and I normally only ever went big on my earrings, necklace OR bracelets, whereas this season I might venture into large chandelier earrings WITH a statement collar length necklace to really make the most of this season of more.