This week's tour of duty took me further east than I have ever been before.  Hong Kong is a small place in terms of geography, but a massive one in terms of people and buildings.  It doesn't seem humanly possible to squeeze anymore buildings on such a small space on Hong Kong Island (30 square miles) but that is exactly what developers are trying to do.  I was here on business for a few days but when has that ever stopped me enjoying my leisure time watching 22 men kick a bit of plastic/leather around a pitch?  Unlike many a previous trip, the work agenda dictated my time, but as luck (yeah yeah yeah) would have it, the tip also coincided with the last weekend of the Hong Kong Football League season. With the title already decided, there was to be no Premier League-style simultaneous kick offs which meant not one but two games for me.  Cheap local transport, people who spoke English, the 11th smallest country in the world in terms of land mass – what could possibly go wrong.
My flight took me from a chilly evening at Heathrow airport to the desert-furnace of Doha in Qatar for a brief (20 minutes to be precise due to delays in London) lay-over before I was up in the clouds heading over India.  We had been told the approach into Hong Kong would be "bumpy" as there was a yellow storm warning.  Good job we weren't landing at the old Kai Tak airport where planes had to bank over the rooftops and break hard to avoid ending up in Kowloon Bay.

Sure enough as we descended below the clouds the rain started, then the thunder and lightning.  We were lucky, so we later understood, as colleagues were diverted to some remote city in China, put up in a hostel overnight and then subjected to interrogation the following day as to why they didn't have a Chinese visa.  For the next five days the trip would be dominated by the weather – Hong Kong doesn't do "drizzle".
My work plan involved attending a conference with over 8,500 IP attorneys from around the world, five days of meetings, formal functions and some pretty decent evening events at some of the Island's best venues.  Champagne and spring rolls all round.  But that's not the real me.  So whilst others I was traveling with were pressing their dinner jackets ready for a gala dinner, I would be diving down onto the MTR, the highly efficient and cheap underground system and heading across to Kowloon to find the Hong Kong Football League champions, Kitchee FC.
Due to the size of the territory, there aren't many stadiums, with many teams sharing.  The national stadium, a fatter version of the John Smith Stadium in Huddersfield or a slimmed-down Estadio do Dragao, holds 40,000 which with an average attendance in the HKFL of 931 meaning there a quite a few spare seats on any given game each weekend.  A couple of other stadiums are used in the league, mainly athletics stadium – such as the Sham Shui Po Sports Ground – where I was heading for my first taste of football, Hong Kong style.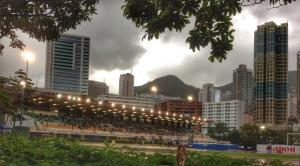 Kitchee had walked to the championship this season, winning the league over six weeks ago and with one game to go, stood on the brink of going throughout the whole season unbeaten.  The glory days were coming back to Mong Kok following up on their domestic treble in 2012 with the FA Cup last season.  Ten years ago the club took on, and beat, both AC Milan and Juventus in pre-season friendlies.  In the last couple of seasons Arsenal and Manchester United have visited, the former entering into a formal agreement to help the Kitchee Academy.
As I left the safe haven of the air conditioned MTR the humidity hit me once again.  Rain streamed down, almost evaporating due to the heat before it hit the ground.  The ground wasn't hard to find, located in the only area of greenery in the mostly residential Cheung Sha Wan. Fans weren't exactly flocking to the ground – perhaps it was the weather, or the fact that football isn't actually a big draw at all out here.
Watching football in Hong Kong falls into the "really!!" bucket in terms of cost, along with taxi fares, train tickets and fried chicken intestines.  The admission for this game, and all others in the HKFL, was HK$60 – approximately £4.50 or slightly cheaper than a bottle of mineral water in my hotel (sitting in the "really??" bucket).
Kitchee 4 Yokohama Hong Kong 1 – Sham Sui Po Sports Ground – Saturday 10th May 2014
The league champions gave a display of clinical finishing which underlined their success.  Despite having the lions share of possession, Kitchee only mustered five shots in the whole game, scoring all four on-target opportunities.  The crowd was very family orientated with a small band of away fans who had mustered a flag, a drum and a few willing volunteers to wave scarves around. With the ground surrounded by huge high-rise apartment blocks, offering thousands of residents a perfect view of the pitch it was hardly surprising the attendance was just over 600. I mean who wouldn't want to spend their Saturday afternoon's watching a game from a 50th floor balcony?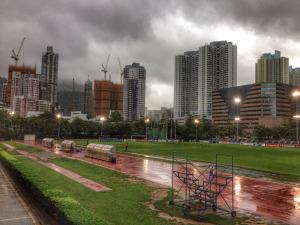 Kitchee's dominance was clear from the first kick although it took them 25 minutes to open the scoring when the Spaniard Diego Cascon was brought down in the area, dusted himself down and slotted home the penalty.  Despite the visitors equalising on the stroke of half-time, the result was never in doubt and further goals from Annan and the brilliantly named Ka Hai Leung Robson Augusto (That'll be £23 for your name printing please sir) sealed the victory.
The game, atmosphere and attendance had met my pre-conceived expectations.  Passive would be one word I'd use to describe events.  I'd heard good things about the atmosphere at South China's games and it was there I would be heading next in less than 24 hours.
South China are Hong Kong's biggest and most successful football club.  Forty one league titles, the patronage and sponsorship of some of the world's biggest brands and once the club of Nicky Butt.  The club also have a "partnership" with Spurs, although it is unclear what that actually involves.  Unsurprisingly for a club with such noble traditions, they play at the 40,000 capacity Hong Kong Stadium.
Ah yes, the stadium.  Just a twenty minute walk from my hotel according to Google.  Hong Kong Island itself is just 30 square miles yet somehow today I managed to lose the 40,000 capacity stadium.  I say "lose" but technically  it was "not found".  I followed my walking instructions to the Happy Valley racetrack.  But with data costing just the £6 per MB I soon ran out.  My paper map only went as far as the race track.  I remember seeing pictures with it being set on a hillside, so I headed north, trekking up hill.  At some point, around the next corner perhaps, it would appear.  I said that to myself for over 30 minutes by which time I seemed to be following a road that went back down the hillside towards Kowloon Bay.  Eventually, pride got the better of me and I asked some directions.
"Go down hill to racetrack.  Take first right, it is on that road in 5 minutes".
So I had taken a nearly forty-five minute, five kilometer, oxygen-starved detour around the peaks of Hong Kong.  My determination saw me through.  Yes, I had missed thirty minutes of the game, but I was the real winner by beating the odds, the mobile phone company and DK fold-out maps.  Take that modernisation.
South China 3 Citizen AA 2 – The Hong Kong Stadium – Sunday 11th May 2014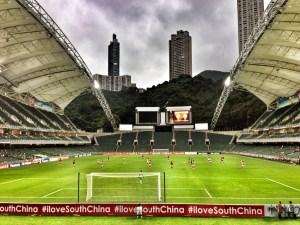 When I finally took one of the spare 39,000 seats I was relieved to see it was goal-less.  On either side of the stadium small pockets of fans banged drums and chanted "let's go xxx, let's go" (obviously inserting South China or Citizens for the xxx).
The long walk had made be peckish and I was tempted by the fact they had a KFC in the concourse.  However, when I asked for a chicken burger I was told "no chicken"…but was then offered another deep-fried product, coated in the Colonel's special blend of herbs.  Having seen the street food market offerings earlier in the day I passed, opting for a deep-fried pork bun instead (because you can be really sure of what's in that one!).
Two goals in no more than 45 seconds on half time for the home side gave the scoreline a flattering look at the break. In fact when the half-time stat sheets were issued, it appeared South China had scored the two goals without registering a shot on goal.  The Portuguese player Joao Emir was their star player and he made the game safe on the hour mark with a third goal for South China, after Citizen had pulled one back.  Despite a second from the away team it was a comfortable win to end the season for South China, although that final goal from Citizen meant Sun Pegasus finished the season above them in 2nd place on goal difference. Both of them will now contest a play off for the AFC champions league spot along with Kitchee.
As a postscript, this was the last game to finish in the last ever Hong Kong Football League.  Times are changing here and as of October, the league will become a Premier League.  The difference?  Well, a new sponsor and no relegation for a couple of seasons.  Now there's an idea.

Time to bid a fold farewell to Asia for a few weeks at least.  Certainly a stunning place in terms of the wealth on offer, yet still retaining that gritty Eastern outlook.  Perhaps it had been the most passionate of footballing welcomes but it was cheap, enjoyable and offered a welcome distraction to the heat, humidity and the workload. Zia Kan Hong Kong.