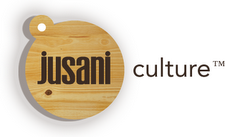 "I've always had a great love for animals, and will never forget my first experience when I went to adopt one," Jusani Culture's founder, Melissa Salinas, explains, "It wasn't easy to choose, and [I] wished to give them all freedom from their cages. I wondered how many other people felt so helpless?" It was this combination of love and helplessness that led Melissa to found Jusani in 2010.
Jusani began as a small online shop, selling a handful of custom organic tees to raise money for non-profit, no-kill U.S. animal shelters. In the years since its founding, Melissa has led Jusani through a number of changes in an effort to best help homeless pets. As a result, not only has Jusani's shop grown, but Jusani has also grown as a movement – as a force of positive change for animals.
Jusani now partners with small business people across the nation and around the world to sell their handmade, eco-friendly goods at www.jusani.com. In addition to shampoos, treats, bowls, and accessories for pets, Jusani's shop features an assortment of wall art, bath products, jewelry, clothing, and other distinct items, with five dollars of every purchase being donated to a different shelter each quarter.
Along with fundraising, Jusani also strives to raise awareness through social media outreach and blogging, spreading the word about the shelters they help and providing pet lovers the tips, news, knowledge, and inspiration to best care for and help the animals in their lives and communities.
Since its beginning, Jusani has assisted nine shelters, and although they are from different regions of the country, they share the same goal: helping the animals in their care, placing them in forever homes, and working to end companion animal cruelty and homelessness. The New Fairfield/Sherman Animal Welfare Society (NFSAW), who Jusani is helping through March 31st, works tirelessly to meet this goal, placing an average of 200 animals a year and going so far as Tennessee to rescue at-risk animals. As they say, "Any time we take an animal who would have been euthanized in another shelter and find them a home it's a good day!"
But for these shelters, the fact that they will take in a total of about eight million animals a year is overwhelming. As non-profits, they rely on the support and generosity of the public to help with upkeep and care as well as to provide food, shelter, medical care, and educational programs to the pets and people they serve. So, the awareness and funds raised by Jusani are critical.
For the animals at Baltimore Animal Rescue and Care Shelter (BARCS), Jusani's donation was enough to spay/neuter and vaccinate close to two dozen animals. And for Butter, a dog left chained in the yard of an abandoned house, saved by Midwest Rescue, Jusani's donation helped to pay for the medical care needed after his heartworm diagnosis. As JJ, a Midwest Rescue Member explained, "his care is expensive, so you have been such a blessing to us."
Jusani hopes that Butter's story will one day be a rarity, and they are working towards creating the culture of change needed to make that happen. For more information about Jusani Culture, or to make a purchase to support U.S. animal shelters, please visit www.jusani.com, and be sure to follow Jusani on Facebook, Twitter, and Pinterest.
Tags: animal care, homeless animals, Jusani, positive change