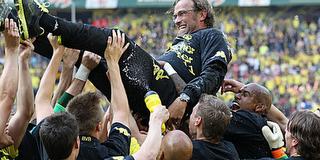 Borussia Dortmund has dominated the Bundesliga this season. Back in January Dortmund had a staggering 12 point lead, and while they let that impressive lead slip a little, they've now mathematically won the title with two game days to spare. While their 2-0 win over Nürnberg was important, it was second placed Bayer Leverkusen's 2-0 loss to FC Köln which helped seal the Bundesliga for Klopp's players.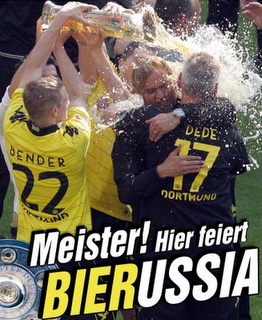 Bild's headline states "Here celebrate Beerussia"
Both goals for Borussia Dortmund came in the first half. It was young Mario Götze who created the scoring chance just past the 30 minute mark. His diagonal volley forced Nürnberg keeper Schäfer to parry, and Lucas Barrios pounced on the ball left unattended in the Nürnberg box to score the opener. Borussia Dortmund's second goal came just before halftime, Lewandowski scoring this time. The Polish forward turned his defender to chase a long ball by Hummels, and then promptly flicked it over the outrushing keeper and watched the ball bounce into the empty net. It was a wonderful goal which marked the title-clinching victory for Borussia Dortmund.
Congratulations to Borussia Dortmund as this is the seventh Bundesliga title in the club's history. While the fans had to wait nine years to see their team win the title, seeing them win it this season playing such beautiful football under Jürgen Klopp must be a quite wonderful. It will be interesting seeing Borussia in the Champions League next season, and hopefully they'll continue to play their attacking brand of football in Europe's biggest competition.

Borussia Dortmund players celebrating their victory in front of their fans