When I woke up yesterday morning, Jurassic World was officially on track to make $125 million domestic this weekend, good enough to rank in-between a Hunger Games and Harry Potter sequel among the top 20 biggest openings of all time.  By the time I saw the film in a nearly sold-out 2D screening at 4:45 PM, that estimate had been upped to $155 million, better than this year's Furious 7 ($147m) and a top 10 all-time opening.  Before I went to sleep, that estimate had been changed to $177m-plus, which is "Holy shit!" territory.  Only three movies have ever made more than $170m in their opening weekend, and they're all from Marvel Studios – Iron Man 3 ($174m), Avengers: Age of Ultron ($191m) and Avengers ($207m).  If this holds, it will be the biggest opening for the month of June as well as the top debut in Universal Studios history…and that's before you even look at the international numbers, where Jurassic World is similarly dominating everything in its path (here's Deadline's breakdown).
These estimates are obviously flexible and imperfect. At one point during its opening last month, the experts were projecting Age of Ultron to make over $200m meaning they were ultimately off by around $10m.  As such, I usually shy away from reporting about projections and estimates, but, like I said, Jurassic World is now in "holy shit" territory.  The first Jurassic Park, released 22 years ago, was a box office behemoth in its day, with a worldwide gross ($920.1m) which more than doubled that of the second highest-grossing film of 1993 (Mrs. Doubtfire, $423.2m).  However, it was an inevitable slide downhill from there, with the sequels adhering to the laws of diminishing returns, 1997's The Lost World making $618m worldwide and 2001's Jurassic Park III making $368m.
Of course, Jurassic World is a direct sequel to the original Jurassic Park, but as far as it's concerned The Lost World and Jurassic Park III never happened.  As Vulture argued, that qualifies Jurassic World as part of "The Summer of Tentpole Amnesia."  As Vulture put it, this new phase of franchise film-making "wants to pretend — and, moreover, wants you to pretend — that one or more of those previous franchise installments never happened. They aren't sequels, exactly, or even reboots — they're movie mulligans. They're a chance for producers to shout, 'Do-over!' after some particularly egregious past creative misstep."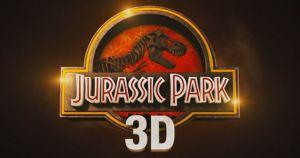 However, all seemed to have already been forgotten and forgiven by 2013, when a 20th anniversary 3D re-release of
Jurassic Park
pulled in an impressive $45m domestic and $44.5m international.  That was pocket change compared to the $343m earned by the
3D re-release of Titanic
a year earlier, but it did push
Jurassic Park
's lifetime worldwide gross above $1 billion, likely acting as a market test for whether there would be an audience for a new
Jurassic
movie.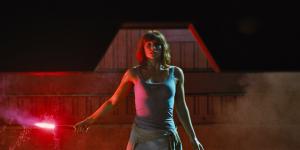 If you've seen the movie, you know how awesome this scene is
I don't have the demographics on who went to see the 3D re-release, but I would wager a guess that it was a lot of older people taking their kids to see it due to nostalgia since that's exactly what's happening with Jurassic World.  Rentrak exit polls are finding that Jurassic World  is appealing to both younger and older moviegoers, with 73% of those polled grading the film as a  "definite recommend."  Um, is that good?  According to Rentrak, "The definite recommend is among the highest we have measured across all audience demographics."  Congratulations, Universal, Steven Spielberg, and director Colin Trevorrow – you just made a true four-quadrant blockbuster.  Furthermore, this will likely push Universal ahead of Disney and Warner Bros. in global marketshare, and they still have the hilarious-looking Minions movie on the way.
Source: THR