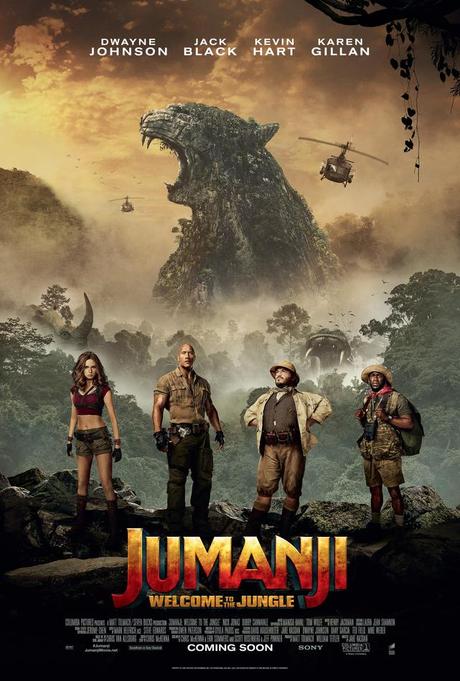 Jumanji: Welcome To The Jungle
By: Jake Kasdan
PG-13 | 1h 59min | 20 December 2017 | Columbia Pictures

When four high-school kids discover an old video game console with a game they've never heard of--Jumanji--they are immediately drawn into the game's jungle setting, literally becoming the avatars they chose: gamer Spencer becomes a brawny adventurer (Dwayne Johnson); football jock Fridge loses (in his words) "the top two feet of his body" and becomes an Einstein (Kevin Hart); popular girl Bethany becomes a middle-aged male professor (Jack Black); and wallflower Martha becomes a badass warrior (Karen Gillan). What they discover is that you don't just play Jumanji--you must survive it. To beat the game and return to the real world, they'll have to go on the most dangerous adventure of their lives, discover what Alan Parrish left 20 years ago, and change the way they think about themselves--or they'll be stuck in the game forever...











So I always got into a Remake, or reboot with a certain level of apprehension, particularly when I'm familiar with and a fan of the original. Still, when I saw the trailers for Jumanji: Welcome to the Jungle, I knew this was going to be a reboot that I wanted to see. It was like The Breakfast Club, meets Tron, meets Jumanji. Then when I got to the theatre, I appreciated the fact that it was treated more like a sequel. It kept the spirit, the feeling of the original story and also paid homage to it without overshadowing or making light of it. 
There was that level of enjoyment but also fear and uncertainty of how it would turn out that made the original Jumanji the classic hit it is. Dwayne 'The Rock' Johnson was a hit, as usual, and there was a great amusement in the way he played a neurotic, insecure teenage boy so flawlessly. That being said, Jack Black, also made the perfect teenage girl. Who knew. 
There was a level of campiness to it but that's what made the film excel with its campiness. It embodied the strangeness of the video game world with the spirit of Jumanji. From strange powers and weaknesses to odd strengths and the way they presented themselves.
It was a little less family friendly than some might have expected. There were a few swears, and a lot of sexual innuendos which while funny to myself and my teenage family members I was with, were confusing to the 5-8 year-old kids that were seated in the rows in front of us. Some just laughed cluelessly because the rest of us were laughing but others were looking puzzled at their parents for an explanation they clearly weren't prepared to give. 
So I would just think twice about bring too little kids because they probably won't enjoy it as much as they probably could. It also did have some creepy moments that even I had to look away for. Bugs crawling in and out of people's ears and mouths and stuff is a bit much for me. 
The evolution of the characters was well placed, their insecurities, their development and how they eventually come together to work to achieve their common goal was a high point of the film.  
Overall I found it a really enjoyable film that I have recommended to everyone. If you haven't seen it yet, get to it!