Julia Louis Dreyfus 2014 Golden Globes – Votre Vu. Celebrity makeup artist Karen Kawahara created the look for Julia Louis Dreyfus at the 2014 Golden Globes using Votre Vu products. The bright orangey-red color dress inspired her to focus the look on a stronger eye with a lighter lip.
"Votre Vu Attentive Crème du Jour was used to prep the skin while the Amour D'Ore Multi-Vitamin Oil was placed applied to her body before hair and nails to ensure that it had time to absorb into the skin. I also applied a little bit of the Luxee Yeux as well around the eye contour.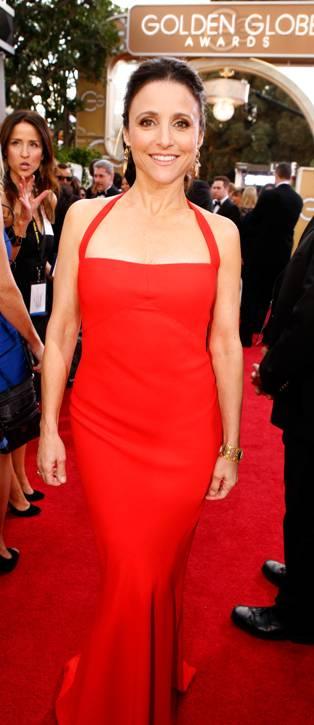 Julia Louis Dreyfus 2014 Golden Globes – Votre Vu
Julia Louis Dreyfus 2014 Golden Globes – Votre Vu
I applied the Love Me Deux Foundation in Cannes to the entire face and concealed the under eye with a mixture of the Lingerie Pour Les Yeux in Light and Medium.
I also used the Lingerie Pour Les Yeux in Light all over the lids and applied powder on top of it to ensure that the eyeshadows lasted all night.  I like to apply eyeliner first to create the shape I want in the eye and then shadow on top of that.  I used Le Joli Crayon in Charbon and pushed it in between the lashes, then started with a very thin line in the inner eye, gradually getting thicker towards the outside.  I added a little wing on the corners to give the eyes a lift.
 To create a popping eye, I used Votre Vu's Palette in Play in Copper. The lightest vanilla shadow was placed towards the inside of the eye and the lighter copper color was brushed over about ¾ of the outside lid. I also, very lightly, lined the inside of the eye with a burgundy color. The darker copper color in the Palette in Play was also placed close to the bottom lashes underneath the eye.   To finish off the eyes, I used Eiffel Power Mascara as well as some individual lashes.
Vu-On Rouge Color Accent in Bouquet Rose was used to give some color on the lip and cheeks.  I applied all over the cheek using my finger. I wanted to create pale lip, so I used a lip brush to apply the color and went over with soft coral for a bit of sheen. I mixed the Arch de Triumphe in Fair and Dark Brown to go over the brows since I didn't want them to seem too dark.
 Then I used the Beaute en Bronze Blush which was very sheer and then applied the Dior Blush in Amber on top for a bit more color.  Lastly, I set Julia Louis Dreyfus makeup with Belle Poudre in Light." Votre Vu products are available at www.votrevu.com