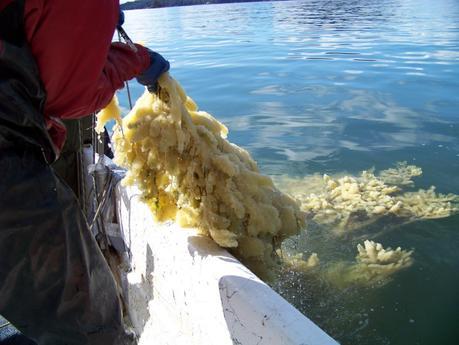 A Tlingit in Alaska gathering Herring roe.
by Zoe Tennant / Globe and Mail
An unprecedented court injunction has barred the Department of Fisheries and Oceans from opening a commercial fishery off Vancouver Island after a judge concluded DFO was "fudging the numbers" and that the federal minister declared it open against her own bureaucrats' advice.
The Nuu-chah-nulth First Nations, whose herring-roe fishery has been closed since 2006, went to court last month seeking the injunction.
The ruling has prompted the Haida First Nation to threaten similar court action. And the central coast First Nations say they'll do whatever it takes to protect their fisheries. The First Nations say the fisheries should not be opened because they have not recovered enough to allow harvesting safely.
In the Nuu-chah-nulth case, court documents showed that DFO experts agreed that all three areas should remain closed, but federal Fisheries Minister Gail Shea chose to open the fisheries anyway.
"I've never seen a case like this succeed," said Matthew Kirchner, one of the lawyers representing the Nuu-chah-nulth. "I'm not aware of any case where there's been an injunction to stop the DFO from opening a fishery. This may be the first."
In the Nuu-chah-nulth ruling released Feb. 28, Judge Leonard Mandamin prohibited the DFO from opening commercial herring-roe fisheries on the west coast of Vancouver Island.
"It is not science-based," Judge Mandamin wrote.
In a DFO memo to the minister from December, 2013 and filed with the court, Ms. Shea is told: "The management approach taken for 2013/2014 requires caution and consideration of the risks. " The memo continues: "It is recommended that they [the herring-roe fisheries] remain closed in 2014."
A spokesman for Ms. Shea said in an e-mail the department is reviewing the decision and "will be considering next steps."
"The decision to re-open the herring fishery in these three areas was based on solid fisheries science," wrote Sophie Doucet, director of communications for Ms. Shea.
Peter Lantin, president of the Haida Nation, said his people were "absolutely shocked" by the minister's decision to allow herring-roe fishing.
"We're very happy with the injunction that was granted to Nuu-chah-nulth Tribal Council and we're prepared to follow suit," Mr. Lantin said.
The Haida Nation sent a letter to Ms. Shea asking her to rescind her decision, stating that if the opening goes ahead, the Haida "will have no alternative but to immediately commence litigation."
"After the mismanagement of the herring fishery – it's been wiped out in some areas," said Mr. Lantin.
"There's no dispute about it, it's just gone. And, it's been overfishing, it's been poor management. So what we're saying is we rely on this fishery in our backyard and it's part of our culture and we need to protect it. We're not against a commercial fishery but it needs to be done in a sustainable way."
The Heiltsuk Tribal Council, based on the central coast, also sent a letter to the minister last month, before the court decision, requesting the fishery remain closed in its territory and asking for a meeting. But last week, the minister responded in a letter that the opening will go ahead.
The Heiltsuk and three other central coast First Nations have told DFO that they are "prepared to do what is required in order to protect herring stocks," said Heiltsuk Tribal Councilor Reg Moody.
Non-aboriginal fishermen are staying away from the fisheries due to the controversy, but say they want compensation. Kim Olsen, president of the United Fishermen and Allied Workers' Union, the largest union representing fisheries workers in the province, said, "It's a hard ask to ask them not to fish in an area that they've already put out money for and it'll cost them money. And, how do they support their families when they can't fish?"
UFAWU is recommending to all fishermen not to fish in the disputed areas, said Mr. Olsen. "We don't want any conflict," he said.