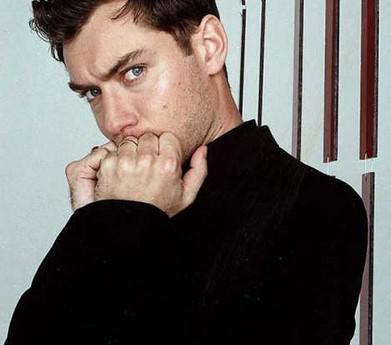 Jude Law said he was "proud" to have been involved in the new film 360. Critics don't think he should be. Photo Credit: ewanjudecolinchristian http://www.flickr.com/photos/chopiana/2343993545/sizes/m/in/photostream/
Upon seeing Arthur Schnitzler's play Reigen (La Ronde) in 1922, Sigmund Freud wrote to the dramatist: "you have learned through intuition — though actually as a result of sensitive introspection — everything that I have had to unearth by laborious work on other persons." It is doubtful that anybody will offer the same praise to Fernando Mereilles for his new film 360, which screened at the opening gala of the 2011 BFI London Film Festival (LFF) on 13th October, and is loosely based on Schnitzler's play.
The film follows the interlinked sex lives of 13 different characters around the globe starting in Vienna with a businessman (Jude Law) hiring amateur Bratislavan prostitute Alyssa (Lucia Siposova) to cheat on his wife (Rachel Weisz) who is, in turn, cheating on him and so on and so forth. The film's message is basically that we're all connected — through sex. Deep.
The critics largely concur that the film misses out on the chance to build on Schnitzler's classic. It was mostly panned at the Toronto International Film Festival (In Peter Debruge's review in Variety he praised the "glitch in the sound system at the film's … premiere" that "resulted in a low vibration humming beneath the last half hour of the film, actually adding a welcome dramatic tension"). Despite Jude Law enthusing that he was "excited" to have worked on the film, critics in the UK have trashed 360 and questioned whether it was a fitting choice as LFF opener.
Some admirable moments. Mark Adams at The Evening Standard had some admiration for 360, especially its "beautiful cinematography" and "rather nice" conclusion, but said the film "never leads to any great resolution or revelation."
A "relay race" that doesn't quite come together. The problem with 360 is that it has no sense of overarching narrative and its characters cannot develop. At least that's what Geoffrey Macnab thought at The Independent; though he praises Law's and Hopkins's performances, he describes the film as "cumbersome" and "shorn of all romanticism."
360 makes "sex boring", sniped Robbie Collin of The Daily Telegraph who called the film a "glossily unengaging trudge through other people's love lives." Collin lamented that the removal of Schnitzler's original conceit ("that sex is no respecter of class"), leaves audiences with "a sequence of downbeat sex skits, slotted together with all the finesse of an Ikea cabinet."
Dull and unintelligent. One star was all The Guardian's Catherine Shoard gave 360. "Characters become cogs; plots creak with pre-determination" and "the conclusions seem suited more to tea-towels than art. The two we're given here are – and I quote – 'you only live once' and 'fuck it'."

More on Film

Lack of driving in Ryan Gosling-starring Drive prompts Michigan woman to sue
Opting in to pornography: The ins and outs
The Avengers trailer drops, anticipation for Scarlett Johansson-starring film mounts
Real Steel: Too much robot, not enough story, say reviewers. Audiences flock to the Hugh Jackman film regardless
Business + Baseball = Moneyball
More film »