Seven years after the selection of West 8′s design as a competition winning entry, Jubilee Gardens is now open to the public. Located on London's South Bank next to the London Eye it is speculated that this park will be one of the most visited parks in the UK. Historically, this site was the location of the Festival of Britain's 'Dome of Discovery' and the 'Skylon' in 1951. The parks previous incarnation accommodated the International Brigades Memorial, this has been retained within the park in a new location.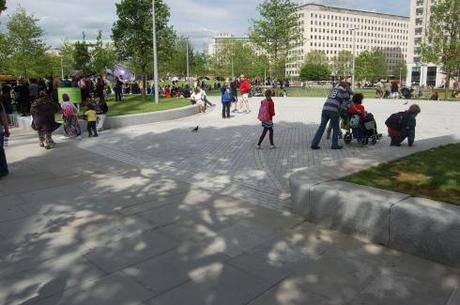 Jubilee Gardens, London – Entrance
The site is located between the busy South Bank pedestrian Thames Path and Belvedere Road. There is no physical barrier between the road/ path and the park, the boundary being defined by a chunky granite seating. These blocks also functions to elevate the level of the lawn behind. There are four pedestrian entrances, two off the Thames Path and two off the road.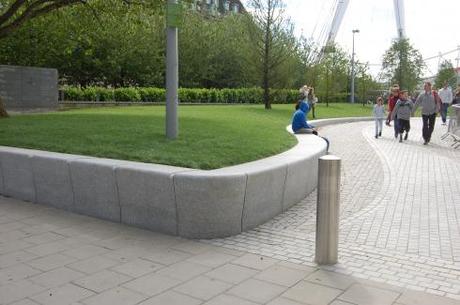 Jubilee Gardens, London – Entrance Seating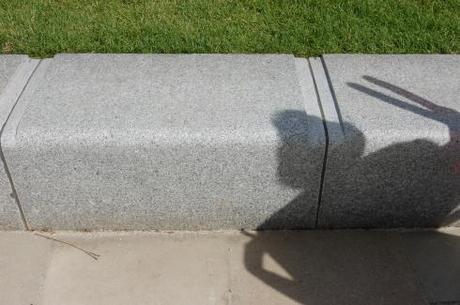 Jubilee Gardens, London – Anti Skateboard Detail
Grooves have been cut out of individual granite seating/ lawn edging blocks in various location throughout the park to deter unwanted skateboarders use.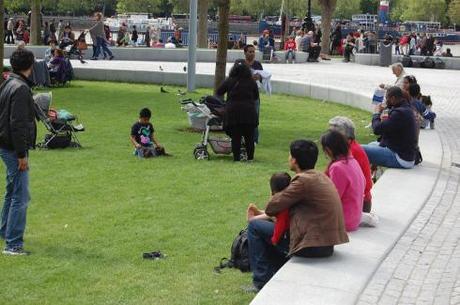 Jubilee Gardens, London – Seating
The relation ship between the seating blocks and the footpath and lawn vary throughout the scheme, sometimes the blocks are higher than the path, sometimes lower.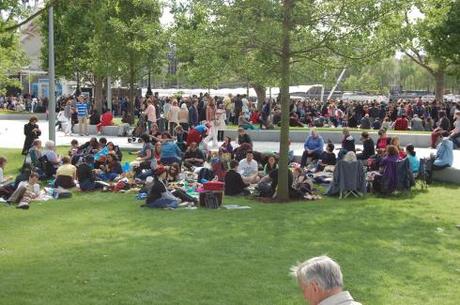 Jubilee Gardens, South bank, London – Picnic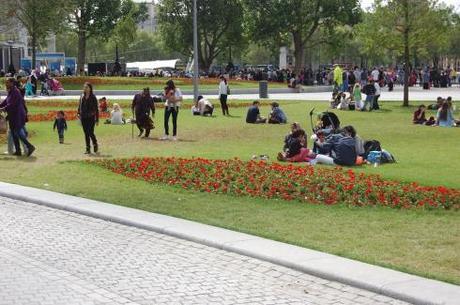 Jubilee Gardens, South Bank, London – Summer Bedding
The planting to the park is primarily grass, with the addition of 69 mature trees of varying species. Into the grass have been cut beds to accommodate spring, summer and autumn bedding.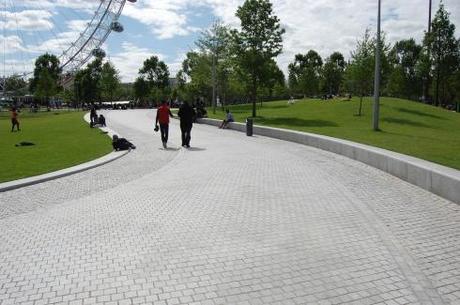 Jubilee Gardens, London – Paving
The path widths vary throughout the scheme, creating a variety of spaces. The ground level of the lawn areas have been contoured creating high and low points to the park.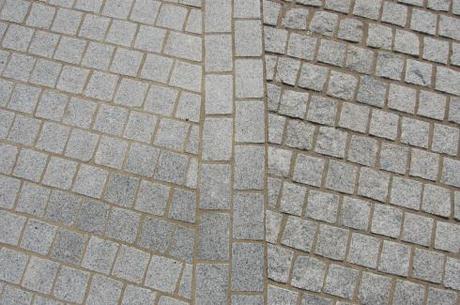 Jubilee Gardens, London – Paving Detail
The footpaths use two finishes to the granite blocks; sawn and rough hewn. The sawn granite blocks provide a smooth running surface at the centre of the paths, the rough hewn granite blocks make up the rest. The contrast provides a subtle and pleasing change in ground texture.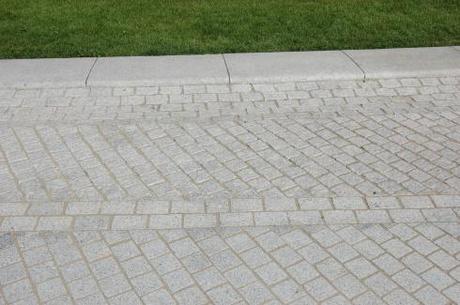 Jubilee Gardens, London – Paving Chanel
At the edges of the paths, shallow dished channels are constructed of rough hewn granite blocks to channel surface water to gullies.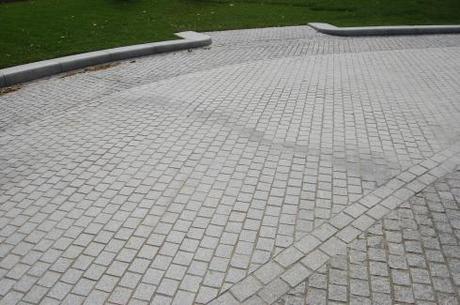 Jubilee Gardens, London – Grass Access Detail
In certain locations level thresholds to the grassed areas occur to allow for maintenance access of grass cutting machinery.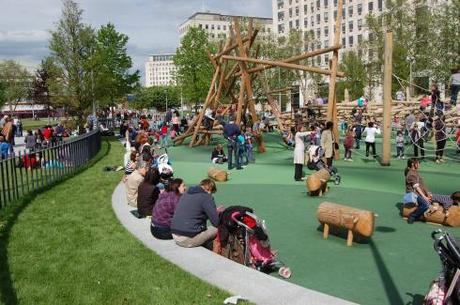 Jubilee Gardens, London – Playground
The slightly sunken play ground provides a variety of play features on a coloured impact absorbing surface. The granite seating blocks encircle the play area providing seating for carers and parents.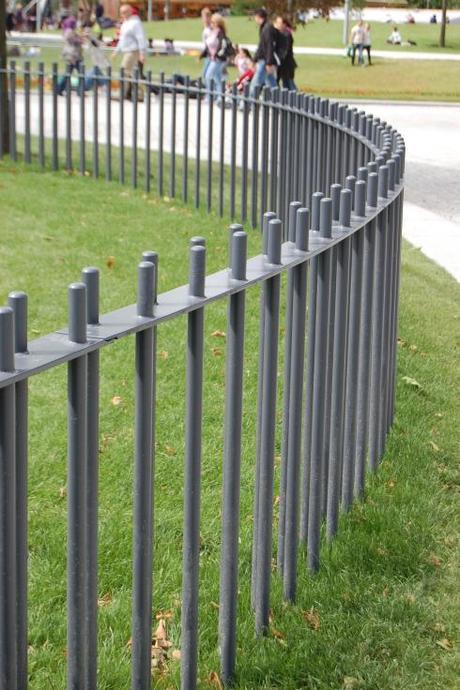 Jubilee Gardens, London – Railing
Simple vertical bar railings form the boundary to the play area, I particularly like the way the bars disappear into the grass.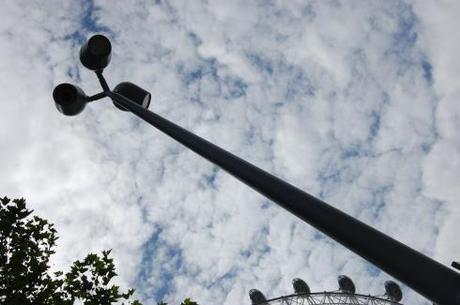 Jubilee Gardens, London – Lighting
Stylish lighting columns with three luminaries are found at strategic location throughout the park.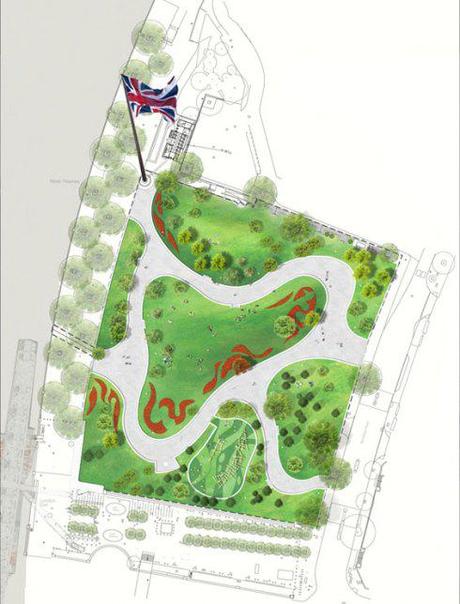 Plan of Jubilee Gardens, London – © West 8 urban design & landscape architecture