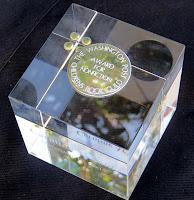 An engraved glass cube is given to each awardee
In 2005, I was honored to receive the Nonfiction Award from the
Children's Book Guild of Washington, D.C.
, which celebrates an author's body of work.  It is one of the few children's book awards designated specifically for a nonfiction author.  Kem Knapp Sawyer, a member of the Guild, recently interviewed award recipients of the past twelve years and has written a wonderful article highlighting the joys, challenges, surprises, and rewards of being a nonfiction writer for children.  It is called
Cleopatra and the Man-Eating Tigers:  A Retrospective on Past Winners of The Children's Book Guild Nonfiction Award
. In my conversation with Kem, here are some of the questions she asked:
How did you feel about receiving this award? What do you like most about what you do? What is one of the most memorable (or surprising) experiences you've encountered while doing research? What is special about writing books about science (and animals) for children? If you had to choose a favorite book (that you wrote) what would it be? What is one of your favorite books for children (that you did NOT write)? What's the best part about writing a non-fiction book? The worst part? What tips do you have for non-fiction writers?
Find out how I and other authors answered these and other questions by reading Kem's article at the Children's Book Guild website. 
Here a few quotes from the article:
Caroline Arnold enjoys starting a book project because it gives her "an excuse to ask questions." She also likes nearing the end: "When you know it's ready to go out and have someone else read it, there's a tremendous feeling of satisfaction. The book takes on a life of its own."
Peter Sis, the Guild award winner in 2012, had a very difficult time naming a favorite book—like most writers I interviewed. As Diane Stanley points out, "authors generally pour their hearts and souls into every book they do." Or, as Caroline Arnold explains, "Every book is like a baby. How do you love one child better than another? You love them all for different reasons."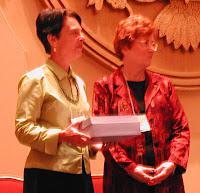 Receiving the CBG Award, 2005
The Children's Book Guild Award is presented by the Award Committee chair and a representative of the Washington Post at an annual luncheon now held in the spring. (It used to be in the fall.) Award winners that Kem interviewed and wrote about in her article are: Peter Sis, Kathleen Krull, Sy Montgomery, Susan Campbell Bartoletti, Doreen Rappaport, Sneed B. Collard III, Dorothy Hinshaw Patent, Steven Jenkins, George Ancona, Diane Stanley, and Laurence Pringle.