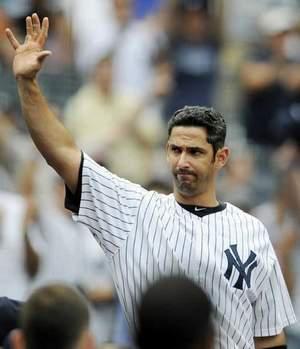 Photo: freep.com
- Adam Parker
Jorge Posada, who won five World Series championships between 1996-2009 as a member of the Yankees' "Core Four" and promises to be an interesting case for baseball's Hall of Fame, is set to announce his retirement.
According to ESPN the Magazine's Buster Olney, Posada, 40, is trying to determine the right time to make the official announcement, which is expected to come within the next two weeks.
Posada, shortstop Derek Jeter, closer Mariano Rivera, and southpaw pitcher Andy Pettite compiled the core group that helped make the Bronx Bombers so successful over the last two decades.
A fiery presence locker room presence throughout his 17-year career in Yankee pinstripes, the switch-hitting Posada caught a staggering 1,574 games for New York.
Only Bill Dickey (1,708) and Hall of Fame catcher Yogi Berra (1,695) saw more action behind the plate.
However, Posada's final season in New York was a tumultuous one.
After being told before Spring Training that the Yankees no longer considered him a viable option behind the plate, Posada was asked for the first time in his career to be the full-time designated hitter for the club. Needless to say, Posada struggled mightily in his new role, and because of that was eventually dropped to ninth in the batting order by manager Joe Girardi in a May 14 game against Boston.
Posada was later removed from everyday DH duties in August to allow other players the opportunity to contribute.
Posada completed the season with only a .235 with 14 home runs and 44 RBI's in 115 games last season with 82 starts at DH and 11 at first base.
However, there were some bright spots in Posada's final season. He hit the game-winning two-run single on Sept. 21 against the Rays, helping the Yankees clinch the American League East division title once again.
But it didn't stop there.
He also hit .429 in the American League Division Series playoff loss to the Detroit Tigers, receiving several long ovations and chants of "Jor-ge! Jor-ge!" at Yankee Stadium.
Posada probably could have continued his career elsewhere as a designated hitter, as his agent reportedly received about a half dozen inquiries about his services for the 2012 season. He could have padded his career stats of 275 home runs, 1,065 RBI's and 935 walks, but Posada always cherished the privilege of donning the pinstripes and being the Yankees catcher.
He viewed Yankee great Thurman Munson as an idol, and switched from second base to catcher after being selected in the 24th round of the 1990 draft.
Posada, a five-time All Star whose most recognizable trait was wearing pine tar on his hands rather than batting gloves during his at-bats, was asked by reporters after his final game last October what playing for the Yankees had meant to him -- and he broke down in tears before walking away from reporters.
Posada may be a borderline Hall of Fame candidate, but his legacy as a Yankee probably means more to him.
As a lifelong Yankees fan myself who has grown up watching Posada and the other "Core Four", this is a bittersweet moment for me. I'm sad to see Posada hang them up, but I'm overjoyed that he went from start to finish of his 17-year career donning Yankee pinstripes.
Congrats, Jorge!
Be sure to follow Beard And Stache on Twitter 
@BeardAndStache
, 
and also Adam 
@Adam_Parker43
, Like our Facebook page 
HERE
!