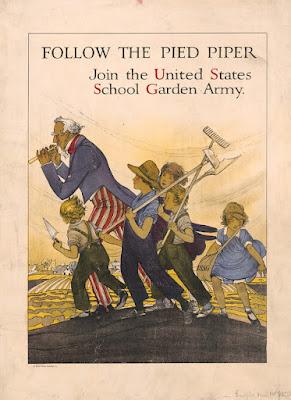 School Garden poster, 1919


On a recent visit to Washington, DC, I spotted this reproduction of a 1919 poster in the National Archives Museum gift shop. (The original poster is in the Library of Congress.) It made me realize that school gardens, the subject of my new book Planting a Garden in Room 6, have been around for a long time.
The United States School Garden Army, was founded by the Bureau of Education in 1917 during the administration of President Woodrow Wilson. Wilson described gardening as "just as real and patriotic an effort as the building of ships or the firing of cannon" and opined that "food will win the war".
The First World War gave a real boost to the School Garden Movement, which began in this country as a way of developing courses about nature, providing a taste of the country to inner city children, and motivating youth to work together.  School gardens flourished as an integral part of the war effort and were an important source of local food.  
Adopting the motto, "A garden for every child, every child in a garden," the School Garden Army was created by the U.S. Bureau of Education, with funding from the War Department and the blessing of President Wilson.  It was comprised of boys and girls, ages 9 through 15.  Each participant pledged to "consecrate my head, heart, hand and health through food production and food conservation to help the World War and world peace."
For more about the history of school gardens go to https://blogs.loc.gov/inside_adams/2017/01/the-school-garden-army-in-the-first-world-war/.