So, I've kicked another art project titled The Broken Glass Art Collaborative. It's another opportunity for us to do art together.  You can treat it as a spiritual practice, an excuse to get together with friends, or a way to connect with other people around the world.
The Broken glass series is inspired by a directive in the book Grapefruit, A Book of Instructions and Drawings by Yoko One.  Originally published in the year I was born (1964), it offers hundreds of koan like instructions for producing paintings, music, film, etc.
The specific instruction that inspired this effort is this
PAINTING TO HAMMER A NAIL
Hammer a nail in the center of a piece
Of glass. Send each fragment to an
Arbitrary address
1962 spring
Taking license, I've related the instructions to my post card art projects.  Here's what I'm doing for Broken Glass and what I'm asking of you as a participant.
I've mined my stash of photographs and selected an image of a tangle of wires.
I've edited the photo into 6 minimalistic black and white contrast images below
I will distribute one image per participant to incorporate into their own piece of art, which they will keep
I'm asking that each participant to send me two photos of their art,

The first should simply depict the art itself
The second should include the art with some indication of your identity included in the image,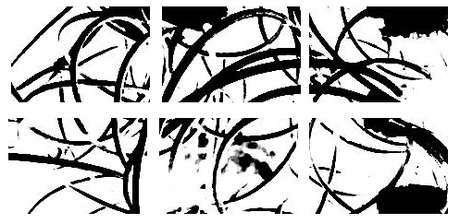 Sign Up
Let's Go
If that sounds fun, then fill in the form here to get your postcards.
Sign Up







The post Join the Broken Glass Art Collaborative Project written by Andrew Furst appeared on Andrew Furst.