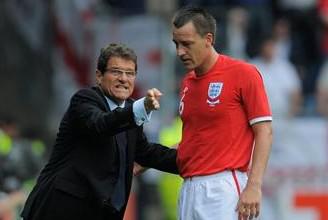 England captain John Terry with manager Fabio Capello — Terry could stand to lose the position if he's found guilty of making racist remarks. Photo credit: CR/World Football
England manager Fabio Capello has broken rank with the Football Association (FA) by publicly declaring that John Terry should not have been stripped of the England captaincy. In a direct challenge to the authority of the FA board, Capello told Italian television on Sunday that he vehemently disagrees with the decision and that the Chelsea centre-back should still be captain while he waits to stand trial on a charge of a racially aggravated public order offense. Terry denies the charge.
Last Thursday, the FA board decided to remove the captaincy from Terry while he waits until July to stand trial over a charge that he racially abused Anton Ferdinand, of Queens Park Rangers, during a match at Loftus Road on October 23, 2011. When asked in an interview with Italian TV station Rai 1, whether he agreed with the FA's decision, Capello said: "No, absolutely not. I spoke with the chairman and I told him I don't think someone can be punished unless it [the charge] is proven." He added: "The court will decide. It is going to be civil justice, not sports justice, to decide if John Terry committed the crime that he is accused of. I thought it was fair that John Terry should keep the captain's armband."
Capello is set to lead England into the European Championship finals before his contract ends this summer and is not contemplating offering his resignation, reported The Times, which said the development "is a low in his relationship with the FA."  Capello is due back in his office at Wembley, north London, today and it is widely reported that he will hold emergency talks with David Bernstein, the FA chairman.
The toxic nature of the Terry affair was reflected at Stamford Bridge yesterday when Rio Ferdinand, brother of Anton, was jeered by Chelsea supporters during the 3-3 draw with Manchester United, reported The Times.
Most respected figures in the sports commentariat have criticised Capello for his rogue comments. And then there's QPR captain Joey Barton's unique, and pretty incendiary, take on the volatile situation.
Another fine mess. At his personal blog, Ex-Labour Party Director of Communications Alastair Campbell saw the situation as "another fine mess for Fabio Capello and the FA." Campbell suggested some "very obvious small p-political and news management basics were not covered" in the handling of the FA's Terry announcement and regretted that, "it all means, yet again, that as England prepare for a major tournament, relationships are strained and the focus is not where it ought to be."
Manager and chairman at loggerheads. Dominic Fifield of The Guardian said that this is another case of Capello creating problems. "By publicly voicing his disapproval at his employers' decision to remove John Terry from the captaincy, a move taken out of his hands, Capello has risked critically undermining England's preparations for the summer's European Championships in a manner potentially far more serious than his ill-advised commercial online venture the 'Capello Index' ever did back in 2010," said Fifield, who said that "by pledging his support for Terry he has ensured any aspiration the FA had of bundling the controversy out of the spotlight until after the finals has been lost." "The only certainty now is that England will head into a summer tournament with the manager and chairman at loggerheads," regretted Fifield.
Mutinous manager must now be conciliatory. Sam Wallace of The Independent reckoned that Capello's "rogue" stance could very well lead to his premature departure: "If the Football Association was a military command then they would surely have described Fabio Capello's interview … as a case of one of their lead agents going rogue. Just when the FA most needed the public support of their manager, he chose to hang them out to dry. Capello's declaration last night … was the moment that the relationship between manager and employer was damaged, perhaps irrevocably." "If he felt so strongly about the issue of a captain being demoted without his say-so then Capello should never have signed the contract (which allows the board to switch captain) in the first place," suggested Wallace, who said, "it is obvious that the next few days are critical in the relationship between Capello and Bernstein and the FA board. There will have to be some compromise on Capello's side or the FA will find itself in the impossible position come the end of the month of sending their manager into press briefings unsure whether he is about to turn his fire upon them." Wallace said Capello has now "had his say" over Terry and "should know that if he persists then he will make his own position untenable. The next move has to be his and it has to be conciliatory."
"The FA made the right decision to take the captaincy off Terry on Thursday and it is still the right decision today. Capello is an employee of the FA and he has to understand that there are certain decisions that cannot simply be left to him," boomed Sam Wallace of The Independent.
Way to go Capello. Not. Matt Dickinson of The Times (£) insisted that Capello is "wrong to pick a fight" with the FA. "Wrong for the obvious reasons that the FA was contractually entitled to remove Terry from the England captaincy as he faces a trial for alleged racist abuse and absolutely correct to do so. Wrong because the Italian has now set himself publicly against his employers and stirred the arguments, not least within his own squad, about the treatment of the deposed captain. Wrong because he has made it so very plain that he will be picking his next skipper under duress while Terry looks on from a corner of the dressing room believing he is still the alpha male. Way to go, Fabio, when it comes to uniting a squad and defusing a delicate situation."
"Things could be worse but, worryingly, it does take a bit of imagination to consider how England's preparations for Euro 2012 could be much more chaotic," sighed Matt Dickinson of The Times (£). "Even if an escalating row between Capello and the FA is averted, a mixture of the star forward being suspended, the midfield fulcrum out with a long-term injury, the captain demoted and potential rifts in the squad leaves England with a weighty list of problems, even before we look at the small matter of beating France on June 11 in Donetsk."
Joey Barton: Jail me, make me a martyr. QPR's outspoken captain Joey Barton, certainly no stranger to stirring up controversy, weighed in in on the Terry affair via Twitter. In an extended rant, he said  "This John Terry saga, has turned into one of the most hideously managed spectacles I have ever known. WTF is going on. We all know what was said. Its there on TV for all to see. Do I think hes a racist? No. I think hes said something really stupid in the heat of battle/argument. This should of been dealt with instantly (Like Suarez or more games) and put to bed. The longer it goes on, the worse it is for the game. Racism needs to be stamped out. We all agree on that. This is now affecting England as well as those involved." "Whose the winner in all of this? I cant think of anyone….can you?" continued Barton, who added, "What a debacle its turned into. Sad state of affairs. Heads should roll … Once the issue went out of the FA's control, it was always going to get messy. They should have dealt with it instantly. Now its a farce." Barton's blast is being investigated by the Attorney General Dominic Grieve because it might produce sub judice problems for the trial. But that hasn't slowed up free speech proponent Barton, who tweeted, "I will gladly go to jail for a month, in the name of free speech. I have no problem with what I said. Make me a martyr. What are they going to do, put everyone who exercises freedom of speech in jail? There'll be a revolution if they try that s***" QPR's local newspaper The Fulham and Hammersmith Chronicle reported that  "there was a large intake of breath at the club on Saturday when Barton used Twitter to post views on the Anton Ferdinand-John Terry case."