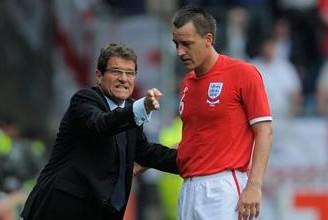 Former England captain John Terry with former manager Fabio Capello. Photo credit: CR/World Football
The background
Former England captain John Terry, who has been dogged by multiple controversies in recent years, has announced his retirement from international football. The defender, who has won 78 England caps, was cleared at Westminster Magistrates' Court in July of racially abusing Queens Park Rangers' defender Anton Ferdinand during an October 2011 Premier League game. However, Terry still faces a Football Association disciplinary hearing over the matter. Terry made the shock announcement late on September 23. The player telephoned England manager Roy Hodgson to inform him of his decision, reported the BBC.
Terry said: "Representing and captaining my country is what I dreamed of as a boy and it has been a truly great honor. I have always given my all and it breaks my heart to make this decision." He added that, "I feel the FA, in pursuing charges against me where I have already been cleared in court of law, have made my position untenable."
Arrogant, self-important, crass
Writing at Goal.com, Greg Stobart said that, "… as much as Terry says it breaks his heart to quit England after nine years and 78 caps, he is unlikely to get much sympathy from the football community or the greater public. And nor does he deserve any." Stobart described Terry's announcement as "cynically timed on the eve of an FA investigation …  It is reasonable to assume that Terry is aware of the FA's 99.5 per cent conviction rate in disciplinary cases, so has decided to jump before being pushed by the results of this week's hearing."
"Terry is in no position to paint himself as the victim given the number of times he has embarrassed the FA, twice losing the captaincy and with the Ferdinand fallout resulting in Fabio Capello's resignation in protest in February," insisted Stobart, "Untenable? Terry has been backed more than he might have reasonably expected … Terry has been involved in too many embarrassing situations, not least when allegations emerged that he had an affair with the ex-girlfriend of England team-mate Wayne Bridge," argued Stobart, who said that, with Terry, "the next controversy is not far away. Arrogant, self-important, crass – many view him as the embodiment of an ego-driven modern footballer who is out of touch with the public."
Terry is no victim and the FA is right to act
Terry is "no victim," argued Daniel Taylor at The Guardian's Sport blog, who said that "what he is saying, in essence, is that it is all the FA's fault … Yet Terry's argument is a tenuous one, undeserving of sympathy and badly undermined by the fact the FA has a duty, surely, to convene its own inquiry when a Premier League footballer – at the time the England captain, no less – is accused of calling an opponent a 'fucking black cunt'. Terry denies the charge and his grievance seems to boil down to one thing: that the FA wants to make sure there was no wrongdoing within its own rules, rather than just letting it pass and doing, well, what would be best for him. Yet, of course, the FA was going to look into it. The organisation has a responsibility to investigate allegations of racial abuse and, just because the matter has already been in front of a magistrate, that does not obscure the fact that the people running the game, however flawed their judgment sometimes appears, are duty-bound to look into something this divisive, this huge, with all the ramifications and the anger and resentment that exist." Taylor insisted that Terry "needs to realize the FA is investigating this case because to sweep it under the carpet, or airbrush it from history, would be negligent in the extreme. If Terry is saying that the FA should just have moved on to the next subject and ignored a case in which Kick It Out is firmly aligned to the Ferdinands, then the Chelsea captain sorely misses the point."
FA are determined to find Terry guilty
Martin Samuel of The Daily Mail argued that the FA has already all but decided to find Terry guilty: "Typically, one couldn't presume guilt with such certainty. Presumption is considered prejudicial to a fair trial. Saying it about Terry, however, doesn't much matter because FA disciplinary proceedings do not aspire to the high standards of the law courts. Criminal and civil courts make rigorous demands of prosecutors. FA hearings don't even require proof. In this, at least, Terry has a point. It concerns the balance of probabilities, the method by which he will be found guilty. In fact, it is on the  balance of probabilities that we can make assumptions concerning the outcome of Terry's hearing. In 2011, there were 473 FA disciplinary cases with a conviction rate of 99.5 per cent. That is what happens when the folk doing the prosecuting get to appoint the judge. At those odds, Terry has the same chance of getting off as he does of  flipping heads in a coin toss eight times in a row."
The FA's extra-time winner
Samuel argued that there is a "vested interest. The FA lost the England captain, and from there the England  manager, Fabio Capello, in a  tournament year over this case. (FA Chairman David) Bernstein clumsily isolated Capello by stripping Terry of the captaincy without prior consultation and if that episode then concluded with the player's not-guilty verdict from the Chief Magistrate, the chairman might look to have mishandled the situation. A guilty verdict at an FA disciplinary hearing is the last-minute, extra-time winner. See, we were right all along. We might have made a stooge of our manager, we might have set fire to our rulebook, but we got there in the end. By forcing  Terry's retirement from England, the FA may already be seen as victorious."
More on football
Joey Barton: Beyond redemption?
Balotelli: The ultimate maverick
target="_blank">Gary Speed's death an accident?