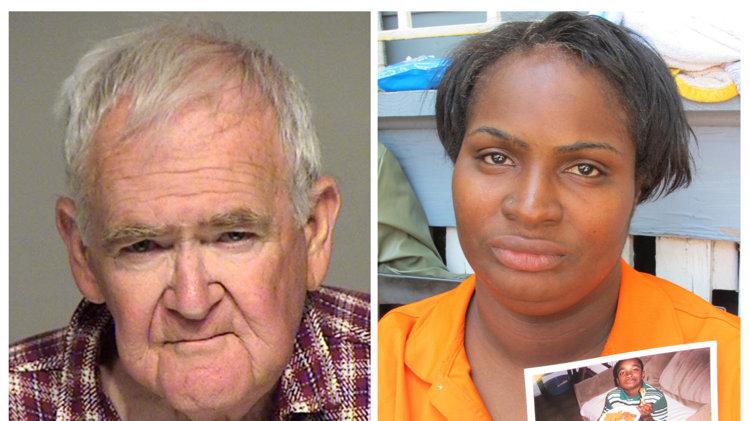 John Henry Spooner, left; Patricia Larry, right, holds a photo of her slain son, Darius Simmons (AP)
Yahoo News
further to
our earlier post
In a case that bears some striking similarities to George Zimmerman's, a 76-year-old Milwaukee man is set to stand trial this week in the 2012 shooting death a 13-year-old boy he had accused of stealing from him.

Police say John Henry Spooner confronted Darius Simmons, who lived next door with his mother, as the teen took out the trash. Spooner, who is white, had suspected that Simmons, who was black, stole $3,000 worth of shotguns from him, and demanded that the sixth-grader return them. Simmons denied stealing the guns, and his mother, Patricia Larry, told Spooner to go back inside.

Instead, prosecutors say, Spooner pulled out a handgun and shot the 13-year-old in the chest from near-point blank range.

"When police arrived, Spooner was still on the sidewalk, holding the gun," according to the criminal complaint. "When told to drop the weapon, he placed it on the ground and told police, 'Yeah, I shot him.'"
Sorry, but I fail to see the similarities to the Zimmerman case. Spooner was a gun owner who believed in taking the law into his own hands, racially profiled the black kid who lived next door and killed him even though he was unarmed.
Wait, on second thought,...
What's your opinion?  Please leave a comment.