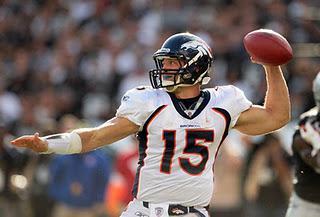 Photo: Getty Images, Irza Shaw
There have been few NFL phenomenons more interesting than Tim Tebow, from Tebowing to heroic fourth quarter comebacks, the electric quarterback has captured the interest of everyone, and had most sold, but could not get the decider with the Denver Broncos, John Elway to believe in him.
Elway, the Broncos Vice President of Football Operations, and franchise hero from earlier generations, has taken the job in Denver to help restructure and rebuild his former team. However, despite winning numerous games late in fourth quarters, along with leading Denver to an unlikely AFC West leading record, Elway was remaning tight-lipped about the future of Tebow in the Broncos organization. There were rumors that Elway had plans to put Tebow on the trade block this off-season and draft another quarterback in this upcoming draft, or just release him at the end of the year.
That was until in an interview with the Associated Press that Elway finally
gave Tim Tebow his vote of confidence
,
"
Tim Tebow's not going anywhere. I mean, he's going to be a Bronco and we're going to do everything we can and hopefully he's that guy." Later on in the interview, the Denver great who knows success better than anyone went on to drop this bomb, "
Do I think he'll get there? Yeah, I do."
Tebow, who is one of the most humble NFL players to ever play the game, accepted the compliment and was totally flattered when reporters asked him his feelings on Elway's comments. Even though Tebow remained composed and gave the right response to the media, inside he had to be rushed with relief. 
The Broncos have been miserable over the past decade, only making three playoff appearances in the last 10 years, and with the addition of Tebow as the starting quarterback, it gives the Denver team and fan base a reason to win. It may not be in the most conventional ways, and the team may only look good in the late fourth quarter, but Tebow is getting Denver wins, and a likely playoff spot.
Never in the history of sports has there been a fan base that adamantly supported a player that had zero NFL experience, and that had not proved themselves at all. But Denver fans were chanting TEBOW from the opening snap of the 2011 season, even when Kyle Orton was still the starter. Tebow has developed an almost cult like following, and it's not even only Broncos fans that are supporting him.
The Tebow fan craze has hit all new highs, and the Florida quarterback has quickly become the topic of conversation for NFL analysts and bloggers alike. On ESPN's Sunday NFL kickoff pre-game show for week 15, Tebow's name was dropped 156 times. Celebrities and fans alike have taken to the new trend of Tebowing in exotic places, and it has all but replaced planking. 
Through the hype, Tebow has still managed to lead the Broncos to an AFC West leading (8-4) record, and a likely spot in the playoffs, given the Oakland Radiers recent play. The majority of Tebow's seven wins as a starter have come in the closing minutes of games, and both losses were blowouts against the Detroit Lions and New England Patriots. 
As inconsistent as Tebow's play through three quarters has been, his fourth quarter magic is nothing short of inspiring. It seems that every chance Tebow has had to lead the Broncos to a win late in games, he takes the chance, and then dominates. 
However, there was still an immense amount of uncertainty surrounding Tebow moving forward in the Broncos organization. The rumors about him being traded, benched, or replaced were everywhere, and even though Tebow claimed he was blocking it all out, that isn't possible. 
The uncertainty of being replaced or traded must have been in the back of his mind in every game, and effected his play to an extent.
Now, Tebow has nothing to worry about, as Elway has given the green light on his future. Now that Elway and the Broncos are putting all the chips in on Tebow, he can relax, and just play football. 
There won't be any more jumping through hoops or trying to impress the organization in an effort to secure his future. Tebow can just play the game of football. The media can critique and rip apart his throwing mechanics, pocket presence, and down field vision, but what it comes down to is the kid is winning games. 
I applaud Elway for not blowing a chance with such a unique athlete and person. For a brief moment, I thought that Elway's personal style and belief of what a quarterback should do was going to get in the way of Tebow staying in Denver. But the Hall of Famer made the right choice, and who knows, Tebow could be hoisting that Lombardi Trophy just like Elway's days. 
Be sure to follow Beard and Stache on Twitter @BeardAndStache, and also Troy @TroyBallards, Like our Facebook page HERE!