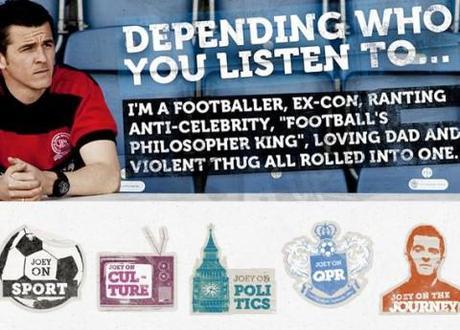 JoeyBarton.com, website of Joey Barton
The background
Queens Park Rangers' ex-captain Joey Barton is currently serving a 12-match ban for his spectacular meltdown at Manchester City of the final day of last season. The enforced break from the pitch means the outspoken former Manchester City and Newcastle United player is spending even more time than usual pursuing his interest in (pretty rampant) self-promotion. Over the summer, he has launched his own website – the pretty decent online enterprise www.joeybarton.com.
For his latest trick, Joey, who was christened Joseph, has indicated he would much prefer to be called 'Joe' from now on. He's been referred to (sort of) affectionally by the media as Joey for years. Barton made the announcement to his almost 1.7 million Twitter followers  who follow him at, er, @Joey7Barton.
Barton's latest flurry of tweets has mostly enraged and bemused his followers who have a love/hate relationship with the controversial footballer. The can't get enough of his outspoken outbursts but insist they hate his attention-seeking.
I hate Joey, says, er, Joe
How I wish the mass media had christened me Joe instead of Joey. I hate Joey, not going to lie. Nobody I respect calls me it… #justsaying

— Joseph Barton (@Joey7Barton) August 21, 2012
Really couldn't be arsed correcting everyone that calls me Joey. Not as precious to demand that people call me Joe. Just remember… — Joseph Barton (@Joey7Barton) August 21, 2012
…if you call me Joey when we meet. I will instantly in my head be thinking, "What a f*cking bellend this cat is!" FYI #callmewhatuwant — Joseph Barton (@Joey7Barton) August 21, 2012
Twitter reacts moodily
Joey Barton is now renouncing his own name? This is like in the Bible when…….my mistake – he's just being a dick again.

— Macca (@The_Paris_Angel) August 21, 2012
Joey Barton complaining about everybody calling him 'Joey' when his twitter name is set to 'Joey'. Has he ever made any sense? #clueless

— Kevin Doyle (@Kevin_Doyle29) August 21, 2012
@joey7barton You should tell us more about how you hate being called Joey on your website, JoeyBarton.com. — Ben Dudley (@Dudley1927) August 21, 2012
Apparently Joey Barton hates being called Joey. That will explain the pent-up anger. #amateurpsychoanalysis

— Simon Round (@simon_round) August 21, 2012
Joey Barton says he hates it when people call him Joey. Imagine how Matt LeBlanc feels

— Andrew Stewart (@andrewastewart) August 21, 2012
Joey Barton, who is called Joey Barton on here, is moaning about people calling him Joey. He's such a Joey (immature kangaroo) — Will Black (@WillBlackWriter) August 21, 2012
You're all very brave abusing Joseph Barton from behind you computer screens/iPhones etc. Wish I had the balls to do that.

— Niall C (@Nialler67) August 21, 2012