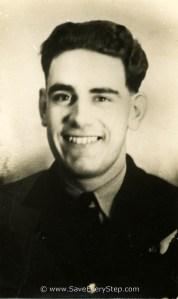 A bit of background for newcomers
Joe (aka 'Mac' to his RAF comrades) was my Uncle, but we never met. His precious letters have come into my possession some near-70 years after they were written. It is my honor to transcribe them, and the poignancy of hindsight about what happened to Joe makes this all the more difficult to write, but all the more important that I do. One letter will be posted to this Blog each and every Friday until they are done.
Please see below for a link to Joe's full story and the other letters in this series so far.
If you've been following Joe's letters, you may be interested to know that I have now successfully made contact with the surviving families of two of Mac's former crew members, rear gunner Ivor Turley & pilot Harry Warwick, as well as with the family of Joe's girlfriend, Jean. It has been a real thrill to discover each other and we are in correspondence regarding our combined stories and memories of the crew. 
In this letter, Joe  is 6 months in to his RAF experiences and is wearing his newly acquired Sergeant stripes with pride. He is now stationed at Upper Heyford in Oxfordshire.
Letter 51 - 2nd August 1944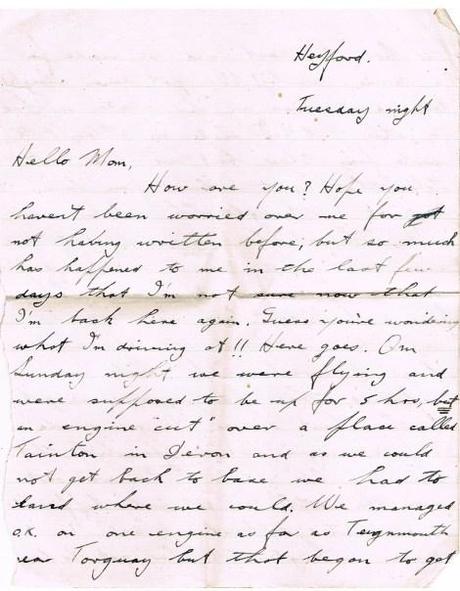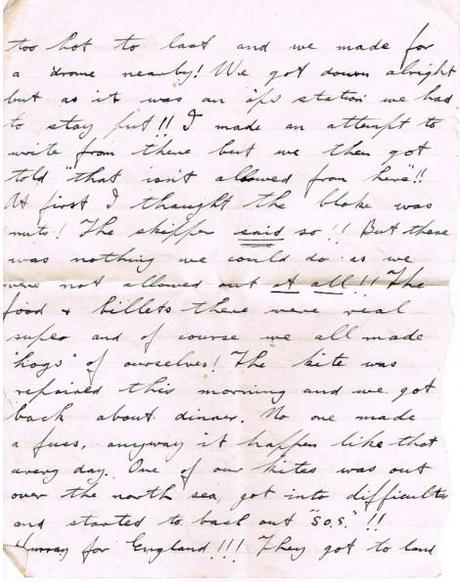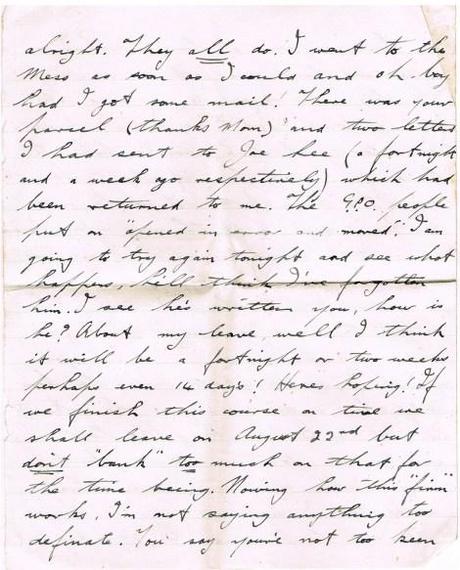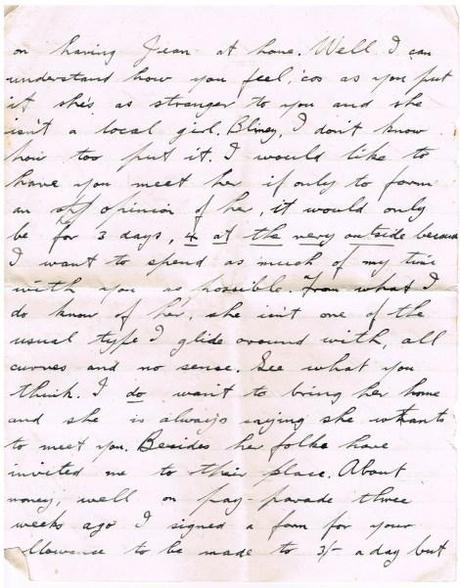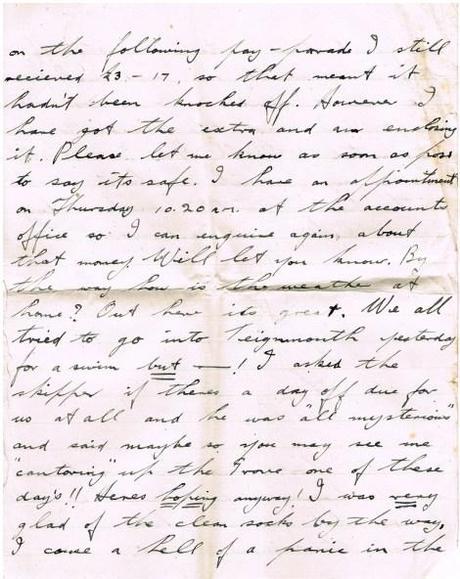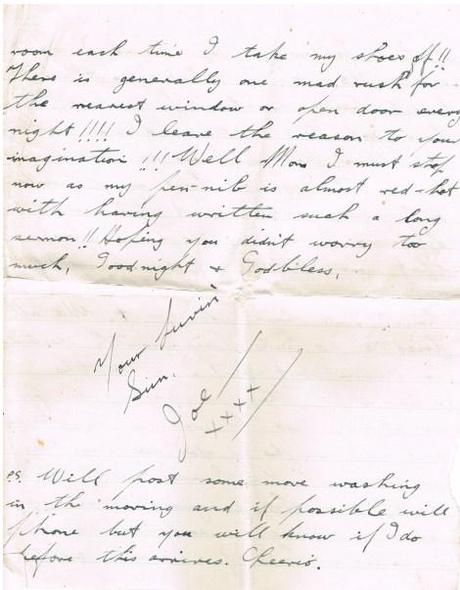 L
etter transcript:
"Heyford..
Tuesday night.
Hello Mom.
How are you? Hope you haven't been worried over me for not having written before, but so much has happened to me in the last few days that I'm not sure now that I'm back here again. Guess you're wondering what I'm driving at!! Here goes.
On Sunday night we were flying and were supposed to be up for 5 hours, BUT an engine cut over a place called Tainton in Devon and as we couldn't get back to base we had to land where we could. We  managed ok on one engine as far as Teignmouth near Torquay but that began to get too hot to last and we made for a 'drome nearby. We got down alright but as it was an Ops station we had to stay put!! I made an attempt to write from there but then we got told 'that isn't allowed from here'!! At first I thought the bloke was nuts! The skipper SAID so! But there was nothing we could do as we were not allowed out AT ALL!! The food and billets there were real super and of course we all made 'hogs' of ourselves!
The kite was repaired this morning and we got back about dinner. No one made a fuss, anyway it happens like that every day. One of our kites was out over the north sea, got into difficulties and started to bash out SOS!! Hurray for England!! They got to land alright. They ALL do. I went to the Mess as soon as I could and oh boy had I got some mail. There was your parcel (thanks Mom) and two letters I had sent to Joe Lee (a fortnight and a week ago respectively) which had been returned to me. The GPO people put on 'opened in error and moved'. I am going to try again tonight and see what happens. He'll think I've forgotten him. I see he's written you, how is he?
About my leave, well I think it will be a fortnight in two weeks perhaps even 14 days! Here's hoping! If we finish this course on time we shall leave on August 22nd but DON'T bank too much on that for the time being. Knowing how this 'firm' works, I'm not saying anything too definite.
You say you're not too keen on having Jean at home. Well I can understand how you feel 'cos as you put it she's a stranger to you and she isn't a local girl. Blimey, I don't know how to put it. I would like to have you meet her if only to form an opinion of her, it would only be for 3 days, 4 at the very outside because I want to spend as much of my time with you as possible. From what I do know of her, she isn't one of the usual type I glide around with, all curves and no sense. See what you think. I DO want to bring her home and she is always saying she wants to meet you. Besides her folks have invited me to their place.
About money, well on pay-parade three weeks ago I signed a form for your allowance to be made to 3/- a day but on the following pay-parade I still received 23 – 17, so that meant it hadn't been knocked off. However I have got the extra and am enclosing it. Please let me know as soon as poss to say it's safe. I have an appointment in Thursday 10.20am at the accounts office so I can enquire again about that money. Will let you know.
By the way, how is the weather at home? Out here ir's great. We all tried to go into Teignmouth  yesterday for a swim, BUT —–! I asked the skipper if there's a day off due for us at all and he was 'all mysterious' and said maybe so you may see me 'cantering' up the Grove one of these days!! Here's hoping anyway!
I was VERY glad of the clean socks by the way, I cause a hell of a panic in the room each time I take my shoes off!! There is generally one mad rush for the nearest window or open door every night!!!! I leave the reason to you imagination!!!
Well Mom I must stop now as my pen-nib is almost red-hot with having written such a long sermon!! Hoping you didn't worry too much.
Goodnight and God Bless,
Your Luvin' Sun, Joe xxxx
P.S. Will post some more washing in the morning and if possible will phone but you will know if I do before this arrives. Cheerio."
I was a bit shocked the first time I read this to hear that Olive had a bit of a negative response to Joe's suggestion that Jean visit. Olive was a very friendly person, and it can't be anything personal against Jean since they've never met, so perhaps she is assuming at this point that Joe has picked up another fly-by-night girl that he's not serious about? I love the expression 'all curves and no sense'. Gives quite an image of the kind of girlfriend he's been attracting up to this point. Quite the contrary, it seems, with Jean on all counts. Joe is clearly serious about her and trying to butter up his mother for a visit. Rations were pretty tight too, so another mouth to feed for 4 days is likely to be a strain. Thank God for mums who wash socks eh, even 70 years ago!!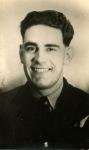 To read more about Joe's letters please follow this link. There you will find the full selection of letters to date, as well as more information about his fascinating yet ultimately tragic story.
He was our family hero. He IS our family hero. If I knew how to complete an effective RAF salute, I would salute you now, Joe. Long may your memory live in our family stories. I hope to post a new letter from Joe's correspondence with his Mother here every Friday until they're done. It will be a turbulent and heart-wrenching journey. Subscribe to the Blog to make sure you don't miss any of it.
If you enjoyed this post, please share it using the buttons below!
Tagged: 1940s, family, genealogy, history, Joe, lancaster bomber, letters, memories, nostalgia, Royal Air Force, stories, World War II, writing home