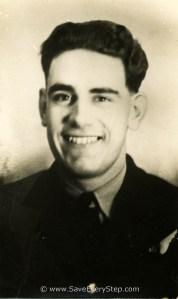 A bit of background for newcomers
Joe (aka 'Mac' to his RAF comrades) was my Uncle, but we never met. His precious letters have come into my possession some near-70 years after they were written. It is my honor to transcribe them, and the poignancy of hindsight about what happened to Joe makes this all the more difficult to write, but all the more important that I do. One letter will be posted to this Blog each and every Friday until they are done.
Please see below for a link to Joe's full story and the other letters in this series so far.
In this letter, Joe  is 6 months in to his RAF experiences and is wearing his newly acquired Sergeant stripes with pride. He is now stationed at Upper Heyford in Oxfordshire.
Letter 48 – 13th July 1944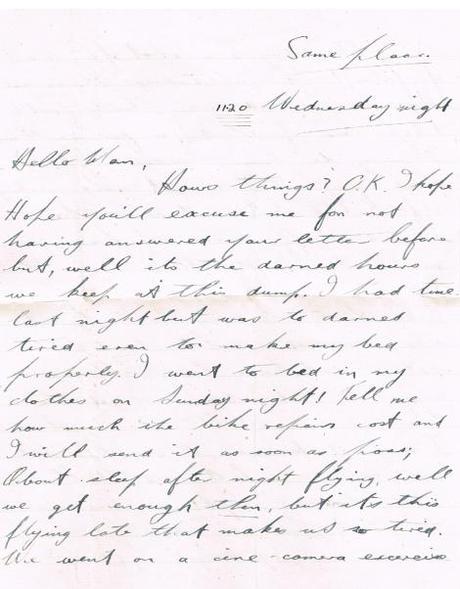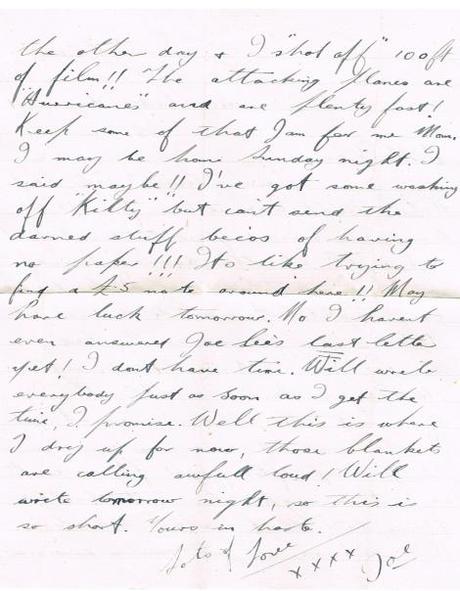 L
etter transcript:
"Same place
11.20 Wednesday night.
Hello Mom.
How's things? OK? I hope you'll excuse me for not having answered your letter before but, well it's the darned hours we keep in this dump. I had time last night but was too darned tired even to make my bed properly. I went to bed in my clothes on Sunday night!
Tell me how much the bike repairs cost and I will send it as soon as poss.
About sleep after night flying, well we get enough then but it's this flying late that makes us so tired. We went on a cine-camera exercise the other day and I 'shot off' 100feet of film!! The attacking planes are Hurricanes and are plenty fast!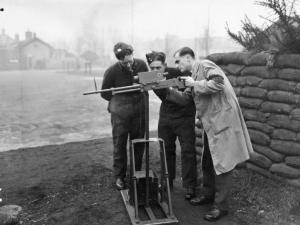 copyright IWM
Keep some of that jam for me Mom, I may be home Sunday night. I said maybe!!
I've got some washing off Kilty but can't send the darn stuff becos' of having no paper!!! It's like trying to find a £5 note around here!! May have luck tomorrow.
No I haven't even answered Joe Lee's LAST letter yet! I don't have time. Will write everybody just as soon as I get the time, I promise. 
Well this is where I dry up for now, those blankets are calling awful loud! Will write tomorrow night, so this is a short.
Yours in haste, 
Lots of love Joe xxxx"
Still feeling the strain of late night flying, the fatigue must have been torture. The regular passing back and forth of laundry becomes a constant feature in the correspondence between Joe and Olive. He is constantly having 'sock emergencies' and it must have been a total pain trying to keep on top of it all.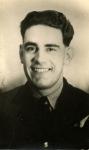 To read more about Joe's letters please follow this link. There you will find the full selection of letters to date, as well as more information about his fascinating yet ultimately tragic story.
He was our family hero. He IS our family hero. If I knew how to complete an effective RAF salute, I would salute you now, Joe. Long may your memory live in our family stories. I hope to post a new letter from Joe's correspondence with his Mother here every Friday until they're done. It will be a turbulent and heart-wrenching journey. Subscribe to the Blog to make sure you don't miss any of it.
If you enjoyed this post, please share it using the buttons below!
Tagged: 1940s, dinghy drill, family, genealogy, history, Joe, lancaster bomber, letters, memories, nostalgia, Royal Air Force, stories, wellington, World War II, writing home