One of my Uncle Joe's letters will be posted to this Blog each and every Friday until they are done.Please see below for a link to Joe's full story and the other letters in this series so far.
At the time of this letter, Joe is at RAF Feltwell in Norfolk for the crew's Lancaster Finishing School training, just weeks away from his first Operation sortie.
Letter 81; 22nd November 1944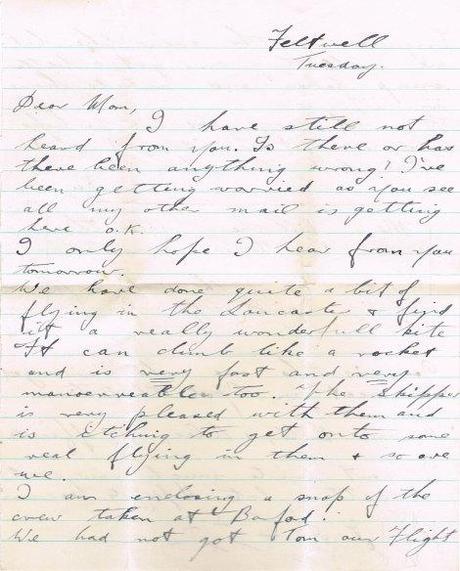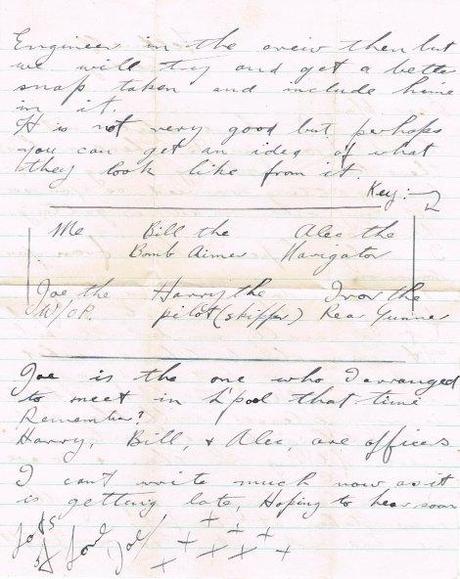 Letter transcript:

" Feltwell. Tuesday.
Dear Mom,
I have still not heard from you. Is there or has there been anything wrong? I've been getting worried as you see all my other mail is getting here ok. I only hope I hear from you tomorrow.
We have done quite a bit of flying in the Lancaster and find it a really wonderful kite. It can climb like  a rocket and is VERY fast and VERY menoeuvreable too. The skipper is very pleased with them and is itching to get into some real flying in them and so are we.
I am enclosing a snap of the crew taken at Barford. We had not got Tom our Flight Engineer in the crew then but we will try and get a better snap taken and include him in it. It isn't very good but perhaps you can get an idea of what they look like from it.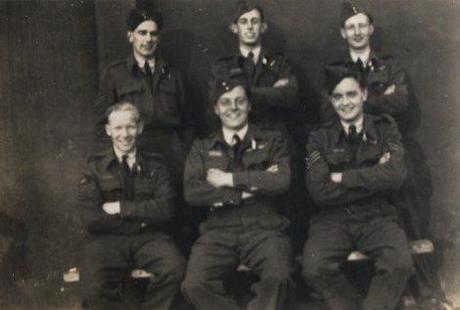 Key:-
Me               Bill the Bomb Aimer               Alec the Navigator
Joe the W/Op    Harry the pilot (skipper)    Ivor the Rear Gunner
Joe is the one who I arranged to meet in Liverpool that time, remember? Harry, Bill and Alec are officers.
I can't write much now as it is getting late. Hoping to hear soon.
Lots of love, Joe xxxx"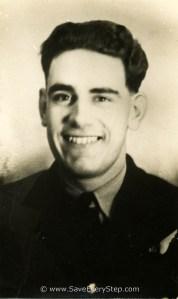 To read more about Joe's letters please follow this link. There you will find the full selection of letters to date, as well as more information about his fascinating yet ultimately tragic story. He was our family hero. He IS our family hero. If I knew how to complete an effective RAF salute, I would salute you now, Joe. Long may your memory live in our family stories. I hope to post a new letter from Joe's correspondence with his Mother here every Friday until they're done. It will be a turbulent and heart-wrenching journey. Subscribe to the Blog to make sure you don't miss any of it.
If you enjoyed this post, please share it using the buttons below!