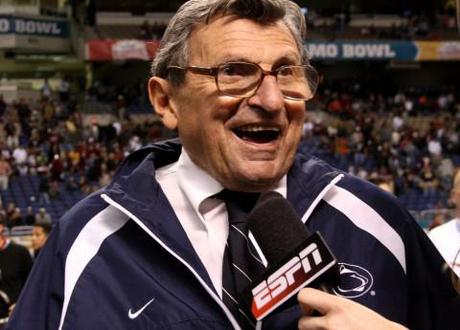 Joe Paterno talks to ESPN after the Nittany Lions defeat Texas A&M in the Alamo Bowl, December 29, 2007. Photo credit: PennStateLive, http://www.flickr.com/photos/pennstatelive/4951295707/in/photostream/
Joseph Paterno, legendary coach of Pennsylvania State Nittany Lions, died after a short battle with lung cancer on Sunday. He was 85.
Paterno's 46-year career as head coach saw him lead the Lions to become one of the winningest Division I football teams in the history of college football. But it ended in ignominy after Paterno was fired in November for his role in the child sex abuse scandal that stunned the Penn State community and the nation. Paterno came under fire after it was revealed that he learned that former defensive line coach Jerry Sandusky allegedly sexually assaulted a young boy in the school's locker room showers in 2002, but rather than contact the police, he went to the school's administration. Critics claimed that he had effectively shielded a child molester from investigation for nine years, and on November 9, the university's Board claimed that is was no longer in the school's "best interest" to keep him on.
The move enraged Penn State students, who overturned cars, set fires and chanted "One more game!" in protest of what they perceived as the Board undercutting their beloved JoePa's legacy.
But observers are wondering now, however, what exactly that legacy is?
Paterno's record, by the numbers. Paterno spent a total of 62 years at Penn State, 46 of them as the feared and beloved head coach. He was the winningest coach in the history of college football: He had 409 wins under his belt – meaning that over half the 805 wins in the football team's history were down to Paterno – and coached five undefeated seasons. He took the Lions to a stunning 37 Bowl games, winning 24. Accordingly, he meant big bucks to the university – in 2010 alone, the Nittany Lions earned the school more than $50 million in profit, making the program the third most profitable in the nation despite a somewhat mediocre performance on the field.
More than a coach. An editorial in Penn State's student paper, The Collegian, tried to explain what Paterno meant to the Penn State community: More than a coach, he was "an educator and a mentor", a "teacher" who "worked to make Penn State a better place, on and off the field". The paper continued, "Understandably, many are still trying to comprehend these events and many have conflicting emotions. No one ever expected Paterno's career or life to end this way, following a scandal and firing. Regardless of how things have evolved since Nov. 5, Paterno's life should be celebrated and his death should be mourned."
His 62 years at Penn State outweigh the last 12 weeks. Paterno's final days were as the subject of controversy, and perhaps rightly so – but his legacy is far more than that, Ivan Maisel said at ESPN.com. "A man's death demands that we look to his life – not just the last 12 weeks, swollen and inflamed by the heat of the vengeful – but 62 years of coaching young men at one university. A legacy covers more than 12 weeks."
Hard to imagine college football without him. "Paterno is survived by his wife, Sue; by his five children; by his 17 grandchildren; by dozens of assistant coaches; by hundreds of victories; by thousands of Nittany Lions players; and by tens of thousands of admirers and loyalists. He was beloved. He was respected. And don't kid yourself, he was also feared," wrote Gene Wojciechowski at ESPN.com. "There is no simple way to describe his legacy because there is no simple way to describe Paterno." He was a man of contradictions, a hero out of Virgil's Aeneid, a Greek tragedy, a Shakespearean play: "He did great good. He did great damage."
Paterno failed: An opportunity to reevaluate coaches and power. Paterno was a towering figure in the field of college football and certainly at Penn State, but, said Howard Bryant at ESPN.com, "Paterno had too much power with not nearly enough oversight." This death ought to occasion an evaluation of the outsized power that coaches like him wield – at Penn State, the university had allowed his power to grow unchecked for four decades. And when it came time for him to use that power, "when he became aware that for years, children allegedly were being molested under the ceiling of the football monument he had built", said Bryant, "he did not lead." Instead, he passed the buck up:"He did not care enough or do enough or use enough of his power or show enough of his leadership to be worthy of that monument."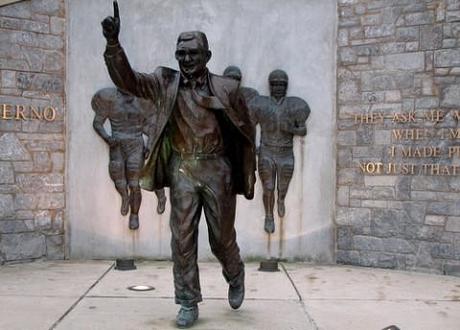 Statue of Penn State head football coach Joe Paterno. Photo credit: Audreyjm529, http://flic.kr/p/sFz6s