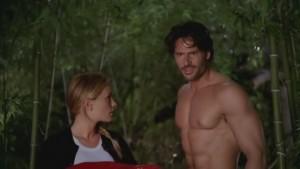 Joe Manganiello (Alcide) was recently interviewed by New York magazine. He had a lot to say about his workout regime, his True Blood role, high school and of course more True Blood! Just because he is finished filming this season of True Blood does not mean that he can relax. He was recently cast in What to Expect When You're Expecting, alongside Jenifer Lopez and Cameron Diaz.
Workouts are a necessity when you spend most of your screen time with your shirt off. Manganiello's trainer, Ron Mathews also works with Hugh Jackman. But Manganiello doesn't starve himself stating:
"I'm allowed to eat anything I want, 'cause I'm a man. I choose not to, because I'm disciplined about my job."
Captain of his high school basketball, football and volleyball teams, Manganiello has always been ruggedly manly. He talks about the more artistic side that he says was "pushed aside" growing up in western Pennsylvania. You would think this future werewolf stud would have had girls lining up around the block for him, but he didn't even go to his prom! Instead he went to see a re-release of Blade-Runner. He relates this back to Alcide saying:
"I guess I identify with Alcide that way. I didn't really see eye-to-eye with the jocks… I was somewhere in the middle."
Season of the witches has been the theme of Season 4 and the werewolves are not immune to their influence. Manganiello said that their "actions trickle down". He also stated that shape shifters and werewolves are going to "butt heads big time". Perhaps a Sam/Alcide showdown is in the future?
We've all wanted to see more of Alcide and everyone's been wondering if he and Sookie will ever hook up. Manganiello's response:
"I really do believe – and some of the producers and writers agree with me – if Sookie didn't disappear, Alcide would've built that house for her. As you can see in episode three, Alcide is obviously worried. The way the door was answered, he wanted to kiss her! Being a werewolf, he's had to stomp on a lot of his impulses. All I can say is when anybody continually stomps on impulses, there's going to be a reaction. What's amazing this season is that you see those emotions and physical reactions."
A werewolf bottling up his emotions sounds like a ticking time bomb! Can't wait to see how this plays out.
Manganiello has said that he gets naked a lot this season, but five episodes in we've hardly seen any nakedness. His response:
"Everyone has to take their turn, and it's just my turn. Yes, there is some nudity, and you're gonna see some werewolf sex here."
Exactly who will be having that werewolf sex? We aren't sure, but we will be tuned in to find out.
Do you think there is any hope for Alcide and Sookie? Share your theories and ideas with us in the comment section.
Source: New York Magazine - True Blood's Joe Manganiello On An Alcide-Sookie Hook-Up, Werenudity, and Working Out
(Photo credit: HBO)