The True Blood men are certainly doing all they can to look their best for their roles in the show. Its great to have so much eye candy this week from several health magazines that should keep us satisfied during the long wait until Sunday's first Episode of Season 4 airs.
Here's Joe Manganiello who is the cover model in the July Muscle & Fitness magazine and, according to the magazine, he is a new breed of American leading man: muscular, athletic, and Classically trained.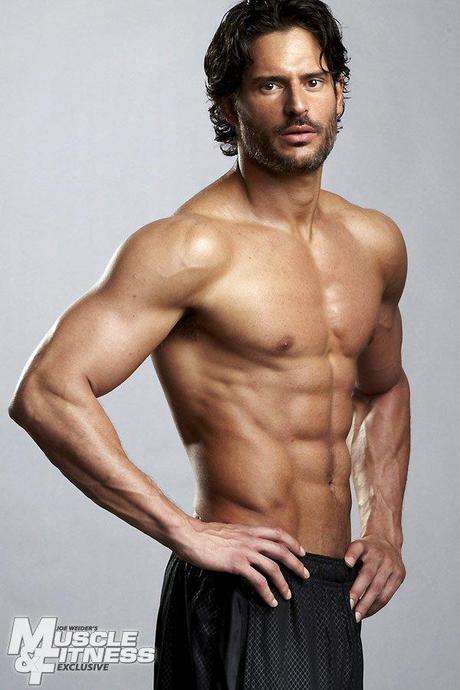 In this article by Mike Carlson we learn about Joe's six day a week workout schedule.
An excerpt from the article is below:
For an actor, getting cast in HBO's hit series True Blood is quite literally the ultimate gut check. Stars of the vampire serial can have their bare torso splattered with blood in one scene, then enjoy a buck-naked romp—or a blood-spattered buck-naked romp—in the next. Anyone on camera had better be ready to show everything they've got.
When producers tapped Joe Manganiello for the role of Alcide Herveaux, an Alabama contractor who happens to be a werewolf, the 6'5″ actor had three months to prepare before filming. Since the Mt. Lebanon, PA, native laid the foundation for his current Hollywood success in the weight room, Manganiello was more than up for the challenge. As one of the few actors working in Hollywood with a physique worthy of an action star, the response from his female fans keeps him motivated.
"I had a friend of mine call me and tell me that it was a girl's birthday in his office, and they got her a cake with my picture on it. A year ago I wasn't on anybody's cake. It makes me feel really good, and it makes me want to work even harder from a fitness standpoint."
To read this entire article, go here: muscleandfitness.com/werewolf-hollywood
And, here are a few photos from it.








Photography by: Patrick Hoelck
Check out more photos here: muscleandfitness.com/photos
And there's even more, next is a link to a video from the photo shoot where we can see the exclusive behind-the-scenes footage from the cover shoot.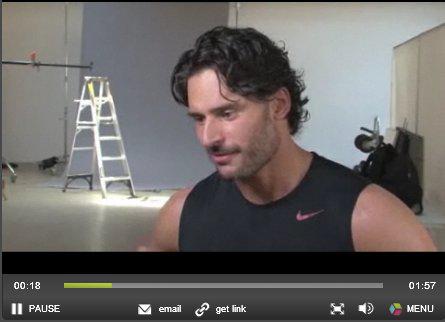 Pick up the July 2011 issue of Muscle & Fitness magazine for the whole story with True Blood's buffest werewolf!