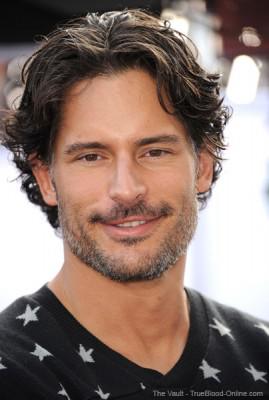 At the Cirque du Soleil's premiere of IRIS last weekend, Joe Manganiello talked to EOnline about Steven Soderbergh's new film, "Magic Mike," in which he will play a male stripper named Big Dick Richie.
Joe was asked if he would be showing off more than just his trademark washboard abs?
"You'll have to go see the movie opening night and find out," Joe teased. "Can't let that out of the bag."
"We start shooting all the dance stuff this week, it's amazing," Joe revealed. "I've never laughed harder in my life. I've had the best time. We've been rehearsing for about a month, we just scream. We roll in and out laughing at each other."
So who's top dog?
"Oh, Channing [Tatum]," Joe responded without hesitation when we asked who had the best moves. "Channing's like on another level. I mean have you seen all those dance movies?"
As for second place? Well, that may be a bit more shocking—tho quite the pleasant surprise.
"Well you know Matt Bomer was my drama school classmate," Joe continued. "He was a musical theater major so he's pretty good. His two routines are probably my favorites."
source: eonline.com