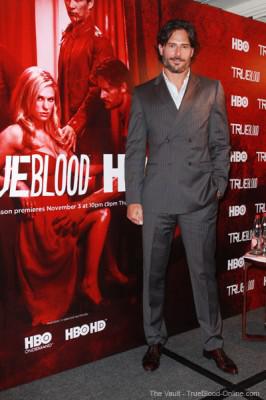 True Blood's Joe Manganiello's traveled to Hong Kong to help promote True Blood and he said that it was, in a word, hectic.
Shortly after arriving at the Mandarin Oriental Hotel and having breakfast, he gamely conversed with Asian entertainment writers for HBO Asia's "True Blood" press junket. He was to appear for interviews in other venues as well.
Manganiello, admitted he was a comic book "addict" as a kid in Pittsburgh. He said he shoplifted "huge stacks" of Spider-Man comics, which he returned to the owner many years later. Interestingly, he landed the role of teen bully Flash Thompson in the 2002 "Spider-Man" film.
The actor then played recurring TV characters in "How I Met Your Mother" and "One Tree Hill," but he is best known for his noble werewolf character Alcide in "True Blood." Alcide returns in Season 4 (Thursdays, 10 p.m.), set a year after the events of Season 3.
"I think this is the best cast in television or film ever assembled," he said. "I put it up against any movie or TV show that I've ever seen. Most of the actors are seasoned theater veterans from around the world. They're all just iconic. And the characters—you don't see an Alcide, a Pam, a Lafayette on any other show. It's really just amazing."
Towering at 6'5", Manganiello used to borrow the school camera to shoot kung fu-gangster movies with friends. He acknowledged the show's "very human" godlike beings and noticed a similarity between creator Alan Ball and a famous playwright. "I came from a classical theater background," he said. "[The show] is very Tennessee Williams. In the deep South, very hot, very passionate. Everyone wants to kill or sleep with each other. Alan to me feels a lot like Tennessee Williams. I really do think that if Williams were around today, he'd be Alan Ball, writing about vampires and werewolves!"
Big body
He revealed that growing up was tough because he was a sensitive and artistic kid, but he was "born into a very big body," so he was encouraged to become athletic. He expounded on some real-life alpha male traits and other qualities similar to his alpha wolf character.
"I always played sports growing up. I was the captain of the football team, basketball team, volleyball team. I think that was a role I was always thrust into. As far as dating goes, I believe it's a guy's job to protect his girlfriend. You open car doors; you pick them up and pay for the date. I'm a traditional guy in a lot of ways."
Alcide is also very protective of Sookie Stackhouse, played by Anna Paquin. "Sookie is a catalyst that forces him out of the house and gets him in trouble," Manganiello said. "There's a hero that emerges when he does that, but there's also this monster. That's a very fascinating character for a man to play, someone who's so strong, vicious and animalistic, but also vulnerable and sensitive. A character like that, that's a home run!"
The potential Alcide-Sookie pairing elicited favorable fan reaction, partly resulting in Manganiello's continued appearance. "I think he's the perfect guy for Sookie," he enthused. "Like many of the fans, I want to see them hook up. Totally! We'll have puppies! They only signed me for six episodes [initially]. On that show, if they don't like you, they'll kill you! When they invited me back, I was really excited and just so happy that people were responding to my character."
Read the rest of this interview by going to: entertainment.inquirer.net