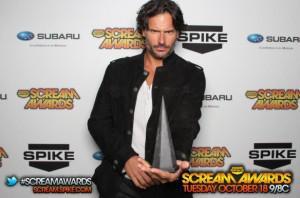 As fans eagerly await the return of True Blood's Season 5 this summer, Joe Manganiello seems to be the most prolific celebrity spoiler for the show.  It has been noted that if we were to call season four the season of the witch, season five will be the season of the werewolf.  That means a whole host of hot new werewolf cast members.  Manganiello told Access Hollywood correspondent Tim Vincent (at GQ's Men of the Year Party in LA) that he's looking forward to the season.  Last season, Alcide "helped end the reign – and life – of packmaster Marcus… and actress Dale Dickey recently joined the cast as Marcus' – presumably grieving – mom."
Manganiello said:
 "I can't wait to work with her (Dale Dickey) and I think there's gonna be some werewolves who are gonna give Alcide some trouble this season, as well.  I'm anxious to see who they'll cast."
The actor has revealed that he's on par with the fans in wanting to see his character bump nasties with Paquin's.  "Alcide likes Sookie a whole heck of a lot.  She's single, Alcide's single… I totally want to see them hook up."  Apparently, Manganiello's mother is a big Paquin fan as well, and wants to see her son's character "find love with Bon Temps' fairy-waitress."
He also raved about the disastrous return of Russell Edgington.  "I love Denis O'Hare," he said.  "Him coming back – it's not good for Alcide, but it's definitely good for the show."
Finally, in a separate interview with Access Hollywood, Manganiello spoke about his role in the new, star-studded, male-stripper movie "Magic Mike" in which he plays Big Dick Richie (Gasp! Drool.)  While the movie was "loosely inspired by Channing Tatum's own past," the actors were treated to lessons from the likes of Britney Spears' choreography team.  "Body rolls, some hip stuff," Manganiello mentioned.  His costars include Matthew McConaughey, Matt Bomer, Adam Rodriguez, and Alex Pettyfer.
I personally am waiting with bated breath for the release of this film (in post-production) along with the return of True Blood, of course.  Who's with me? Leave your thoughts in the comments section, and check out the two full interviews that I have listed as sources if you need anything juicier.
Sources:
Access Hollywood "Magic Mike"
Access Hollywood "Werewolves"
Photo: Spike TV