October 24, 2014
Via MLB Trade Rumors: Rays manager Joe Maddon has opted out of his contract with the Rays and will be leaving the team, Buster Olney of ESPN.com reports on Twitter. The move comes as a major surprise, as Maddon had said recently that he expected to remain in Tampa.
Maddon represents the second key departure to hit the Rays in recent weeks, as the team lost long-time GM Andrew Friedman to the Dodgers. Indeed, the opt-out clause vested with Friedman's departure, Jon Heyman of CBSSports.com tweets.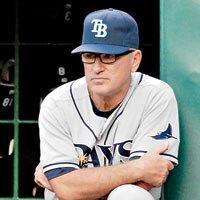 So, it doesn't say it here, but read the whole article and it's clear that with Friedman moving onto the Dodgers and the Rays slashing payroll, Maddon is looking for something fresh. It also says he and the team couldn't come together on compensation (aka they wouldn't pay him enough.) So I'm thinking maybe not this year (though don't put it past him) but he'll be back in the dugout soon. If I'm a team that has a decent payroll and a lack of success over the past few years, I'm already in his agent's ear. Maddon has shown an ability to coach up youngsters, handle veterans, and lead teams to the playoffs. The Rays were a hot mess before he (and management) arrived and I have a feeling they may struggle a bit without Maddon and Friedman in place.
As a Red Sox fan, I'm thrilled. The Rays have been really good for a while now and with a changing of the guard I expect a drop off over the next few years as they adjust to new leadership in and out of the dugout.
Early ideas as to who may look at him (and I have no idea the contract situations of the managers of these teams): Mets, Twins, and Rangers. Can't rule the Dodgers out even if they have Mattingly.
Post navigation
← New Beard Off for Cancer Logo equals HOT FIRE on a Friday